At least 30 people have been killed in a Saudi-led coalition air strike on the outskirts of Yemen's capital, Sanaa, local medics and an aid group say.
Witnesses said warplanes had bombed a hotel in the Arhab district, about 20km (13 miles) north of the city.
Other strikes reportedly targeted rebel positions to the south-east.
There was no immediate comment from the coalition, which is backing President Abdrabbuh Mansour Hadi's government in a war with the rebel Houthi movement.
More than 8,167 people have been killed and 46,335 injured in air strikes and fighting on the ground in Yemen since March 2015, according to the UN.
The conflict has also left 20.7 million people in need of some kind of humanitarian assistance, created the largest food security emergency in the world, and led to a cholera outbreak that is believed to have left 2,000 people dead since April.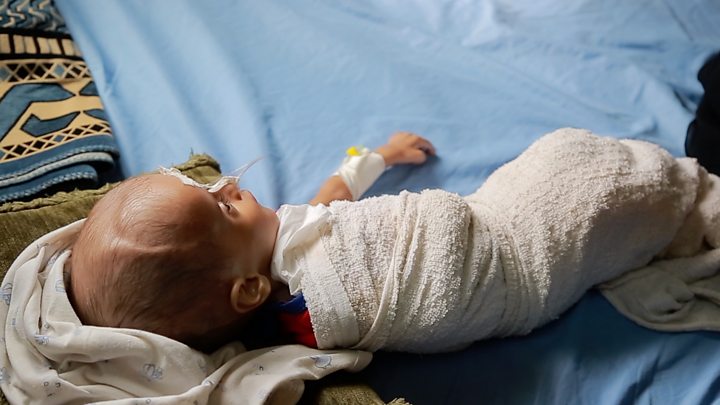 The head of the Sanaa branch of the Yemeni Red Crescent, Hussein al-Tawil, told AFP news agency that at least 35 people had been killed in the air raid in Arhab.
He said rescuers were still pulling bodies from the rubble of the two-storey building, which one report said was located near a Houthi-run checkpoint.
At least 13 people were wounded in the strike and taken to hospital, Mr Tawil said.
It was not clear whether the casualties were civilians or rebel fighters, but witnesses told AFP the hotel was being used to house workers from a Khat farm.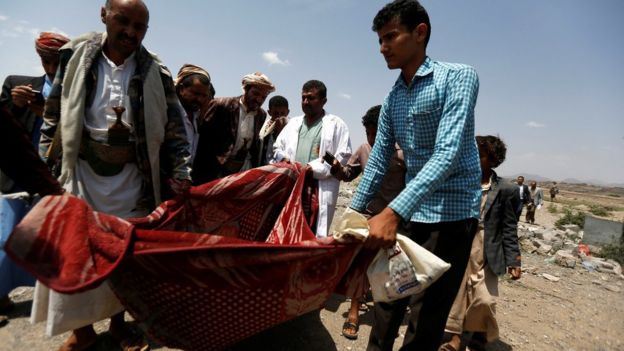 Earlier, there was a series of air strikes in the Sanhan area, south-east of the capital, which the rebel-run Saba news agency said had left at least six civilians dead and wounded 15 others.
The Khashm al-Bokra area of the Bani Hushaesh district was also hit, Saba added.
After a deadly air strike on a house earlier this month, the UN's Humanitarian Co-ordinator in Yemen Jamie McGoldrick said all parties to the conflict were continuing to "show a disregard for the protection of civilians and the principle of distinction between civilians and combatants in the conduct of hostilities".
Read more at BBC.co.uk