Turkish President Recep Tayyip Erdogan has suggested that Ankara may agree to Finland joining Nato, but not Sweden.
He criticised Sweden's refusal to extradite dozens of people allegedly tied to Kurdish militant groups and other critics of his government.
"If you absolutely want to join Nato, you will return these terrorists to us," said Mr Erdogan.
His comments come days after Turkey suspended talks to accept the two Nordic nations as members.
The move was prompted by a series of controversial protests in Stockholm, including one during which a copy of the Koran was burned.
Swedish officials have condemned the protests, but defended the country's free speech laws.
In response to Russia's invasion of Ukraine, Sweden and Finland applied to join Nato last year, ending decades of military non-alignment.
Their application must be unanimously approved by all current Nato members, but Turkey and Hungary have failed to ratify their bids.
In his speech, Mr Erdogan suggested Turkey might now "give a different response concerning Finland," adding that "Sweden will be shocked".
"We gave Sweden a list of 120 persons and told them to extradite those terrorists in their country," said Mr Erdogan. "If you don't extradite them, then sorry about that."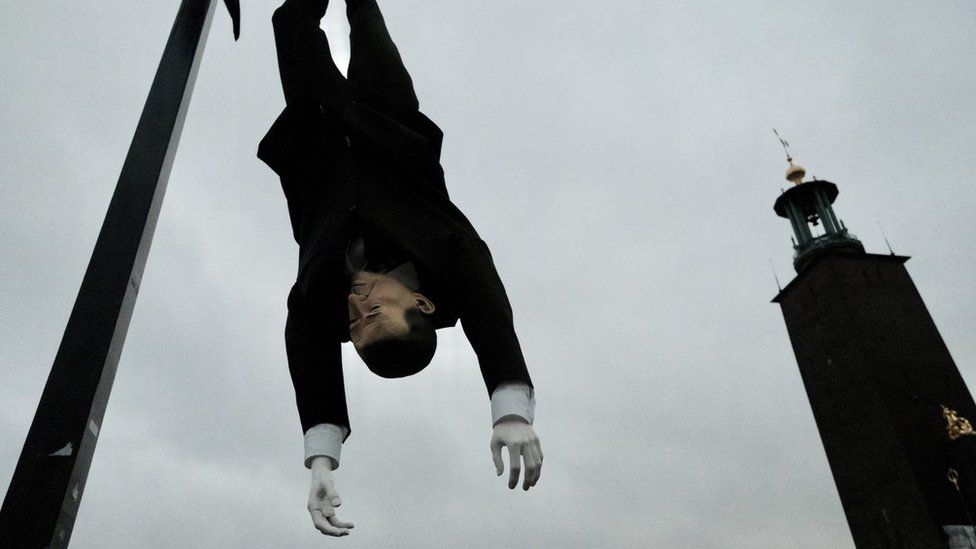 Sweden has a larger Kurdish diaspora than Finland, and its talks with Ankara over Nato membership have been heated.
Turkey has called on Sweden to distance itself from the Kurdistan Workers' Party (PKK), which is regarded as a terrorist group by Turkey, the US and the EU.
In response, Sweden approved a constitutional amendment which allows it to create tougher anti-terror laws demanded by Turkey.
Both Sweden and Finland have also lifted bans on the sale of military equipment to Turkey, introduced after Ankara's military intervention in Syria in 2019.
Earlier this month, Mr Erdogan said Turkish elections had been brought forward by a month to 14 May.
The diplomat also stressed his country should join at the same time as Sweden – appearing to backtrack on his earlier suggestion that Finland could be forced to join without its Nordic neighbour.