In food, if there is one thing you can say without fear of contradiction, it is this: Britain loves burgers. The UK market is now worth £3bn annually and, increasingly, it is no longer McDonald's and Burger King that define our idea of the perfect patty. Borne aloft by the rise of "dude food", a new wave of gourmet bun slingers has turned this once humble sandwich into an object of reverence. The food geeks who used to obsess over the detail of fine dining are now queueing to get into hip burger joints such as MeatLiquor, Almost Famous, Dirty Burger or Patty & Bun. Online, the debate rages about fat-to-lean mince ratios and what precise blend of chuck or rump steak, brisket or short-rib meat you should use, to produce the ultimate burger. That scrutiny has led the supermarkets to up their game, but the expansion of their chilled, premium burger ranges is also being fuelled by a booming demand for barbecue food. In the late 1990s, Britain held about 10m barbecues each year. Today, remarkably, that figure has risen to an estimated 120m.
But do any of these supermarket burgers match the beefy clout of the best restaurant patties? And which should you be throwing on the barbie this summer? That is, if the UK summer ever arrives …
M&S, ultimate steak burgers
Two-pack, £5, 340g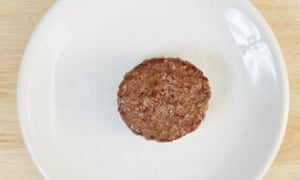 About an inch thick, its interior visibly glistening with juices, this burger looks the part. Fashionably, the mince has been given a chunky grind and is relatively loosely packed, giving it a solid but easily yielding feel in the mouth. However, its steaky flavour is far from barnstorming. The seasoning is meek and what look like (yay!) tiny white nuggets of fat are, on closer inspection, sticky bits of dried potato.
6/10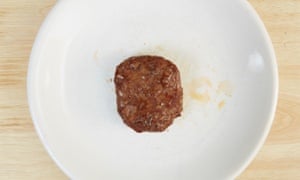 "Win tickets to a VIP BBQ party hosted by Alex James," threatens a Red Tractor sticker on the box, a prospect that is even more unappetising than these sorry burgers. They have an unusually greasy surface, their initial texture is rather plasticky and their sweet, grassy beef flavour never really gets going in a meaningful way. The solution? Lash on the toppings and hope nobody notices.
4/10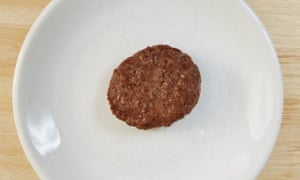 Do you really like pepper? Because someone in product development at the Co-Op really, really likes pepper and if you don't like pepper, well, you are going to hate this burger. That pepperiness builds and builds to a point it renders any other reservations (a very greasy surface; the squishy, foam-like texture), null and void. True, this burger tastes of something, but, being pedantic, it is not beef.
3/10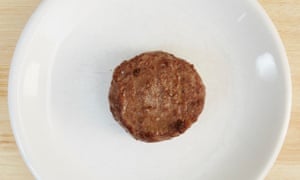 To an extent, the burger world is split between those who want a familiar steak flavour in their patty and modernists who crave a more complex beefy profile. These handsome burgers – thick cut; nice, rough grind; juicy as hell – are definitely in the traditional camp, but thanks to some skilful seasoning (a little onion and rosemary extract), they also have genuine depth of flavour. A clear winner.
8/10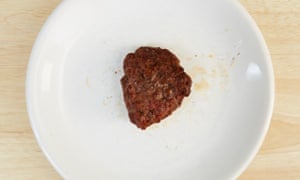 Don't panic! They are cooked. That red colour is down to the domineering tomato puree which gives these thin, loosely packed patties (known among connoisseurs as "smashed burgers"), a flavour that is closer to beef and tomato stew than "burger". For something more orthodox, go for Ocado's own Angus beef quarter pounders (4-pack, £4.29, 454g – 7/10), which deliver a true steak flavour.
5/10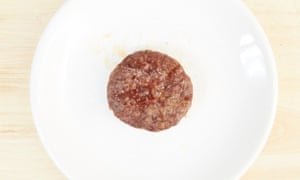 Sometimes, with Heston Blumenthal, you just want to shout: "Oi, professor, leave it. You're making a mountain out of a minced-beef molehill." His burgers are processed in such a way that all the meat fibres sit vertically in each patty, a palaver which, yes, produces a markedly robust yet moist puck. The flavour, however (closest to brisket, one of three cuts used to make these burgers), is far too subtle.
6/10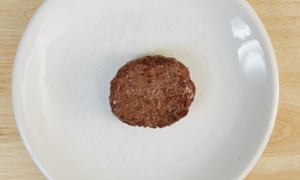 The steak flavour is present and correct, and the black pepper seasoning comes through, eventually. Does that sound dull? Well, they are bit. But if you need to stock up on protein for a family barbecue, Lidl is probably the most cost-effective option. Jazzed-up with slaws, pickles and sauces, no one is going to question the steady, serviceable base flavour of these box-ticking burgers. They will do a job.
6/10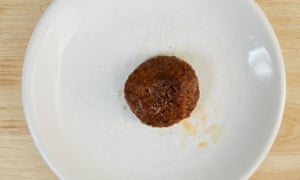 If you are reading this and thinking, "Blimey, I can't believe this bloke gets paid for eating burgers," console yourself with the fact that I had to taste this … so you don't have to. Flavoured with Monterey Jack and Cajun-style spices (top notes: sugar, molasses, chilli, "smoke flavouring"), these burgers are an abysmal combination of mushy meat and harsh, sticky, antagonistic seasonings.
0/10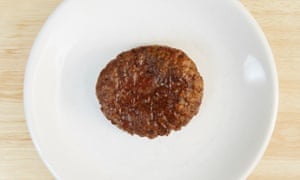 The meat in these is so tightly layered it looks like a cross-section of a seam in a slate quarry. That might explain why the patty is dense to the point of outright toughness. The flavour, meanwhile, is closer to that of thinly sliced topside on a bog-standard Sunday roast than it is the concentrated beef intensity you associate with a good burger. Despite the 30-day dry-aged hype, disappointing.
5/10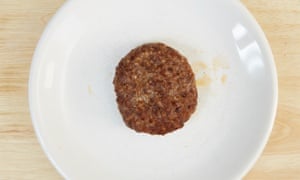 Is it the dried potato or the rice flour that is to blame? I don't know, but this is another large, flat, densely-packed puck that is much harder-going than it should be. Your elbow grease is not rewarded with punchy flavour, either. It tastes "steaky" but at a rather humdrum level, and the black pepper seems to jangle around the meat, rather than acting as a complementary seasoning. Meh!
4/10
Source:https://www.theguardian.com