No onion toppings. Every restaurant is facing a shortage of onions. You see the signs everywhere."
According to official statistics, the price of onions surged in the Philippines to around 700 pesos ($12.80; £10.40) per kg last month.
That is more than the cost of meat, and the Southeast Asian country's daily minimum wage.
Although prices have eased in recent weeks, onions are still a luxury for many consumers, says Rizalda Maunes, who runs a pizzeria in the central Cebu city.
"We used to buy three to four kilogrammes of onions a day. Now we buy half a kilo which is all we can afford," Ms Maunes told the BBC.
"Our customers understand because it is not just restaurants… households are having a hard time as many dishes are sweetened with onions," she adds.
The staple ingredient in Filipino cuisine has become a symbol of the rising cost of living.
It comes as inflation, which measures the rise in prices of everything from food to fuel, reached a new 14-year-high in the tropical country last month.
President Ferdinand Marcos Jr, who is also the agriculture secretary, has called rising food prices an "emergency situation". Earlier this month Mr Marcos approved the import of red and yellow onions in an attempt to boost supply.
Experts say that the reopening of the Philippines economy is driving demand, while harsh weather has affected the production of food, including onions.
"Back in August, the Department of Agriculture had forecast a potential shortage of the root crop. A few months later, the Philippines was hit by two powerful storms that caused substantial crop damage," says Nicholas Mapa, a senior economist at ING Bank.
"We have also seen a stark pickup in demand as the economy recovers sharply," Mr Mapa said.
Rising prices have also hit street food stalls in Cebu, which are popular with locals and tourists.
Fried vegetables, meat and seafood, are typically served with an onion and vinegar dipping sauce.
"Onions are a big part of our dishes. It adds a flavourful crunch [and] sweetness to contrast the saltiness of our food," says Alex Chua, who has cut back on onions at his stall.
"We are thankful that the government is implementing measures to stop the increase of prices. We hope that they continue to implement such measures to bring prices down further," he adds.
Onions have been so sought after that April Lyka Biorrey chose to carry a bouquet of the crop at her wedding in Iloilo City.
"I asked my groom if we could use onions instead of flowers, since after the wedding the flowers would wilt and end up being thrown away," Ms Biorrey told a local newspaper.
"So why not onions? It's practical in a way that it could still be used after the wedding," she quipped.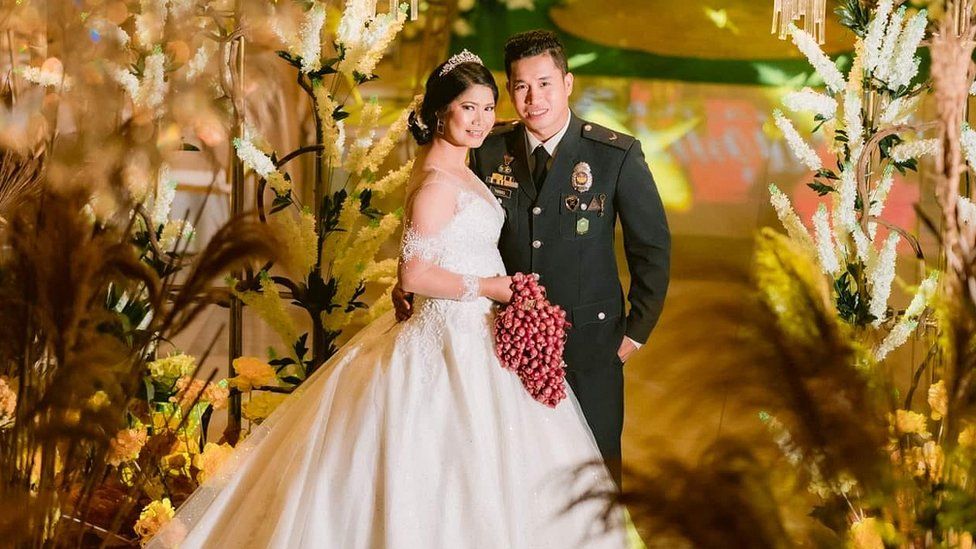 Others have gotten in trouble for smuggling onions into the country.
Earlier this month, 10 crew members from Philippine Airlines were investigated for attempting to smuggle nearly 40kg of onions and fruits into luggage bags.
Customs officials later said they will not face charges but warned travellers against carrying produce without permits.
The crisis has put pressure on Mr Marcos, who had promised to boost food production as agriculture secretary. Some lawmakers have called for him to appoint a replacement.
Speaking at a hearing on the country's rising food prices, Philippines Senator Grace Poe said, "Before it was sugar, now, it's onions. We'll end up having a hearing for everything in the kitchen."
Marie-Anne Lezoraine from the Kantar Worldpanel consultancy says climate change is also a major threat to the country's food security.
"Purchasing power is tight for most consumers who already afford only the essentials. If climate change causes shortages and therefore prices to soar, it will cause a very damaging impact on a large proportion of consumers in the Philippines," Ms Lezoraine says.
But Mr Mapa believes that the price of onions could stabilise as the government imports more of the crop.
"However the timing may be unfortunate as it coincides with the February harvest season for locally produced onions," he says. "Prices may actually drop dramatically once both harvest and imports hit the market almost simultaneously."
www.bbc.co.uk