People of all ages are being encouraged to do more to look after their brains to try to reduce their dementia risk.
A new brain check-up tool from Alzheimer's Research UK offers tips on staying sharp, keeping active and connecting with others.
Getting regular hearing checks in your 40s and 50s is one way to prevent social isolation, it says.
But most cases of dementia cannot be prevented, so early detection and better treatments are still vital.
Research suggests there are 12 risk factors for dementia which, if modified, could stop four in 10 people developing memory loss, confusion and communication problems.
Advice based on these risk factors is to stop smoking, do regular exercise, cut back on alcohol and challenge your brain – and it is never to early or too late to start doing it, experts say.
Anyone can take the brain check, which has been based on the latest research, to find out how to lower their individual chances of dementia.
But it is particularly aimed at adults aged 40-50 because this is seen to be an important window for taking action to look after brain health.
Prof Jonathan Schott, chief medical officer at the charity, said it would "provide a practical and easy means to allow people to take action to reduce their risk of dementia".
But he said only a third of people realised that was possible, which needed changing.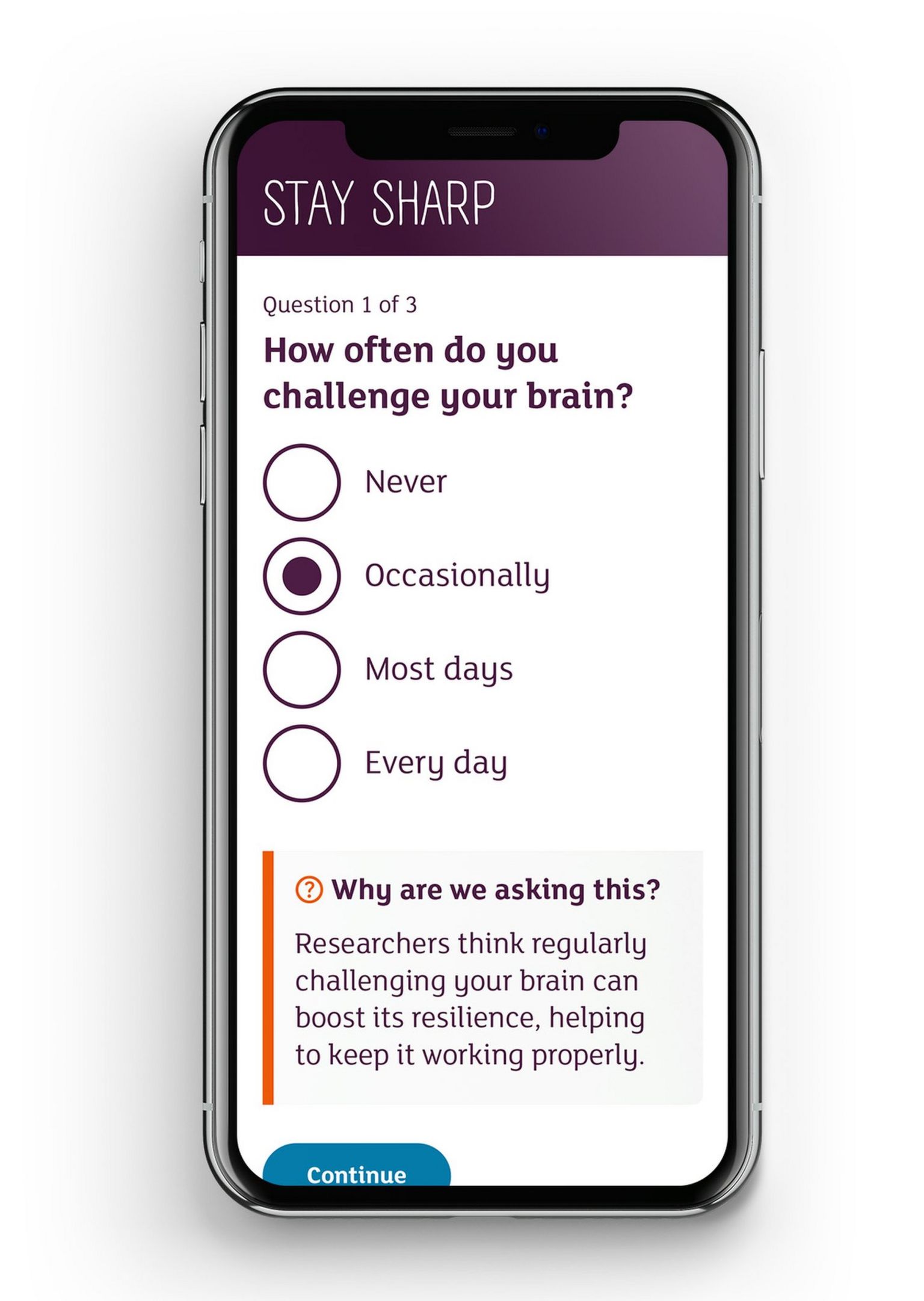 Alzheimer's is the most common cause of dementia, which affects nearly one million people in the UK and 55 million worldwide.
Numbers are forecast to rise sharply over the coming decades as more people live longer and their risk of dementia goes up with age.
Dr Sarah Bauermeister, senior scientist at Dementia Platforms UK, said several studies had found a link between hearing loss and dementia risk.
"Why is not clear," she said, "but a probable factor is they are working harder to hear conversations rather than focusing on cognitive tasks – and their world shrinks."
She said it was a good idea to get your hearing checked and corrected with a hearing aid if needed.
Our individual risk of developing dementia is linked to a combination of our age, the genes we inherit and the lifestyle we lead.
Many of those things cannot be changed, which is why there is no foolproof way of preventing dementia in 60% of cases.
"It's important not to blame people for getting dementia," said Dr Charles Marshall, clinical senior lecturer in dementia at Queen Mary University of London.
Some groups, such as those from poorer background and those with less education, are at higher risk.
But he said the NHS Health Check, a service for those aged 40-74, could be used to test brain health and give people advice on how to improve it, while also identifying those with early signs of dementia.
At present it takes an average of three years to get a diagnosis of dementia and there are very few treatments for symptoms.
"We need the same diagnostic process for dementia as for cancer, and that means redesigning services," Dr Marshall said.
"We need to prepare now for delivering new treatments when they come."
Hilary Evans, chief executive of Alzheimer's Research UK, said: "With 40% of dementia cases potentially being preventable, there's an enormous opportunity to reduce the personal and societal impact of this heart-breaking condition.
"It's time for the nation to wake up to the idea of brain health and how looking after our brains can reduce the risk of dementia."