The Kansas City Chiefs kicked a game-winning field goal at the death to ensure they will face the Philadelphia Eagles in Super Bowl 57.
But Kansas City avenged that loss with a nail-biting 23-20 win to reach their third Super Bowl in four years.
The Eagles beat an injury-hit San Francisco 49ers 31-7 for the NFC title.
That means the top seeds in each conference, who both finished the regular season with a 14-3 record, will meet for the NFL championship in Arizona on 12 February.
Cincinnati twice levelled in the second half at Kansas City's Arrowhead Stadium as two of the NFL's best quarterbacks traded blows.
The visitors' Joe Burrow hoped to reach a second straight Super Bowl in just his third season, while the Chiefs' Patrick Mahomes aimed for a third Super Bowl in five seasons as a starter.
The Bengals had won their past three meetings, including last year's AFC title game, and the rematch looked set for overtime again as the teams were tied 20-20 for most of the fourth quarter.
But, despite carrying an ankle injury, Mahomes scrambled for a first down with 17 seconds left and a penalty for a late hit on him gave Harrison Butker the chance to make the game-winning kick from 45 yards.
Mahomes battles injury to seal Super Bowl return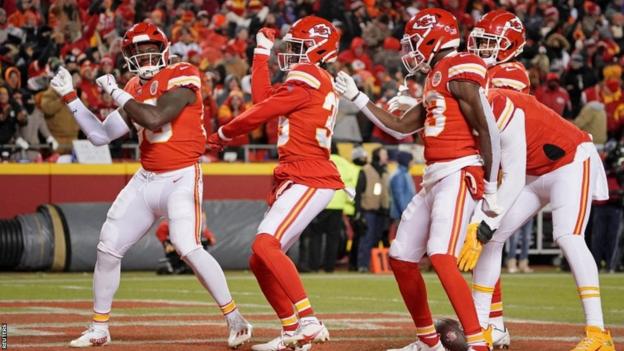 Cincinnati struggled during the early stages as Burrow was sacked four times while the Chiefs kicked two field goals, although the Bengals then replied with a field goal of their own.
Mahomes showed no ill effects from the ankle sprain he suffered during last week's divisional round win over the Jacksonville Jaguars as he capped a 75-yard drive by rolling out of the pocket and firing a 14-yard touchdown pass to tight end Travis Kelce.
Burrow was intercepted with less than three minutes left in the half, yet the Bengals managed to force a quick three-and-out and get within field-goal range to cut the deficit to 13-6 at half-time.
And Cincy drew level after their first possession of the third quarter, Burrow floating a 27-yard pass for Tee Higgins to score in the corner of the end zone.
Although Mahomes began hobbling after making a pass on the run, he then produced a 19-yard dart to Marquez Valdes-Scantling to put the Chiefs back in front.
But a Mahomes fumble on the Chiefs' next drive was recovered by the Bengals, who levelled again after Burrow's 35-yard pass to Ja'Marr Chase allowed Samaje Perine to punch it in.
Defences then took charge in a tense finale, with Chris Jones' sack on Burrow forcing the Bengals to punt inside the final minute.
A 29-yard return by Skyy Moore gave the hosts hope of clinching a win in regulation time, and Joseph Ossai's tackle on Mahomes after he stepped out of bounds gave Butker a much more favourable kick to seal the win.
Purdy dream becomes a nightmare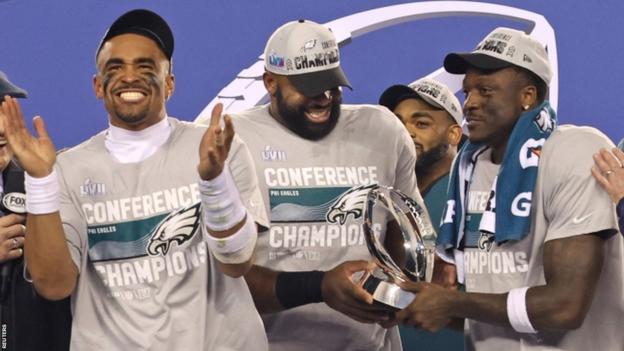 Mahomes is thought to be slight favourite to be named this season's Most Valuable Player, just ahead of Jalen Hurts, who set the record for most rushing touchdowns by a quarterback in one season – 15 – as Philadelphia denied Brock Purdy a fairytale Super Bowl appearance.
Purdy was this season's 'Mr Irrelevant', the nickname given to the last man selected in the draft, yet was thrust into the limelight in December after injuries to Trey Lance and Jimmy Garoppolo.
The 23-year-old led the 49ers to victory on his first seven NFL starts and hoped to become the first rookie quarterback to reach the Super Bowl, but both he and his back-up Josh Johnson were injured as the Eagles' pass rush proved too strong.
Miles Sanders had already got into the end zone for the hosts before Purdy injured his right elbow as he was sacked for a fumble by linebacker Haason Reddick.
Now led by 36-year-old journeyman Johnson, the 49ers managed to draw level midway through the second quarter after Christian McCaffrey crashed through for a 23-yard touchdown.
But any hope of San Francisco reaching the Super Bowl despite playing their fourth-choice quarterback was dashed on the next three possessions.
Sanders got in from 13 yards before Reddick got the ball straight back with a fumble recovery and Boston Scott ran in a 10-yard touchdown to make it 21-7 right on half-time.
San Francisco had other injury concerns before Johnson was also forced to the sideline after being tackled mid-throw on their first possession of the second half.
Purdy was able to return, with his arm heavily strapped, but was unable to throw properly and the 49ers let their frustration show by giving away a host of penalties, allowing Hurts to cap a 91-yard drive before Philly added a field goal.
That means the Eagles will play in the Super Bowl for the fourth time and the first time since 2018, when they beat the New England Patriots to claim their first NFL championship.
When and where is Super Bowl 57?
This season's Super Bowl takes place in Arizona on Sunday, 12 February (23:30 GMT), with the big game making a swift return to the Phoenix suburb of Glendale as the State Farm Stadium has already hosted NFL's championship game twice – in 2008 and 2015.
Completed in 2006, 'the Big Toaster' was built at a cost of $455m and has a capacity of 73,000, with a retractable roof and a roll-in grass field.
This year's half-time show marks the long-awaited return of Rihanna as the Barbadian singer is set to make her first live performance in more than five years.
www.bbc.co.uk