With a record 18 million people visiting last year, Spain is by far the most popular foreign destination for UK holidaymakers. But as the country "fills up" with tourists – picking a package deal to the Costa del Sol or the Balearics over Tunisia, Egypt or Turkey – prices look set to increase.
Much of the rise in visitor numbers has been caused by ongoing security concerns over travel to north Africa and Turkey. Travel to Turkey suffered last year due to a failed military coup and from 2015 until July this year – when the Foreign Office updated its travel advice – British tourists were warned not to travel to Tunisia, following a terrorist attack on a beach in Sousse that killed 38 people.
In February, travel market analysts GfK reported a record number of British tourists had visited Spain in 2016, rising by 12% to 17.8 million people. At the time, early bookings for summer 2017 were already up 16%.
On Tuesday, Thomas Cook chief executive Peter Fankhauser told the BBC that in Spain "we have not enough beds for all the demand", adding that he expected the price of a Spanish holiday to rise by up to 10% next year, as a result of the destination's surge in popularity, combined with the weak pound.
Other industry experts agree. John Lucas, e-commerce director at loveholidays.com, said demand for summer 2018 was already higher than this time last year, with a growing number of people taking advantage of early-booking deals.
"Spain was very busy this year, so a lot of tourists would have missed out on the best hotels, best rooms or their first-choice properties," he said. "What we're seeing now is a huge interest in summer 2018, and that's one of the first influencers of price. If the demand comes early, the hoteliers will be happy to hold their line as we get closer to next summer."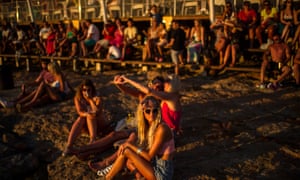 Alexander Göransson, lead analyst at Euromonitor International said that it would expect accommodation prices in Spain to continue to increase in 2018, as a result of the Spanish economy improving, leading to an increase in demand from domestic visitors.
"There are indications that hoteliers in Spain are moving away from block bookings with tour operators, preferring to sell rooms directly to independent travellers, who they can charge more," he said. "The current increased demand has given them the confidence to do this."
Göransson added that although demand for accommodation will be high in 2018, putting upward pressure on prices, increased demand for travel to Spain could mean flight prices drop as airlines compete to lure passengers, helping keep overall package prices down.
"Aircraft have the advantage over hotels in that they can be diverted to where current demand is," he said. "According to our industry sources, airlines are shifting capacity from the eastern Mediterranean to the Iberian peninsula. This increase in capacity and thus falling prices allows tour operators to offset part of the increased accommodation costs."
Wayne Perks, managing director of Teletext Holidays, said that although capacity issues in mainland Spain and the Balearics are causing prices in peak season to rise, travel to Turkey is also looking more buoyant.
"Turkey has had a stronger summer than expected and predictions are that 2018 will see it rise to previous levels of popularity if there are no further issues," he said. "This will mean that the Spanish hoteliers may have to revise their pricing to compete with the value that Turkey will undoubtedly offer."
This could also be the case with Tunisia. In July, the Foreign Office revised its travel advice for the country, meaning tour companies can resume trips there. Thomas Cook has begun selling holidays there again, with trips starting from February 2018.
According to Euromonitor, tourists would be expected to drift back to north Africa and the eastern Mediterranean if they become more stable.
"The lack of demand has put downward pressure on prices, which could make them more appealing to price-sensitive consumers," said Göransson. "This, again, would be more relevant if sterling remains weak, which it is likely to do as Brexit negotiations appear far from concluded."
Read more at theguardian.com