Tony Blair has apologised for mistakes made over the Iraq War – and said there were "elements of truth" to claims the war caused the rise of Islamic State.
The ex-PM said "those of us who removed Saddam" did bear some responsibility for the situation in Iraq today.
But he again defended the invasion, saying it was "hard to apologise" for removing Saddam Hussein and that Iraq might have become like Syria otherwise.
Scottish First Minister Nicola Sturgeon said it was a "Blair spin operation".
Mr Blair's comments come shortly before Sir John Chilcot announces a timetable for completion of his inquiry into the war.
BBC political correspondent Iain Watson said any apologies from Mr Blair were strictly limited.
'Planning mistakes'
In an interview – which is yet to be broadcast – with US news channel CNN, Mr Blair said that even if his policy in Iraq did not work, subsequent policies had worked no better.
He suggested that if the Iraq invasion had not taken place the country could have degenerated into civil war, as Syria did.
---
Analysis

By Robin Brant, BBC political correspondent
He says sorry for things he's already said sorry for; he doesn't say sorry for the overall decision to go to war.
Most significant, though, in terms of new revelations is the former prime minister's admission that getting rid of Saddam Hussein may have had some bearing on the rise of so-called Islamic State.
There are "elements of truth in that", he told CNN, before he went on to explain the complexities of post-Saddam Iraq and beyond.
One other thing is notable; Tony Blair appears to believe that the UK and Europe's current military inaction over Syria is wrong.
As you read this or see the interview remember this is an intervention that comes just as we expect to hear final details of when the Chilcot report will be published.
Remember that Mr Blair knows what criticisms he is likely to face in that report.
He – like anyone else likely to be criticised – knows what's coming.
---
'Elements of truth'
He also apologised for "some of the mistakes in planning" as well as "our mistake in our understanding of what would happen once you removed the regime".
But he told CNN that if asked to say "we would be better off as a world" if Saddam were still in power, "I have to part company with people."
Asked if the war was the "principal cause" of the rise of the so-called Islamic State (IS or ISIS) militant group, he replied: "I think there are elements of truth in that.
"Of course you can't say those of us who removed Saddam in 2003 bear no responsibility for the situation in 2015, but it is important to also realise that the Arab Spring which began in 2011 would have also had its impact on Iraq today."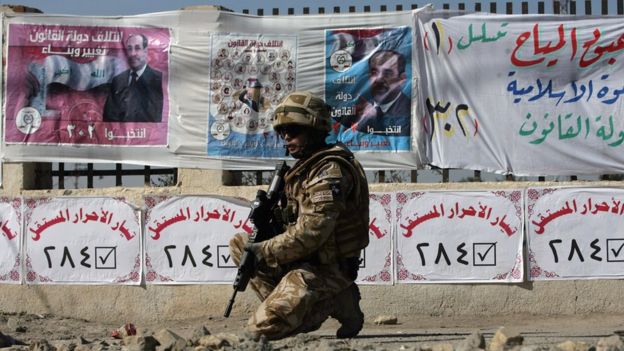 Explaining his view, Mr Blair said the coalition had helped to install a "broad-based government" in Iraq following the war.
But relative stability in Iraq in 2009 was then undermined by "sectarian" policies of the then Iraqi government and the impact of the Arab Spring, he said.
Mr Blair said IS then moved from Iraq into Syria and established itself there, before returning to Iraq.
Problems were caused by people "trying to kill as many innocent people as possible and disrupt progress", he added.
No apology
Sir John Chilcot's long-awaited report into the Iraq War is now reaching a conclusion, although no date has yet been given for its release – more than six years after the inquiry was set up by the then prime minister Gordon Brown with an assurance that it would take a year.
Ms Sturgeon tweeted: "The Blair spin operation begins but the country still awaits the truth. The delay to Chilcot report is a scandal."
But Mr Blair's office denied the interview was an attempt to set out his version of events before facing probable criticism.
A spokesman said: "Tony Blair has always apologised for the intelligence being wrong and for mistakes in planning. He has always also said and says again here that he does not however think it was wrong to remove Saddam.
"He did not say the decision to remove Saddam in 2003 caused ISIS, and pointed out that ISIS was barely heard of at the end of 2008, when al Qaeda was basically beaten."
Source: https://www.bbc.com