Prime Minister Theresa May is to hold face-to-face talks with US President Donald Trump in the Oval Office later.
The pair will spend about an hour together in the first visit by a foreign leader to the White House since Mr Trump became president.
Earlier, Mrs May told US Republicans the UK and US could not return to "failed" military interventions "to remake the world in our own image".
But she said they should not "stand idly by when the threat is real".
The visit comes amid controversy over comments by President Trump about waterboarding.
Post-Brexit trade opportunities, security and intelligence co-operation and the future of Nato are likely to feature prominently in Mrs May's talks with Mr Trump.
Although the UK cannot begin to negotiate trade deals with the US or other countries until it leaves the EU, Mr Trump has said he wants a "quick" deal after that, and the two leaders are expected to discuss future co-operation.
In her speech to US Republicans on Thursday, Mrs May said she wanted to "renew the special relationship" between the UK and America.
She said the two countries "must always stand up for our friends and allies in democratic countries that find themselves in tough neighbourhoods too", to applause from her audience.
BBC diplomatic correspondent James Robbins said Mrs May's speech was hugely significant, arguably the biggest by a UK PM in the US since Tony Blair's 1999 speech in Chicago advocating armed interventionism against dictators.
---
Analysis
By BBC political editor Laura Kuenssberg
Last night Theresa May signalled a turn away from American and British foreign policy of recent years – military interventions into countries like Afghanistan and Iraq.
But also, she urged president Trump not to turn America's back on the world, to lead, and to stand up for free trade, not to allow the rise of Asian nations to "eclipse the West".
For the president who has vowed again and again to put "America First", it was certainly an effort to persuade – if not outright criticism.
Yet she also heaped praise on Donald Trump's victory, and at home there is queasiness about her new political friendship in some quarters, and scepticism over whether a fair trade deal for the UK with the US could really be achieved as soon as we leave the European Union.
Well aware of the dangers, Theresa May is nothing if not ambitious for her relationship with her new political friend.
---
'Engage but beware'
Mrs May's speech followed comments by UK Foreign Secretary Boris Johnson to a House of Lords committee on Thursday that Bashar Assad should be allowed to run for election to remain in power in Syria – a complete reversal of UK foreign policy.
The prime minister also spoke in support of Nato – which Mr Trump has called "obsolete" and complained that few member states meet their commitments to it – and the Iran nuclear deal, which Mr Trump threatened to scrap during his campaign.
And she said care must be taken to distinguish between "extreme and hateful ideology" of Islamist extremism and the "peaceful religion of Islam and the hundreds of millions of its adherents – including millions of our own citizens and those further afield who are so often the first victims of this ideology's terror".
On dealing with Russia's President Putin, Mrs May said: "My advice is to engage but beware."
"We should not jeopardise the freedoms that President Reagan and Mrs Thatcher brought to Eastern Europe by accepting President Putin's claim that it is now in his sphere of influence," she said.
---
Present for the president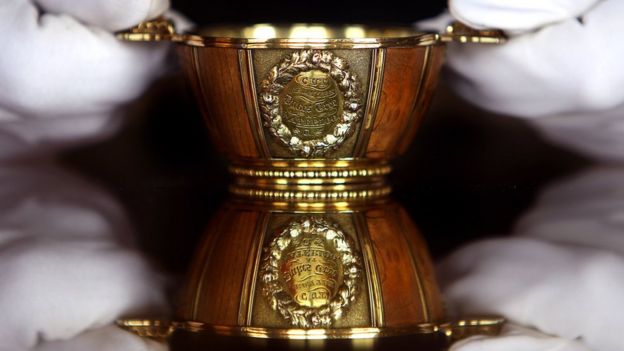 Theresa May will present Donald Trump, whose mother was born in the Outer Hebrides, with an engraved quaich, a Scottish artefact symbolising friendship.
The shallow bowls were traditionally used in Scotland from the 17th Century as drinking cups.
First lady Melania gets a hamper of produce from Chequers – containing apple juice, damson jam, marmalade, Bakewell tarts and "cranberry and white chocolate shorties".
---
The issue of torture and waterboarding rose up the agenda after the president told ABC News on Wednesday that after he asked intelligence officials if torture "works" he was told, "'Yes, absolutely.'"
Mrs May has been urged to reject the comments when she meets Mr Trump, and she has suggested that British intelligence sharing could be withdrawn from some operations with the US if it reintroduced torture.
Asked about his comments on her flight to the US, the PM told journalists that the UK condemned torture and "my view on that won't change – whether I am talking to you or talking to the president".
But she said she and Mr Trump could work together, despite their different styles, joking "sometimes, opposites attract".
Under British law and policy, the UK military and intelligence agencies cannot join operations where someone is being tortured or officers believe there is a risk that it may happen.
Read more at BBC.co.uk