The build-up
England went into the World Cup as grand slam champions having pipped France 21-19 in their final game at Twickenham in the Five Nations; the silverware was won after three years of hard work following the disappointment of the 1987 World Cup. But their illusions of grandeur had been shattered on their summer tour when they were defeated 40-15 in Sydney by Australia, It was then the players' real work began …
Peter Winterbottom, England's openside flanker: It was the biggest wake-up call we ever got. I think we all came back to the UK and trained like mad for the next couple of months. We were told [by head coach Geoff Cooke] that if we didn't pass the fitness test we wouldn't be selected for the World Cup. I trained like a madman and actually it was the best thing that happened. I got myself an athletics coach who helped me get through it. I must have trained every day for a few months and I was fit as a fiddle by the time we started. We got put on our backsides in Australia and everybody came back and gave it a go. I remember vividly Jason Leonard was one of my training partners down on the athletics track in Tooting Bec and the two of us flogged each other.
Mike Teague, England No8: That defeat was key to our World Cup preparations. We got quite a kick up the arse, we went there [Australia] expecting to get a good result and we didn't. Geoff Cooke and Roger Uttley are never given enough credit. They said "if you want to win the World Cup you have to be at another level". I believe the minimum then, for the forwards, was 14/2 on the bleep test and you had to reach those targets and for one or two of the boys it was not easy.
Simon Halliday, England wing: We were together a lot that year. We had five weeks in the summer in Australia and Fiji, a week back at work and then seven weeks in camp. They had a rule where you were not allowed to consort or spend time with wives and girlfriends: a number of players were based in the north and their partners were not funded to fly down. The manager said that in recognition of that no one can see their wives … so a few of us snuck off to London a couple of times.
Pool stages
England's buildup was low-key in the amateur era but things changed once the tournament began.
PW: You didn't really feel any hype before the tournament started. Once it was up and running it was getting a lot of coverage but it's nothing like it is now. One thing that you did realise was that a lot of non-rugby people were able to look at the game and understand what it is. We used to get cab drivers going "you're the rugby boys and we're all behind you" and you can bet your arse this bloke had not seen a game of rugby in his life.
MT: It was the start of that changeover, and Brian Moore would put it more eloquently than me, from being amateur to professional, which was all part of bringing rugby towards competing with soccer. It's never going to be as big as our national game but it's giving it a run for its money. There's a lot more interest in rugby than pre-1991.
England v New Zealand, 3 October Twickenham
Geoff Cooke's side did not have an easy start to their campaign, facing New Zealand at Twickenham, and the champions won 18-12 courtesy of a Michael Jones try, a Grant Fox conversion and four penalties …
Roger Uttley, England coach assisting Cooke: The fact that we had to play New Zealand in the first match was a bit of a handicap. With players like Michael Jones on the flank and 'Inga the Winger' [Va'aiga Tuigamala] at the time, it was a very good New Zealand side. We only lost by a score but it did mean we came out of the group in second, which meant we had to go to Paris.
SH: We lost the opening game having spent a lot of time discussing how we were going to confront the haka. Were we going to face them down and glare at them? Were we going to gather in a circle and put our tracksuits on? There was a lot of debate and we almost over-psyched ourselves up. They were not a great All Blacks side and Australia were to beat them in the semi-finals. I did not play in that match: we were nervous and disappointing. Italy and the USA followed and they were not difficult matches.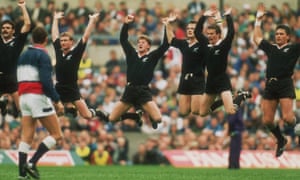 PW: The New Zealand defeat focused our minds and we really knuckled down. Sometimes you have to really think about how the team should be playing. You go into a tournament with a preconceived idea of how you will play and where you will get success and then suddenly things change. You've got to be very honest about what you're going to do. And we did that. We were sitting down over a few drinks and decided we really had to do something or we're not going to do so well in this World Cup. As it worked out losing to New Zealand was not the worst thing that happened. We decided to be a bit more pragmatic about how we were playing.
Pool stage results
3 October: England 12-18 New Zealand
8 October: England 36-6 Italy
11 October: England 37-9 United States
Road to the quarter-final
RU: We went for a bit of a rest in Jersey. The players enjoyed themselves. Geoff and I got presented with an enormous bar bill, Peter Winterbottom had quite a lot to do with it, I believe, but because we were winning that was brushed under the carpet. It was a great weekend. That pack of forwards were all characters. There was a little bit of us and them between backs and forwards but they all got on very well.
SH: The four-day break was pretty riotous – with partners in the one concession. Then we flew to France and Brian Moore said: "No one wants to go back to work on Monday so for fuck's sake we have got to win this one."
Rob Andrew, England fly-half: One or two of the players had taken unpaid leave, I was fortunate enough not to have to but one of the driving forces in the quarter-final against France in Paris was that if we lost we would be back at work on Monday but if we won, we would have another two weeks in the tournament.
Quarter-final – France v England, 19 October, Parc des Princes
In the Five Nations, England's power and physicality had overcome three fine tries by France and having beaten them in Paris the previous year, the English believed they could use their strength to unsettle the home side's main attacking threat, Serge Blanco …
RU: We had sorted the guys out and left them in the changing room and we came out of the tunnel and went up into the stand, and in those days Geoff and I sat there along with the subs on the bench. The lads stayed on the pitch at half-time so we were there for the duration of the game and there were no comms or anything like that. The French sat on the bench in front of us. They were turning around and shaking hands at the start, it was all very entente cordiale, but as the game went on inevitably tensions began to increase. People got very excited, [Daniel] Dubroca [the France coach], who was a good guy, got very excited with the referee, David Bishop.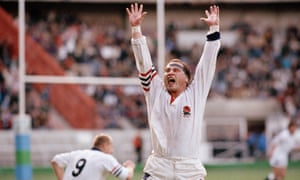 MT: The France quarter-final was the greatest game of rugby I ever played in. I've never experienced an atmosphere like it at Twickenham or anywhere in the world. We were very lucky that Pierre Villepreux came into the squad and did some coaching with us and I think his knowledge, coupled with Roger and Geoff, stood us in good stead. It was incredible, listening to him before the game, his heart was split in two. He wanted the French to win on the one hand but he wanted his message and the way that he had coached us to play out and be effective – it was a fantastic insight. We were not in the match in the first half and I really did think we were going to struggle to win the match but we had great team spirit and we pulled together and pulled it off.
England struggled in the first half but as the second wore on the French became more frustrated, tempers flared and one tackle by Mickey Skinner on Marc Cécillon, catapulting the France No8 backwards after he picked up from the base of a scrum relieved the pressure in the 22 and turned the momentum in England's favour.
PW: It was one of those games that you just felt, certainly in the second half, that if we conceded it will cost us the match. They had some very talented players but on the day they didn't really get the chance to use them. We beat them in 1990 over there and we beat them at Twickenham in 1991 so we had the psychological edge on them. We had a bit of an aggressive pack so we knew that if we could intimidate them, they would go off their game. And that's what we did. Brian [Moore] would usually lead the pre-match talk and hype and that really got under the skin of the French, it certainly affected them. By the time of the quarter-final they were frothing at the mouth. We knew that would work but I just made sure I was standing behind Wade Dooley when it all kicked off.
RU: The game completely hinged on Skinner's tackle [on Cécillon]; if they had scored then I think we'd have been dead and buried. But we came back, scored a great try, pushed Serge Blanco over the line and buried him.
Result: France 10-19 England
Road to the semi-final
PW: We'd all been on rugby tours before and it was like a tour at home really. We didn't have much time at home. We had a few games of golf, a few good nights out – probably more than these guys will have now – and we did a lot more training than we'd normally do. I remember a game of golf up in Scotland when Jason Leonard and Jeff Probyn had no etiquette whatsoever. We'd be on the green and suddenly the balls would be raining down where we were standing. Leonard was just 150 yards back down the fairway whacking away. It was a beautiful golf course, Gullane, near Muirfield, and as we were putting the balls just came flying on to the green.
The semi-final – Scotland v England, 26 October, Murrayfield
The previous year Scotland had seized the grand slam from England on the same ground. The visitors' determination to avoid a repeat meant they focused on their strengths, attritional 10-man rugby. Even so the game is remembered for one of the most remarkable missed penalties in history by the normally unflappable Gavin Hastings.
SH: When we played Scotland there in 1990 it was the year of the poll tax and the first time they started singing Flower of Scotland. They were very aggressive that day and they were going for the grand slam as well. I remember Scott Hastings being verbally very rough on the pitch and they were in our faces.
PW: Scotland were a good side. They had the likes of JJ (John Jeffrey), Gavin, Craig Chalmers – they had a number of really top-quality players so they were never going to be an easy side to roll over. One point was going to be enough and we got ourselves through to the final. In 1990 we played such good rugby but in 1991 we tightened things up. It was just about winning and not playing with the expansiveness that we had done. There was no doubt that at Murrayfield there was a big score to settle. We felt we'd let ourselves down in 1990 and we wanted to make up for it.
Hastings had put Scotland 6-0 up with two penalties which, after a series of misses, the England full-back, Jonathan Webb, levelled. With half an hour left Rob Andrew dropped a goal. Four minutes later, Hastings was crunched by Skinner and a penalty was awarded to Scotland.
SH: I heard on the radio the other day that he had been concussed just before. I had not been aware of that. Apparently he came round and was told he was taking the kick and he replied 'What am I supposed to do?'. He then missed it. It sounds a very charitable version 24 years on.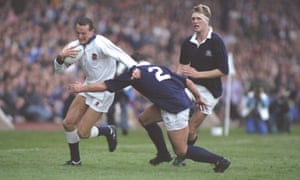 PW: Gavin missing the kick in front of the posts was not near the end of the game. There was a lot of rugby to be played after that but I think we just about deserved it. When you're in those kind of pressure situations sides do tend to take less risks than you would usually do. It was a fairly uncompromising performance really.
MT: I think looking back on it that [the World Cup semi-final] was the better game to win and I think it will echo in Gavin's memory missing that kick in front of the posts. It was tough game, a battle between the forwards, but I loved games like that. I think it was more charged than the other matches against Scotland because of what had happened before. And everyone wants to beat the English, but when you get that in your mind you can't go wrong – you're hated wherever you play in a white shirt with a red rose.
Result: Scotland 6-9 England
The final – Australia v England, 2 November, Twickenham
Australia had beaten the All Blacks in their semi-final, and in English minds before the game was their heavy defeat in the summer and the increasing criticism of their style of play.
RU: We received an awful lot of stick for being dull and boring. By the time we got to the final we were so sick of it that Will and the lads thought: "we can actually try and do something here." And we very nearly did. But if we had been a little bit more pragmatic we may have seen a different result.
RA: We would all say that if you had one wish in your rugby career, 'can we play that one again?'. On another day with a different moment here and there we might well have won. We were capable of winning it, but you do not get it back. That is the beauty of World Cups.
PW: The dressing room was incredibly quiet before the game. I can't remember anyone ranting, it was very calm, very controlled. We just got on with it. We knew what we had to do. We did take the conscious decision that we would not beat the Australian forwards to the extent that we had done with some of the other packs. The feeling was that we would have to play a more expansive game. As it turned out we won so much ball that day that we could have won three games on the amount of possession we had.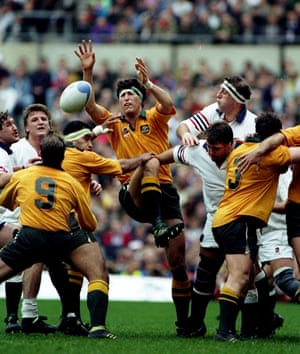 SH: The conventional wisdom is that we were conned into playing a different style in the final against Australia, that David Campese goaded us in the press about how to play. The reality is that we had gone to Australia in the summer and played very, very well out wide. When we looked at the video as we worked out how to beat them in the final, Jonathan Webb and Jeremy Guscott had beaten them on the outside a lot and we decided that we would do the same thing. It was preconceived and we talked about it all week. Those who say we changed our tactics, we did to a degree because that was the way we decided we should attack them. The issue was that on the day we did not mix it up which was down to the back row and the half-backs. It was not the captain changing the tactics: we all bought into it and I am not in that category of people who said it was disgusting and I threw my medal in the river and I can't believe we did it. Really? I was in that changing room and we all agreed. You go up as one and you go down as one.
England dominated possession in the first half but Australia's defence held firm. Australia opened the scoring through Michael Lynagh's penalty on 27 minutes. Three minutes later they crossed for a score from the prop Tony Daly and England had to chase the game.
PW: Quite a few of the players have since said that we should not have run the ball as much and we should have looked for field position and Rob should have kicked it more. Maybe they are right but I don't necessarily agree with it. The game basically swung because of a loose pass in their 22 when Tim Horan collected it, kicked down the other end and won a lineout five yards from our line, from which they scored. That was the only difference between the two sides. Had we played a more forward-orientated game, who is to say we would have won? It's unfair to blame Will [Carling] for the decision [to be more expansive]. It was a conscious decision by the senior players, the management – everyone was involved.
On 65 minutes Lynagh slotted another penalty to make it 12-3 to Australia and then came another turning point. England had an overlap and as Winterbottom looked to put Rory Underwood away, David Campese slapped down the ball.
PW: With Horan and Little in the centres they had some very solid players. We had a couple of chances but didn't take them. There was the knock-on. Had the ball got to Rory Underwood, it's very likely he would have scored.
RU: We were sat in the stands helpless, it was very difficult to get any information on the pitch so we were knackered really and left with that dreaded epithet 'if only'. We might have scored a try but games hang on those small incidents. It was tragic for the players, they had worked so hard and we had achieved a lot to get to the final in England but couldn't get past Australia. All credit to them, though – they played like England and we tried to play like Australia and on the day it went in favour of them.
Result: Australia 12-6 England
The aftermath
PW: Watching Nick Farr-Jones going up to collect the trophy from the Queen is absolutely the lowlight of my career. I've never been so emotional after a game. It was devastating. We had put so much into it and got so close and when you don't actually get over the line it's pretty hard to take. I think there was dinner afterwards in the Royal Lancaster hotel which is where we were staying but I couldn't go, I just went to the pub. There was a handful of us that thought 'I've got no interest in going in there' so we just went to the pub and had a few drinks and drowned the sorrows.
RU: I can't even remember where the dinner was afterwards. The lads would have gone off and done their own things and it would have been quite possible that they disappeared off into the London night. But on the day it's all about quality of performance and on the day Australia outdid us so I have no complaints. When Geoff and I set off, the objective was to get to the final. We had been living with this goal for so long by the time we got to the final, from a personal perspective, I didn't reset my targets and say let's win it. If I look back personally, that is one thing I regret.
SH: It was 12 weeks together and it was a surreal experience when we lost the final and went back to work on the Monday. I was working in a bank at the time [UBS] and my boss took me into a room and said I needed to go away for two weeks to get over it. I said I had been away for 12 and would quite like to get back to work. No, he replied, you need to take a holiday.
MT: I've never watched the final, it still upsets me to this day to think about it but there were the decision-makers and on that day the wrong decisions were made. I don't think there was any debrief, everyone was so bitterly disappointed. There was nothing to be said other than that we had messed up, fallen at the last fence. It was in our hands to have won it but the wrong decisions were made and the wrong style of play was adopted. Play to your strengths, do not get conned into playing the way Australia and New Zealand play. You cannot do that, you have to play your own particular brand of rugby. It was a case of hard luck, you did your best lads, but as we all know in sport, that doesn't really cut it. If you are a team of winners it hurts and nothing hurt more than that.
Where are they now?
15. Jonathan Webb – 33 caps, 1987-1993
England's kicker in the 1991 World Cup final, Webb retired in 1993 for personal and professional reasons to focus on his career as an orthopaedic surgeon. In 1997, he was awarded a Research Fellowship by the British Association of Surgery for the knee and worked during the 2000 Summer Olympics. The 52-year-old now runs his own clinic in Bristol.
14. Simon Halliday – 23 caps, 1986-1992
A talented cricketer and rugby union player, Halliday published the book "City Centre" in 2013, which won the 2014 British Sports Book award in the "Rugby" category. In April 2015, he became the first independent chairman of the governing body of the European Rugby Champions Cup.
13. Will Carling – 72 caps, 1988-1997
England's World Cup 1991 captain became a TV pundit with the sport and also worked as a motivational speaker. In 2001, he founded Will Carling Management Ltd, a corporate hospitality company.
12. Jeremy Guscott – 73 caps, 1989-1999
The 50-year–old is most recognisable for his full-time work with the BBC on all England test matches, but also has a column within The Rugby Paper. In his early days post-retirement, Guscott co-presented two series of Gladiators and worked as a fashion model.
11. Rory Underwood – 85 caps, 1984-1996
Underwood's career in the RAF finished shortly after his playing days. He set up UPH, a management and teamwork training company, in May 1999 and also holds a new company, Wingman Limited, as well as sitting on the board of Leicester.
10. Rob Andrew – 71 caps, 1985-1997
Andrew's career was curtailed by injury in 1999, playing for Newcastle Falcons where he remained as director of rugby until 2006. The RFU appointed Andrew as their director of elite rugby, but a tumultuous tenure until 2011 saw his role change to professional rugby director.
9. Richard Hill – 29 caps, 1984-1991
Nicknamed "Duracell", Hill took up assistant posts at Gloucester and Harlequins before his 2002 appointment as head coach of Newport RFC. A year later, the 54-year-old joined Bristol and spent six seasons at the Memorial Stadium, achieving promotion to the top flight of English rugby. Hill was most recently relieved of his duties at Worcester Warriors in 2013.
1. Jason Leonard – 114 caps, 1990-2004
Most capped England player of all time, Leonard has a construction business and is an after-dinner speaker. He. was elected Rugby Football Union president in June 2015.
2. Brian Moore – 64 caps, 1987-1995
Media work has taken up most of Moore's time following his retirement, as a Telegraph columnist and co-commentator for the BBC. The legendary hooker studied law at Nottingham University, subsequently becoming a qualified solicitor. He is also a trained manicurist. Yes, really.
3. Jeff Probyn – 37 caps, 1988-1993
Former antique furniture restorer and RFU council member, he is an after dinner speaker and writes a column for the Rugby Paper.
4. Wade Dooley – 57 caps, 1985-1993
Dooley retired after the Lions tour in 1993 and remained in Lancashire, working as a police officer in Blackpool. In 2008, he was appointed an RFU citing officer for the Aviva Premiership and Championship. Has a qualification in landscape gardening, owned his own business, and now runs a tea-shop in Lytham.
5. Paul Ackford – 25 caps, 1988-1991
A former Metropolitan Police inspector, Ackford worked as a Daily Telegraph columnist and offered some frank and outright views on players and the game. The former lock now writes a column The Times newspaper.
6. Mickey Skinner – 21 caps, 1988-1992
Skinner's tackle on Marc Cécillon during the 1991 tournament is still remembered to the present day and launched the flanker onto the same circuit as Probyn and Leonard. Now largely away from the after-dinner thoughts, Skinner lives near Sevenoaks, Kent, and works as a computer programmer for a company assigned to the Metropolitan Police.
7. Peter Winterbottom – 58 caps, 1982-1993
Winterbottom carved out a career in finance, working as a money broker for BGC Partners and interdealer Creditex. However, the former openside flanker quit the City to start Full Contact, an agency contact point for business interests in rugby, and is involved with cycling charity Ride of the Lions.
8. Mike Teague – 27 caps, 1985-1993
"Iron Mike", as christened by his teammates, is the owner of two pubs in Gloucestershire, both named "Teague's Bar". The 54-year-old is also a director of Teague Construction.
Australia's XV
Marty Roebuck; Bob Egerton, Jason Little, Tim Horan, David Campese; Michael Lynagh, Nick Farr-Jones (capt); Tony Daly, Phil Kearns, Ewen McKenzie; John Eales, Rod McCall; Willie Ofahengaue, Simon Poidevin, Troy Coker
Source: https://www.theguardian.com