In a nutshell
The world's most famous prehistoric monument and one of the UK's biggest tourist attractions, controversially roped off so visitors are not allowed within 10 metres of it – though it receives so many tourists (1,381,855 in 2016) that it would be virtually impossible to let them get closer.
Fun fact
It's the greatest mystery in English history: why was it built here and how did they transport the 25-tonne sarsen stones from a quarry 25 miles away and, even more bafflingly, the two-tonne bluestones all the way from Wales … before the invention of the wheel?
Best thing about it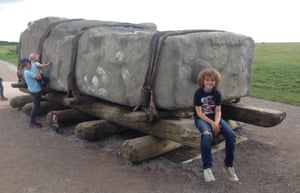 The scale of the achievement – something even kids appreciate, especially if they've been round the impressive visitor centre (opened in 2013 at a cost of £27m) before heading up to the site. It explains Stonehenge's long history succinctly. Despite the unavoidable crowds and commercialisation, it's impossible not to be awed by this incredible feat of engineering.
A couple of tips
When taking the shuttle bus from the visitor centre, ask to be let out half-way at the Fargo Plantation (the driver won't stop unless you ask) and walk the rest of the way across the field – passing the burial mounds on your left – to appreciate the stone circle coming slowly into view. If I went again I'd arrive before it opens at 9am and be the first up to the site – as one of several hundred selfie-taking visitors circling the stones, it was impossible to contemplate their power and significance.
What about lunch
Exit through the gift shop?
And how! On returning to the visitor centre on the shuttle bus, everyone is dropped off 15 metres from the gift shop. But just in case you were thinking of sidestepping it, rope barriers stretch from either side of the bus door to the gift shop entrance – funnelling visitors like sheep into a store selling Stonehengeguidebooks in eight languages and 1,001 souvenirs emblazoned with the iconic stones (fridge magnets from £3.50). I was proud of my eight-year-old, who had his £10 holiday money burning a hole in his pocket but didn't succumb to the overpriced tat.
Getting there
Opening hours
Daily from 9am-8pm June-August; 9.30am-7pm 1 September-15 October; 9.30am-5pm 16 October-29 March 2018; closed Christmas Eve and Christmas Day.
Value for money?
Given that most people stay less than two hours, the entrance fee seems steep: from £17.50 adults, £10.50 kids and £45.50 families (booking advisable). It's free for English Heritage and National Trust members, but they must also book ahead.
Verdict
As a historic site it is an 11/10 – it did star in Spinal Tap after all. As an attraction, my son thought it was "pretty cool" and gave it 8/10. I agree.
Read more at theguardian.com