After a game fired by so much anger, there was one man who seemed particularly furious at the final whistle, and it wasn't either manager or the relentlessly booed James Milner. That's because this was someone so clearly enraged with himself, rather than the referee or the crowd. Because, as Michael Oliver blew for full-time, Sergio Aguero seemed set to explode. He was shouting in frustration, so clearly infuriated by the way he blazed the ball over the bar just minutes from the end of this 1-1 draw between Manchester City and Liverpool, squandering the chance to win it.
Even Jurgen Klopp expressed surprise: "Sergio Aguero in the six yard box in the sky. That happens not too often."
You indeed could say that was unlike Aguero, except it immediately followed what must have been one of his worst performances in a City shirt, as he missed many more presentable opportunities in their Champions League elimination at the feet of Monaco.
So, he and Pep Guardiola had to settle for a point on Sunday, but there is a point within all that that actually reflects very well on Aguero. That's because he was obviously the man responsible for that result. The poor show against Monaco clearly had no effect on him. There was no drop in confidence that other players might have suffered from, because he finished with such instinctive brilliance for the equaliser against Liverpool. It was a quintessential Aguero goal, a sharp and precise strike delivered so purely.
This is also a key point with the top strikers, the true elite. Those who know Aguero say he has a supreme focus, something akin to the "almost deluded self-belief" – meant in a very complimentary way – that teammates of scorers like Henrik Larsson and Alan Shearer had.
With that level of striker, it is often said that they are absolutely unerring finishers, just always scoring big chances in a way beyond lesser number-nines. That's not quite true. As worrying as some of Aguero's misses might have looked, the reality is that a lot of of the most admired forwards have some very bad misses in their personal history. The key is not that they take every chance. It's that generally take the chance that makes you forget the misses.
They just don't let it get to them. They just have that immense self-belief and thereby that perseverance.
Aguero is the classic example of this, as illustrated by one stat as much as his finish against Liverpool. Since he joined City, he has never gone more than seven games without a goal, and he has only gone that long without scoring one. That was actually at the start of this year, as he was dropped for Gabriel Jesus, but he has again shown the best possible response.
His goal against Liverpool made it seven in the last seven – so a complete transformation in form. And yet it is testament to Aguero that was still so angry with himself, still so frustrated that he couldn't get the winner. That, again, is a hugely positive character trait.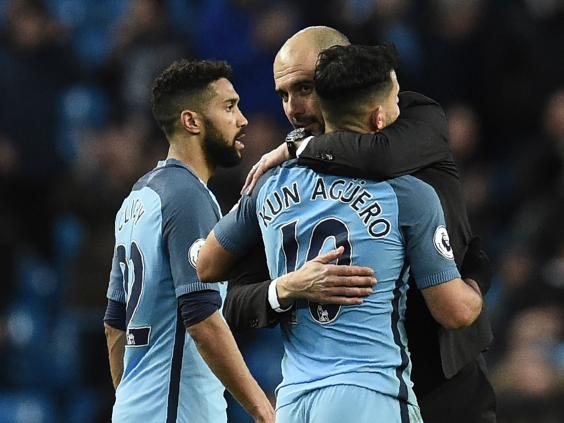 The irony to all this of course is that it is a positive that may eventually become irrelevant to Guardiola, or at least not all that important. The Catalan talked after the game about how he would have planned to have both Jesus and Aguero on the pitch for the end "to make Liverpool suffer" but the big question seems to be who he plans to play most in the long term.
It seems obvious that he generally favours Jesus for his all-round game and how he can press, and there is an obvious logic to that too. It is also a logic that sums up one of the great contradictions of the game, and a dynamic that makes the sport so rich. The sport's fundamental currency is goals, and you would struggle to get a purer deliverer of goals than Aguero, but some teams just need a mobile forward more than a prolific scorer, because it means that the team as a whole is more prolific.
Of course, it doesn't apply to all teams, and Manchester United – for example – are one side who would be made much better by someone like Aguero because of the way they play and they way the finish.
That move is not going to happen, of course, and the Argentine could well stay. One thing can be certain, mind. No matter how often he misses, and how bad some of those misses look, he will still stay as focused as ever.
This goal against Liverpool proved it, even if it ended with such an uncharacteristic miss. His response, after all, said it all.
Πηγή newsit.gr