It was a big night for diversity at the Screen Actors Guild (SAG) Awards, with actors from ethnic minorities winning all four individual film categories for the first time.
The 27th SAG Awards were held on Sunday as a virtual event.
Viola Davis, Youn Yuh-jung, Daniel Kaluuya and the late Chadwick Boseman all triumphed in their categories.
Aaron Sorkin's The Trial of the Chicago 7 won best ensemble cast in a motion picture, making history for Netflix.
The ensemble prize is seen as the top honour at the SAG Awards, in the absence of a best picture category.
The Trial of The Chicago 7 retells the story of the notorious courtroom drama involving a largely unrelated assortment of political activists who were accused of inciting a riot at the 1968 Democratic National Convention in Chicago.
The film stars Mark Rylance, Eddie Redmayne, Frank Langella, Sacha Baron Cohen, Michael Keaton, Joseph Gordon-Levitt, Jeremy Strong, Yahya Abdul-Mateen, John Carroll Lynch and Alex Sharp.
Its win means Keaton sets a new record by becoming the first person to be part of three SAG-winning ensembles, following his wins as part of 2014's Birdman and 2015's Spotlight.
The SAG Awards are seen as a key indicator of which films and stars may come out on top at the Oscars, which will be presented later this month.
However, the favourite to win the best picture Oscar this year, Nomadland, was not nominated for the top prize at SAG, as it centres around one character (played by Frances McDormand) rather than an ensemble cast.
There was no red carpet to welcome nominees in Los Angeles this year because of the coronavirus pandemic.
Instead, the awards were pre-recorded via video conference and squeezed into a one-hour broadcast.
Chadwick Boseman, who died of cancer in August last year at the age of 43, won best male actor for his performance as a Blues musician in the 1920s drama Ma Rainey's Black Bottom, a film adapted from a cycle of plays by the Pulitzer Prize-winning playwright, August Wilson.
Boseman's final performance was honoured at Sunday's SAG awards, with his widow Taylor Simone Ledward delivering a moving speech as she accepted his posthumous prize.
"If you see the world unbalanced, be a crusader that pushes heavily on the seesaw of the mind," she said, quoting her late husband.
Viola Davis, who played the singer Ma Rainey in the film, won the award for best female actor in a leading role. Accepting the prize, she thanked "the beautiful Chadwick Boseman" and "August, for leaving a legacy to actors of colour that we can relish for the rest of our life."
Davis looked visibly shocked to win the prize. The best actress race is seen as wide open this year, with Carey Mulligan, Andra Day, Frances McDormand and Vanessa Kirby also in the running for the equivalent Oscar.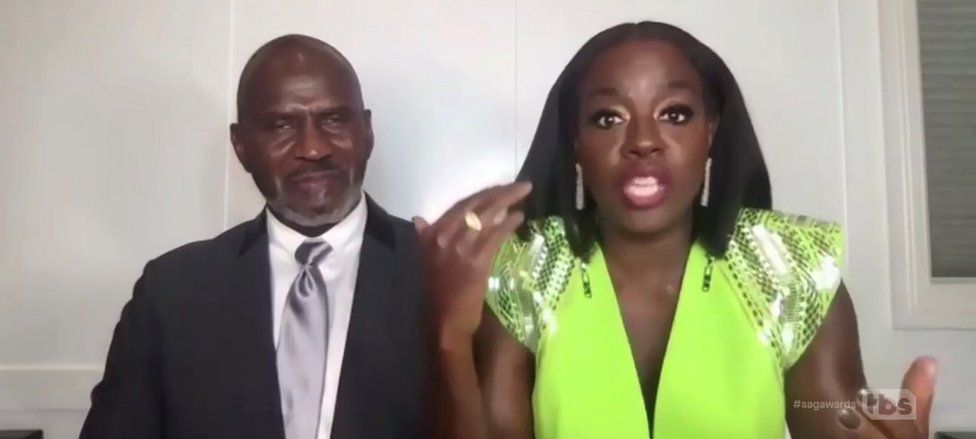 British star Daniel Kaluuya won best supporting actor for his performance in Judas and the Black Messiah. The film follows Black Panther leader Fred Hampton, who was killed in a co-ordinated raid by the FBI and Chicago Police in 1969.
Youn Yuh-jung was named best female supporting actor for her performance in Minari, a red-hot favourite of awards season.
She plays an unconventional grandmother in the film, which follows a Korean-American family who move to Arkansas as they chase the American Dream.
In the television categories, British actress Anya Taylor-Joy picked up best female actor in a miniseries for her performance in The Queen's Gambit, a seven-part drama about a chess prodigy.
The actress paid tribute to her fellow nominees in her acceptance speech and made light of the virtual ceremony.
"Thank you for your performances, I'm unbelievably honoured to be in this room, even though it's not a room, it's all mental, but you know what I mean," she joked.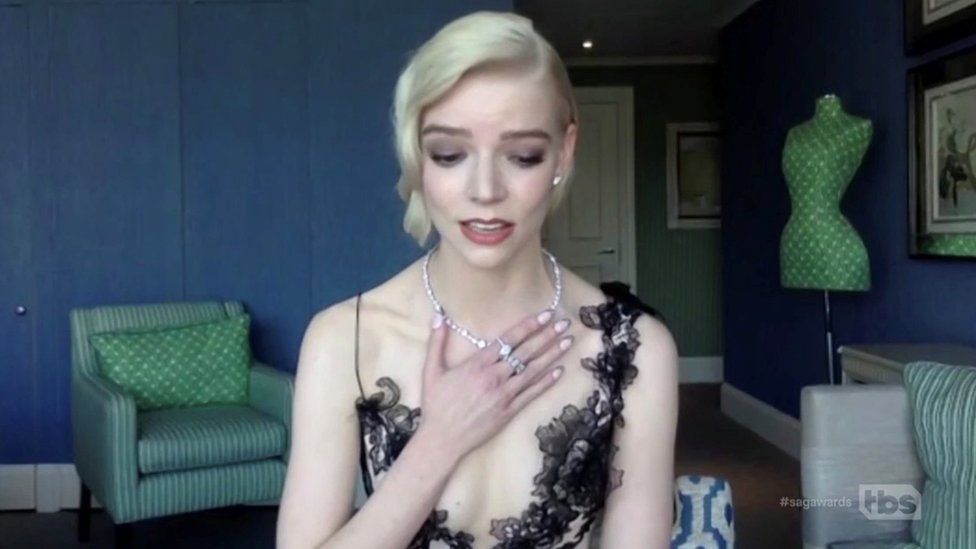 The Crown was named best overall drama, while Gillian Anderson won best female drama actor for her performance as British prime minister Margaret Thatcher.
Schitt's Creek, which came to an end last year after six seasons, picked up best comedy series as well as best female comedy actor for Catherine O'Hara.
It rounds off a hugely successful year for the series and O'Hara in particular, who has won the same prize at the Emmys and the Golden Globes.
"Thank you to all who voted for us, what a way to say goodbye," said Dan Levy, who co-created and starred in the series.
Other TV category winners included Jason Bateman for Ozark, Jason Sudeikis for Ted Lasso, and Mark Ruffalo for I Know This Much Is True.
www.bbc.co.uk