Supporters outside a Moscow court chanted "freedom" as outspoken theatre and film director Kirill Serebrennikov appeared on fraud charges.
Proceedings were interrupted by the noise as the judge decided he should be held under house arrest.
Serebrennikov, a well-known figure in the arts world, is accused of embezzling state money awarded for a theatre project.
"I do not know anything about the misuse of funds," he told the court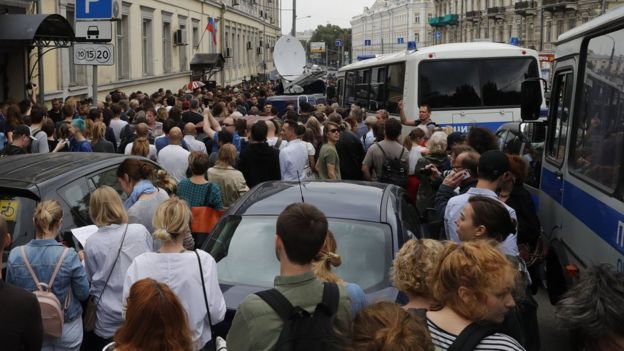 The crowd was joined by a succession of celebrities and opposition figures, including writer/director Viktor Shenderovich, journalist Leonid Parfyonov, activist Sergei Parkhomenko, and publisher Irina Prokhorova.
"Kirill Serebrennikov is a world class director and this is a clear signal before the elections," warned Shenderovich.
---
The view in court in Moscow
By Sarah Rainsford, BBC News
Theatregoers, celebrated actors and writers came to shout for freedom for Kirill Serebrennikov, packing the narrow pavement and spilling into the road. Inside, dozens more supporters squeezed into the corridor.
Mr Serebrennikov was kept behind bars throughout the hearing which was drowned out at times by chants from the street. At one point, a group broke into a famous protest song from the days of Perestroika, "I want change!"
The director was working on a film about the singer when he was arrested. He asked to be released today, to continue his work whilst he awaits trial, saying his only desire was make Russia a cultural superpower. But the judge rejected every appeal.
---
Under the conditions of his house arrest, the director will be barred until 19 October from using his phone or communicating with anyone without investigators' permission.
Investigators argued there was a real risk of him fleeing the country, although Serebrennikov gave a personal guarantee he would not leave.
The judge rejected appeals from actors as well as other directors, including renowned film director Fedor Bondarchuk.
When the judge announced her decision, there were cries of "shame" from outside, BBC Moscow correspondent Sarah Rainsford reports.

The case has also raised concerns outside Russia, including in Germany, where Serebrennikov also lives and works. Germany's human rights commissioner, Bärbel Kofler, said that if the case continued, it should be objective, fair and transparent.
Serebrennikov, director of Moscow's Gogol Centre, is accused of embezzling 68m roubles (£880,000; $1.1m) of state funding handed over in 2011 to 2014 for a theatre project known as Platform, which aimed to make contemporary dance, music and theatre popular.
He told the judge on Wednesday that he was "an honest person" who had nothing to do with finances and had not suspected anything untoward was going on. He has previously described the situation he faces as "absurd and schizophrenic".
A former accountant who worked with Serebrennikov, Nina Masliayeva, has given evidence against him as part of a pre-trial deal with prosecutors. Two other theatre directors, Alexei Malobrodsky and Yuri Itin of Seventh Studio, have denied involvement.
If found guilty of embezzlement, Serebrennikov could face up to a decade in jail.