On entering Roganic, it was clear I needed a new false name for booking tables. "Mitford", after my beloved Nancy (not her Hitler-loving fruitcake sister Unity) had lasted exactly four critical ambushes before being sussed and spread across hospitality's intelligence network. Actually, that makes the chef grapevine sound far too chic and diligent. In reality, it's just chefs lying about at 3am in mildewed underpants screaming, "That bitch!" into WhatsApp group chats.
But I live for this mayhem. I pitched up at Roganic on a Saturday night to find the staff suspiciously alert, with several of them huddled behind reception like the cast of Meerkat Manor sensing a Kalahari thunderstorm. Well played: it's their job to find stuff like this out, after all. This restaurant, which is both the Second Coming of a much rhapsodised former pop-up and a spin-off of Michelin-bestowed Cumbrian mecca L'Enclume, opened just a month ago. Due to chef/owner Simon Rogan's rep as a scene leader and striver for high standards, it's already one of those places that chefs, writers, bloggers, blaggers and miscellaneous food chunterers are expressing vocal intention to visit in 2018. They yearn, they'll tell you, to experience Rogan's seaweed custard with caviar, his millet pudding laced with Stichelton and his scallop with gooseberry.
Well, that's what they'll say. My industry, like this column, thrives on hot air. My experience of reviewing ornate, long-haul, multi-course, Michelin-teasing, 50 Best-flirting dining is that few people truly want to spend their free time in them. Oh, they claim to, but that's a lie. It's not uncommon in any 14-course tasting journey to glance at the gargantuan task ahead and feel a bit like Terry Waite during his extended Lebanese sojourn: your captors are treating you reasonably, but you'd rather be home with a pleasant stew.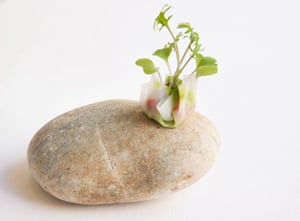 Not that Roganic's staff are not joyous; in fact, they're so affable, I'd let several of them move into my house. Or that the opening canape of a teensy preserved raspberry tart was not utterly gorgeous: it tasted just like a Robertson's jam tart. A small, croquettish bundle of pork with eel blobbed with sweet hay cream was a delight, similar to a bunny rabbit version at Fera, Rogan's previous joint in the capital. That was followed by a neat, palm-sized parcel of pickled kohlrabi stuffed with raw mackerel and wreathed with lovage. All faultless.
Still, after an hour, we still had 10 courses ahead, a task that felt all the more arduous because Blandford Street attracts some of the biggest tosspots in London. It has gorgeous restaurants – Jikoni, Carousel, Trishna and so on – but terrible people painted into a corner of blandness by their own spare cash. This isn't the eccentric opulence of Chelsea, geed up by Russian and old British money, or Shoreditch, still riding on lost 1990s notions of hipness. This is Marylebone, where rich Harley Street neurologists eat dinner like Trappist monks, then go home to buy Mark Knopfler tickets.
Dinner has highs and lows, but then Rogan's food is always a deeply subjective experience. It excites and then, minutes later, repulses. Perhaps that's the point. A ramekin filled with an inch of cold, set seaweed custard appears. What fresh hell? But then a plate of salt-baked celeriac with spindly enoki mushrooms in puddles of whey is fantastic. (I spend the next day researching enoki, and conclude that celeriac with enoki should be on every vegan menu by 2019.) A porridge of millet thick with blue cheese and a clump of bone marrow comes in a mercifully tiny portion. But a small plate of butter-poached halibut with brassicas turns out to be quite wonderful.
Oddly for someone who lacks a sweet tooth, puddings were the stars of the show for me. A mini caramelised douglas fir tarte tatin was a bewildering work of apple architecture: what felt like a million tiny, dainty slivers somehow arranged into a coherent, edible artwork. A notably unpretty gathering of burnt milk ice-cream with a jus of blackcurrant resembled something unsightly that you might find on a pavement, but had us in raptures over its depth of fruity sweetness. It felt churlish to eat it, rather than put it in a glass box and charge a fee to behold it.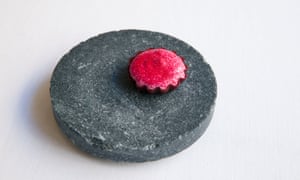 That said, by this point it was 11pm. I've had meaningful romances shorter than this dinner. By midnight, they were still slinging us juniper fudge, quince tart and snaps made of dandelion seeds. And bread and tea bags to take home for breakfast the next morning. At least that gave me a tagline for a future Roganic PR push: "Spend all night with Simon Rogan's gang. Wake up with a bun in your oven."
• Roganic 5-7 Blandford Street, London W1, 020-337 06260. Open Tues-Sat, noon-2pm, 6.30-10pm. Set business lunch £40, short tasting menu £80, tasting menu £115, all plus drinks and service.
Food 7/10
Atmosphere 4/10
Service 9/10
Grace's week in other dishes
1 The winter berry compote porridge at Lighthaus Cafe in Walthamstow, east London, one of my very favourite cafes – and by that I mean can none of you go there, please?
2 Leon's butternut squash with kale, onion, vegan mayo and pine nuts. I stole the recipe, and my version is better, because I can now eat it in my pyjamas.
Source: www.theguardian.com