Tales of monsters inhabiting the fearful gloom of Slovenia's caves stretch back through history. Legends abound of perpetual mist drifting from dark caverns and peculiar half-formed creatures washed into rivers by storm rains – pale, blind and hungry. And right now, we're face to face with them.
Forty miles west of Ljubljana, Sašo Weldt, a speleobiologist at Postojna Cave's subterranean laboratory, is pointing at the dim waters of the lab's vivarium. "They already know you're here," he says. "They can't see you, but they sense you." The salamander-like olm, or Proteus anguinus, the world's largest cave adapted animal, can live for over 100 years and grow up to 43cm, meaning we can see them clearly. In the vivarium, at least. When we reach their natural habitat – the cave's underground waterways – we may not have that advantage.
​Olms aren't alone in Postojna. The 4,000,000-year-old system, created by the Pivka River cleaving through the karst landscape, has the world's richest cave fauna – no fewer than 150 animals live here, from water snails to shrimps and slender-necked beetles. Ancient humans, too, sheltered at the cave's entrance. Inscriptions around the walls record 14th-century visits, while scholarly records date from the 17th century.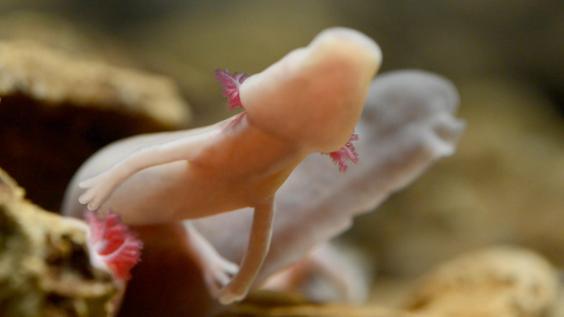 Tourism to Postojna started in 1818 when lamp lighter Luca Čeč stumbled upon the caverns. "Here is paradise," he raved, and others agreed. In 1868 Thomas Cook himself escorted package tourists to Postojna. To date, 150 kings, queens and emperors have joined almost 35 million visitors.
Today, of Postojna's 24km of caverns, 5km are accessible to casual visitors. An electric train rattles briskly from grand iron gates, along narrow tunnels to the main event. A spectacular Murano glass chandelier, installed in the 1920s, lights one of the caverns known as the 'Ballroom.' The chorus of La Scala sang in the 'Concert Hall', which accommodates 10,000 people, in 1929. But those pale in comparison to the natural formations of 'Velika Gora' (Great Mountain). Stalagmites up to 17m tall grow up to the roof, while thousands of fragile spaghetti-like stalactites hang down amongst translucent curls and folds of curtain deposits.
Exploring farther, the 'Russian Bridge' (built by WW1 prisoners of war) leads visitors to the 'Beautiful Cave', then into the 'Winter Hall.' Here, the startlingly white 5m 'Brilliant' and neighbouring 'Baroque' stalagmites have become symbols of Postojna, and indeed Slovenia. No wonder they deserve their own names.
If there is any criticism, it's that, served by a railway and illuminated by electric light, there's no real adventure to seeing these caverns. However, there is an alternative, and it lies a short drive away, in a woodland glade where stone steps disappear into the earth.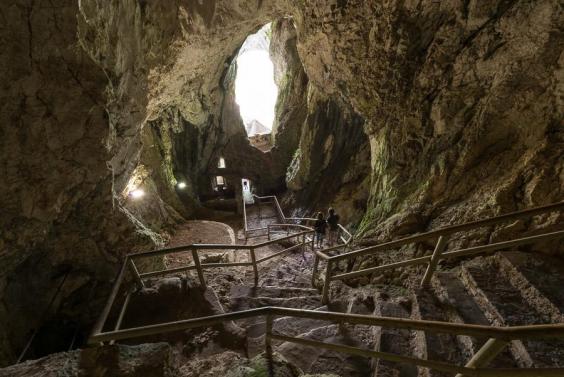 ""Old technology, but the equipment is new," says guide Miran Mejak, adding lumps of calcium carbide to the lamp's canister. "Adjust the water – one drop every second." The canister tightly closed, he sparks it up. "The gas is acetylene. It's a nice light, no? Serious cavers use carbide, even now. A carbide lamp and a foil blanket keeps you warm, even saves your life – there's no heat in LED."
Down the steps, suited, booted and helmeted, we enter Pivka Cave, following the river. There are few stalagmites here – the torrent washes them away – but our headlamps pick out sparkling patches on the roof. "Cave gold," says Miran. Technically, actinomycte bacteria that has adapted to live in caves, collecting water in reflective beads.
At an iron balustrade we meet Miran's fellow guide, Sten Glažar, with an array of climbing harnesses.  We abseil down nine metres, crawl through the swollen river to our next pitch: a tunnel hewn by more prisoners of war, these ones Italian. To the left, Miran points to a watery passage. "The way to the lake," he says. "Today it's too much water. You have to dive. It's, you know, not for everyone." Do you cave dive, I ask? "Never. Slovenia's best cave diver died only 15 metres from an exit. He just took a wrong turn."
It's been a constant nine degrees and 95% humidity; clouds of condensation accompany every breath. Entering 'Crna Jama' (Black Cave), named after stains created by Neolithic forest fires, sooty signatures record earlier visitors – Jahn and Franz woz 'ere, apparently, in 1869 and 1936 respectively.
Finally, the great reveal. A bolted metal door opens onto the now familiar cathedral of Postojna's 'Velika Gora' cavern, and the train waiting to whisk us to the surface. To say we've followed in the footsteps of Luca Čeč exaggerates both our courage and competence – we've only played at adventure. That said, most of us are grinning like idiots as we leave.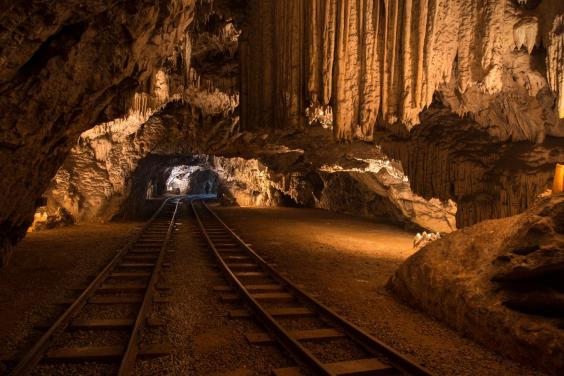 Travel essentials
Entry to Postojna Cave, the Proteus Vivarium, the Postojna Cave Karst exhibition and the nearby cave castle of Predjama costs €37.90 per person. The writer took an Adventure Tour, including abseiling, which start from €36.
Getting there
Wizzair flies to Ljubljana four times a week from London Luton from £44 return.
Staying there
The four-star Hotel Jama looks a little 'Yugoslavian' from the outside, but the interior is newly refurbished and rooms are top notch. There's an excellent restaurant and free WiFi throughout. Doubles from €128, including a 'Classic' cave tour for two.
Read more at independent.co.uk