The other week, Doug Levitt shared a bus seat with a neo-Nazi.
"He had a Hitler on his arm – an exquisitely detailed prison tattoo – and a swastika, and an Aryan Brotherhood symbol," says Levitt, an artist and former journalist from Los Angeles, who also happens to be Jewish. "I was really scared, and stunned when he sat down next to me." They sat together for the 20-hour journey, during which the guy offered Levitt a tuna sandwich and volunteered to kip on the floor while Levitt slept on the seats.
Levitt may not meet neo-Nazis that often, but for him, getting up close and personal with the often forgotten underbelly of American society is an everyday occurrence. For his project, The Greyhound Diaries – part art project, part book research – over the past 13 years he's travelled 120,000 miles across America by Greyhound bus, a method of travel that is, he admits, seen as "the last resort".
"Buses tend to see a lot of ex-offenders, because when you get out of jail, most states give you a bus pass to where you were convicted," he explains. His swastika-sporting neighbour, for example, had done a recent stint behind bars – he spent the 20-hour journey explaining the prison system, where inmates tend to divide down racial lines and convicts swiftly become white supremacists.
That, in essence, is what The Greyhound Diaries is about. In 2004, Levitt, a former CNN war correspondent, was part of an effort to register voters for John Kerry, the then Democratic presidential nominee. He boarded buses and rode across the country from undecided town to undecided town.
But what he saw fascinated him – as a broke artist in LA, who'd grown up in a middle class family in DC, Levitt had never met the kind of people he was travelling with every day. "You're not taking the bus unless you can't afford not to," he says. "Or if you live in a small town far from any airport. Travelling by Greyhound is seeing the country at its widest angle – every strain of American society is here within the bus.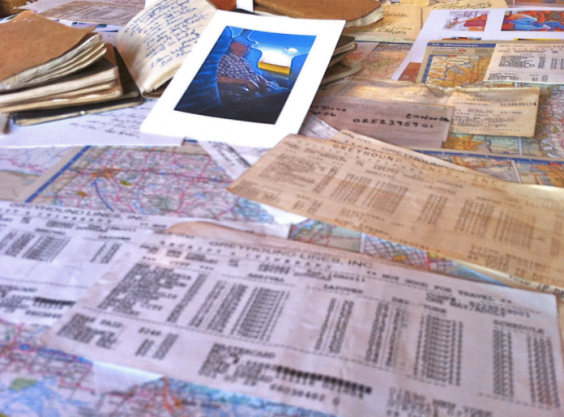 So when the voter registration project finished, Levitt carried on alone, with just his guitar for company, singing to locals as he registered their votes. The election came and went, but still he rode the Greyhounds. Thirteen years later, he's racked up 120,000 miles crisscrossing America. He's crossed the country dozens times, and once spent seven consecutive weeks on the road. And he's made friends – although it's a transient way of life, he's kept in touch with about eight people he's met over the years.
Because although Levitt may be the only person on the Greyhound actively choosing to take the bus – it's his main form of travel – it's not some kind of poverty gawking. Financially, he may not need to take the Greyhound; but in other ways, he's come to realise, he does.
"On the bus you're surrounded by poverty, addiction and mental illness," he says. "And my own mental health has been wrapped up in this journey too. Through strangers, I've been trying to resolve it."
Everyone has a story, he says, and on a long bus journey, people peel off the layers and open up. Levitt was just 16 when his father killed himself, and sharing his story with strangers has helped him to come to terms with the trauma.
"When I'm beating myself up, connecting with someone always seems to resolve it," he says.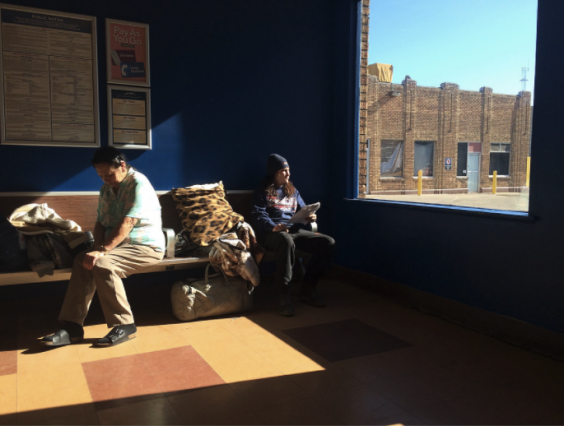 Seatmates to have made an impact on him have included an army veteran who blamed himself for a colleague's death in Afghanistan; a grandmother who went from depression to crack addiction to recovery and a new life as a counsellor; and a former marine suffering from panic attacks. All, he says, have helped him, through sharing their own stories.
"Maybe it's the bus, maybe it's the anonymity or something meditative about the journey, but if someone is entrusting you with something heavy, it's natural to share your story," he says. People rarely talk politics on the bus, because it can get fraught; so instead, they talk about themselves. It's therapy, he reckons, without the price tag.
Levitt calls his fellow Greyhound travellers "a segment of the US that's lesser seen", people who aren't tweeting, marching or otherwise making themselves heard. Riding with them means he gets an understanding of what certain sections of society are thinking. He felt the financial crisis approaching and predicted Donald Trump's presidential victory a year before it happened. His recent neo-Nazi seatmate showed him photos of his buddies with Trump t-shirts and swastikas. A canary in the coal mine? Kind of. "I feel like the canary on the Greyhound," he says.
There's a fine line between engaging and appeasing, he says – especially when it comes to neo-Nazis – but Levitt thinks the Greyhound Diaries project has given him an invaluable understanding of other strata of society. And as someone with a voice, he feels responsible for telling their stories.
"The level of division is so amped up in daily life, but person to person it's not so acidic – you have more compassion for one another," he says.
Levitt plans to keep riding the buses, but admits it isn't for everyone. "I'd been to Bosnia, Iran and Rwanda as a war correspondent, and I was still scared to get on a Greyhound," he says. "I had all these perceptions. Some of them were spot on."
If you're thinking of taking a long journey on Greyhound, he says, "big city rules" apply, and be prepared for physical discomfort – Dallas to California, for example, requires a couple of overnights in the coach – but it can be transformative. "It's not luxurious but it's very evocative," he says. Even when you're next to a white supremacist.
Read more at independent.co.uk