The fourth day of London Fashion week has been and gone with some of the biggest industry names on its line-up: Erdem, Burberry, Roksanda and Christopher Kane. But, while the catwalk shows begin to draw to a close, it felt like designers were just reaching fever pitch. From art to anarchy and glitter to glossy PVC, here are the highlights from the very best of today's shows.
Burberry
For Burberry's Spring 2017 see-now-buy-now collection, creative director Christopher Bailey collaborated with the Henry Moore Foundation ahead of its exhibition, Henry Moore: Inspiration and Process.
Presented to an audience full of celebrities – Anna Wintour, Penelope Cruz, Naomi Campbell and Lily Donaldson among them – models paraded between sculptures by Henry Moore that scattered along the runway.
His influence was robust throughout the entire collection with arty prints like hand-drawn cartoons and reclining humans echoing the artists work. Aside from this, Bailey imbued Moore's artful sensibility into more classic Burberry styles too.
Cable knits came asymmetric, shirting was deconstructed and extravagantly sleeved, and there was even some denim thrown in for good measure.
Then, there was the finale. As if the looks weren't good enough already, the models reappeared adorned with elaborately crafted capes and headwear – a sculpted metal chest plate, piles of curtain tassel tie backs and a reworked chandelier.
Ashish
We know what to expect from Ashish by now and that's glitter, lots of it, but for autumn-winter the designer used his platform to stick two fingers up at President Donald Trump.
Sticking to its habitual sparkling standing, Ashish paraded models in rainbow-coloured garb that was brandished with empowering slogans.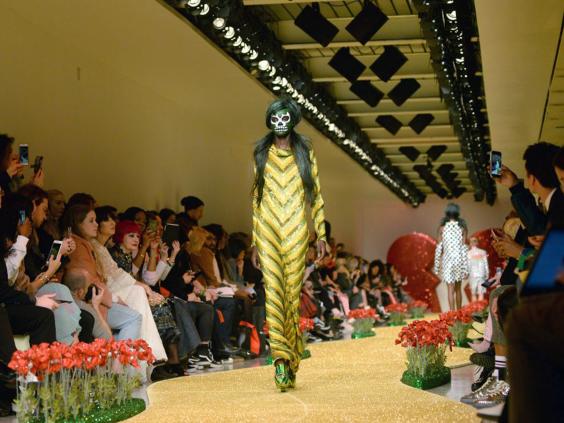 From, "Why be blue when you can be gay?", to "Pussy grabs back," and "Love sees no colour", the brand were sending out a message that in adversity, there is always unity to be found.
Soundtracked to Radiohead's Creep and John Lennon's Imagine, the show left its audience feeling reflective, emotional, saddened yet liberated as a common bond among the fashion crowd moved beyond a penchant for shoes – which were a delight in all their kaleidoscopic glory.
Joseph 
Uniform is something that creative director Louise Trotter harks back to every season and this collection was no exception. Impeccable knits, sharp tailoring and androgynous femininity remained at its core but, for autumn-winter, Joseph used the wardrobe as role play.
City man attire and military silhouettes were counteracted with overtly female caricatures of purity. Against regal lines, slipping hems, slinky sateens and French lace, more severe elements like stiff boxy coats, glossy PVC and oversized turn-up trousers came into play.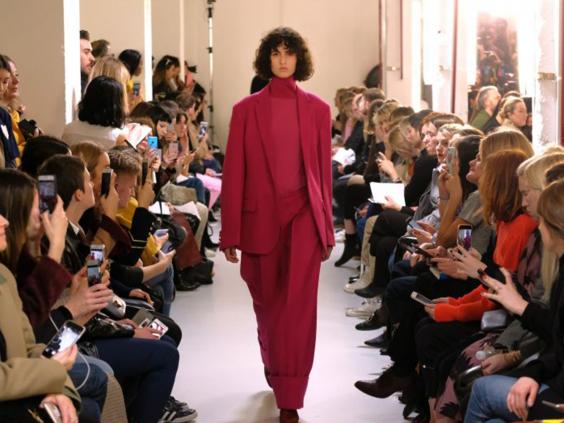 The same goes for the colour palette, which extended from rich browns and greens to shocking pink, blue and creamy white. All of which was fortuitously elevated with the addition of beautifully distorted jewellery.
Here, surreal drop earrings and rough gold coin pendants from Alighieri came battered and imperfect though a seemingly impeccable match for Trotter's unravelling pilgrimage of gender.
Shrimps
Well known for its girlish garb, at Shrimps' heart lies a penchant for rainbow-hued fluffy faux fur but this season it felt pared back as the designer opted for more muted, regal tones.
For autumn-winter 2017, young London-based designer Hannah Weiland looked to the colours, shapes and checks of artist Louise Bourgeois for inspiration noted in the creamy white overcoats, flashes of red and hand-drawn nudes.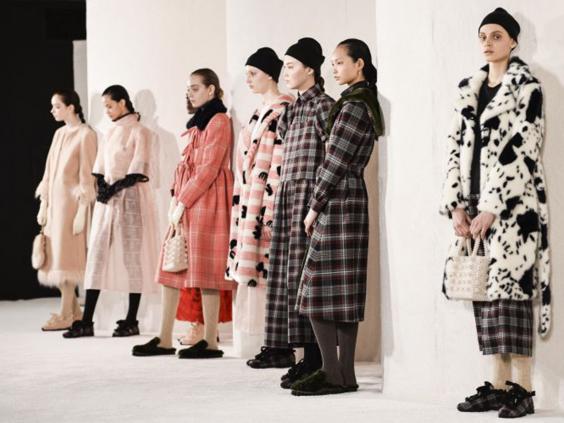 The checks also signified the beauty of Scotland via the luxurious regal fashion of Mary Queen of Scots – think clusters of pearls on handbags, gathered around the necks of models and paired with lady-like oversized silhouettes.
While Weiland's signatures remained solid with classic Shrimp's leopard print re-worked in moss green and canary yellow, the footwear added something new. Collaborating for the first time with Danish fashion brand Ganni, the duo created two new shoes including a frilled sneaker in textured faux sheepskin and a backless loafer.
Read more at independent.co.uk