If Manchester United were forced onto the back-foot following Ander Herrera's 35th-minute red card in their FA Cup sixth-round 1-0 defeat to Chelsea at Stamford Bridge, manager Jose Mourinho was very much on the front-foot. He passive-aggressively cast doubt on the decisions of referee Michael Oliver without directly criticising him, and left in a few pointed comments about his importance to Chelsea's history when asked about their goading of him, stating that – having won three of their five titles – "for this moment, Judas is number one".
Beyond the obvious pantomime of what was a highly-charged and emotional cup tie, Mourinho did have one fair and logical tactical point: that it was a completely different game once Herrera was sent off. He even pointed to how they shackled Chelsea's centre-halves. Whether United would have won the game, or whether the card was unfair, is down to perspective. Mourinho's perspective on both, however, was unequivocal. He could see only one winner.
"I think we all saw the game and can have different opinions and perspectives. But we have to agree there was a match until the moment Herrera saw the red card, and then there was another match after that. Before that, I saw a game with the feeling I was going to win. Everything was under control and their frustration was evident because they couldn't play the way they always play. Then, with 10 men, it was very difficult for us. Our strategy was to play with two up front. When we had two up front, the three central defenders couldn't come with the ball. They were giving bad long balls, outside the pitch.
"Then when we had one player less, they had three against one and could bring the ball and be more dominant. In spite of that, we defended really well. In spite of that, we had the biggest chance of the game when [Marcus] Rashford faces the Chelsea goalkeeper. So I'm really proud of my players, after Thursday in Rostov and with them again on Thursday… I'm really proud of the guys. Mr Oliver… goes home and can do his own analysis because I don't want to analyse his work.
"You can compare the decisions of these two yellow cards, in this case the second yellow, with others that weren't given. But I don't want to go in that direction. This season, Mr Michael Oliver, a referee of fantastic potential, we were a bit unlucky as Manchester United. In four matches, we might have had three penalties and we had one red card. I can't change that, but I can try and interfere with the match on Thursday which is coming. I shook the referee's hand and said 'Many congratulations', and there's nothing more to say."
Mourinho expanded on the point further.
"Compare Herrera's second yellow card with that of a couple of minutes later when Rashford goes to attack the space and the Chelsea captain grabs him, stops him in a counter-attack. Mr Oliver does not give a card, not even a yellow. But I'm not talking about that."
He was more willing to talk about his relationship with Chelsea fans. Niceties have gradually eroded since he left the club in December 2015, and a chant of "fuck off Mourinho" was met with three fingers and a point to the pitch to gesture that he had won the most league titles in their history. That just saw more chanting, from "it's all your fault" to "you ruined it", but he had responses to those claims too.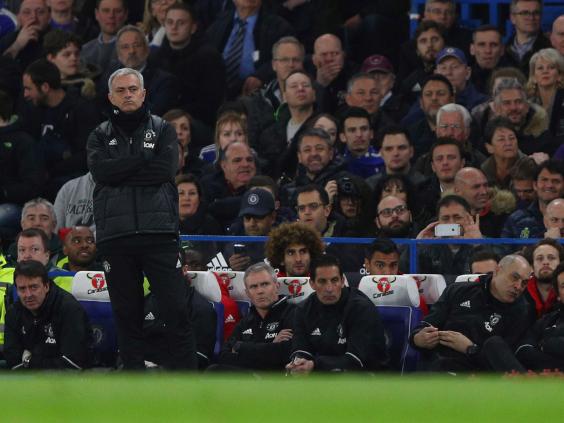 "They can call me what they want," Mourinho explained. "I am a professional. I defend my club. Until the moment they have a manager that wins four Premier Leagues for them, I'm the number-one. When they have somebody who wins four Premier Leagues for them, I'll be number-two. For this moment, Judas is number-one."
When asked about missing key players like Zlatan Ibrahimovic, Mourinho said United don't cry, while offering another rebuke to Chelsea.
"We don't cry. Nobody saw us crying this week because we don't have Zlatan, this or that. Nobody had one single word from us crying about it. The only thing we spoke about is the fact we are playing in Europe and our opponents aren't. You know… our opponents could. I left the club last season in the Champions League, winning the Champions League group, in the knockout phase playing the second leg at home. If they won the Champions League last year, they'd be playing in Europe this season. It's not my fault. It's the ones that stayed here and didn't win the Champions League. What I share with them is that we didn't have a good Premier League, and I share responsibility with that."
Mourinho did not shake Antonio Conte's hand after what had been a tempestuous match between those two in particular, but insisted that was not an issue and that he would willingly exchange pleasantries.
"I will shake his hand here [if I see him]. I didn't because my players deserved my action immediately, and our supporters deserved our thanks. I can promise you that if I see him now, I'll shake his hand. I have nothing to say to him at all, but I will shake his hand."
Read more at independent.co.uk