Jeremy Corbyn has announced most of the key jobs in his first shadow cabinet, naming his left wing ally John McDonnell as shadow chancellor.
Defeated leadership rival Andy Burnham is shadow home secretary, while Hilary Benn remains shadow foreign secretary.
The top roles on the Labour front bench are all taken by men, leading to criticism from some MPs.
However, Angela Eagle, the new shadow business secretary, was also named shadow first secretary of state.
It means she will stand in for Mr Corbyn at Prime Minister's Questions when Prime Minister David Cameron is away.
Chuka Umunna said he was leaving the front bench by "mutual agreement" and Mary Creagh also joined a number of MPs from the previous shadow cabinet who opted to return to the backbenches.
Other confirmed appointments are:
Lucy Powell, who was Ed Miliband's general election coordinator, will be shadow education secretary
Lewisham MP Heidi Alexander will take over from Mr Burnham as shadow health secretary
Lord Falconer, a former flat mate of ex-PM Tony Blair, will continue as shadow justice secretary
Seema Malhotra is shadow chief secretary to the Treasury
Diane Abbott is made shadow minister for international development
Shadow Northern Ireland secretary is Vernon Coaker
Rosie Winterton to continue as chief whip
Ian Murray to continue as shadow Scottish secretary.
Speaking on BBC Radio 4's Today programme, Mr Benn defended Mr Corbyn, who he said had won a "thumping" victory in the leadership election, but declined to say he backed the appointment of Mr McDonnell.
"This is the choice that Jeremy has made. I respect the choice that Jeremy has made as leader," he said.
He also said Mr Corbyn would not push to leave the EU in the referendum promised by 2017.
"Jeremy has made it very clear we are going to stay to fight together for a better Europe," he added.
Mr Corbyn has said he is not content with the EU as it stands, but wants to stay to fight for a "better Europe". He had previously refused to rule out campaigning to leave.
---
Analysis

Analysis by Laura Kuenssberg, BBC political editor
Jeremy Corbyn said he would unite the party. Two days in he has two big problems – a lack of women in the top jobs, having promised a new equality, but a bigger one perhaps, his choice as shadow chancellor. The appointment of John McDonnell is a risk, a big risk.
I understand that Jeremy Corbyn was warned by members of his own camp not to give the crucial role of shadow chancellor to his close friend and campaign manager, John McDonnell.
There were concerns over how his appointment would appear and the impact it would have on the rest of the shadow team.
He was also warned by at least one senior figure outside his campaign circle not to give him the job, the perception being that giving McDonnell the position would be a "declaration of war" on the rest of the Parliamentary Labour Party. And McDonnell's position was a factor in other MPs' decisions on whether to take a job.
Several Labour politicians also criticised the new party leader for failing to give leading jobs to women.
Labour MP Diana Johnson tweeted the appointments were "so very disappointing", while former shadow Scottish secretary Margaret Curran tweeted that it needed "an urgent rethink".
A Labour source told the BBC the shadow cabinet would have a majority of women.
Mr McDonnell said the health and education portfolios were more important than the traditional "great offices of state".
He said: "It is interesting, Jeremy said very, very clearly that we don't accept the hierarchical nature of what we have inherited by these supposed top jobs.
"They largely stem from the 19th century when you had an empire and all that.
"For most people the real top jobs are the ones that provide the services like health and education, those sorts of things. So he has broken with that tradition and I'm really pleased."
Former home secretary Charles Clarke told Today Mr Corbyn had choices about his appointments, but "the choice he made was to go down the most hardline position there was".
Labour needs to develop a coherent alternative economic strategy and Mr McDonnell "will simply not be able to do that", he added.
In other developments:
Ivan Lewis tweeted he lost his role as shadow Northern Ireland secretary, despite telling Mr Corbyn he was willing to remain
The new Labour leader is set for his first Commons clash with the government later in a debate over controversial reforms of trade union laws.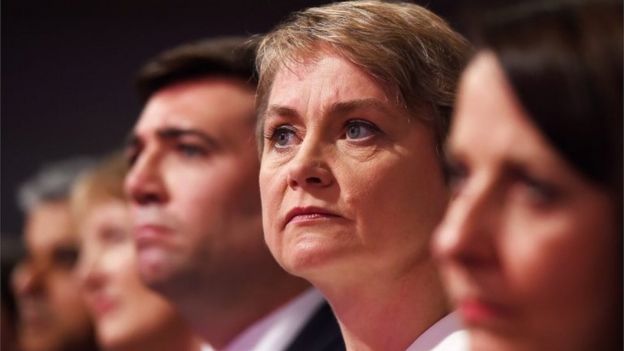 Labour's deputy leader Tom Watson had urged MPs to back Mr Corbyn.
But the other leadership candidates Yvette Cooper and Liz Kendall, as well as Ms Creagh, Tristram Hunt, Rachel Reeves, Chris Leslie, Jamie Reed, Emma Reynolds and Shabana Mahmood said they would not serve in Mr Corbyn's shadow cabinet.
Ms Cooper will, however, chair a new party taskforce on refugees.
Europe disagreement
Mr Umunna – who pulled out of the leadership race days after declaring his candidacy earlier this year – described leaving the shadow cabinet as one of the most difficult "personal political decisions" he has had to make.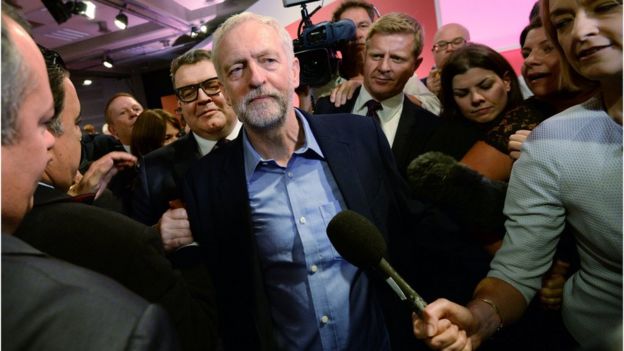 "Whilst there is much on which Jeremy and I agree, there are a number of key points of difference on policy which I believe it would be dishonest to deny exist," the former shadow business secretary said.
He added he would "find it difficult to abide by the collective responsibility" of being in the shadow cabinet – "not least on the European referendum".
Source: https://www.bbc.com