Every school holiday was the same. For hours we'd trundle south from Belfast in my grandpa's battered blue minibus – a journey dotted with punctures, Werther's Originals and mugs of tea. We'd cross the border, stop for a loaf of bread and a scratchcard, and finally pull into Omeath, the small village on Carlingford Lough where my grandpa grew up.
Here, on a hill overlooking the water, granny and grandpa had a pea-green static caravan. Trapped in the claustrophobic web of its net curtains, I'd make the most of my holiday, playing shop with anyone who'd pop in. Sometimes I'd wander down to the shore, lose my hard-hustled coppers to a tiny room of slot machines, or throw some pebbles in the lough – the lough where Grandpa first wooed Granny when she was here on her holidays; the lough where Grandpa worked as a ferryman.
Twenty years on, it's a new ferry that brings me back. After a decade of planning, talks and delays, the first vehicular ferry across Carlingford Lough (an £8.5m project by Frazer Ferries) started this summer. Along with views of lighthouses, seals, castles and mountains, the 15-minute cross-border journey from Greencastle in County Down to Greenore, County Louth, quickly links the north's Mourne mountains and coast with the south's more off-the-radar Cooley peninsula. Gone are the days of long, tedious drives around the lough; I can now catch a boat over the stretch of water my grandpa used to skipper in his 20s and, with the freedom of adulthood, make my own plans and explore both sides.
The popular destination in these parts are the Mourne Mountains, where trails thread their way through terrain so brutal that this August a group of teenage army cadets were rescued by helicopter when bad weather closed in.
I'm luckier today. I follow the luminous anorak of Loretto Coyle, a sixtysomething guide whose main job is helping newlyweds choreograph their first dance, as we hike to the 850-metre summit of Slieve Donard, Northern Ireland's highest peak. From the top, with a bit of squinting, the hazy coastline of the Cooley peninsula can be seen and, somewhere there, tiny Omeath.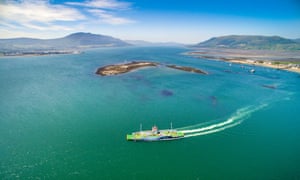 Afterwards, I drive south to Greencastle, and wait with holidaying families and commuters (for some it will also cut the driving time to Dublin, too) for the new ferry. While commuters stay in their cars, I climb on deck to take pictures, wipe spray from my face and gulp in some wholesome sea air.
This time I stay at Carlingford, a few minutes' drive from Greenore. I'm attracted not by its 15th-century walls and castles, nor the tales of Viking invasions but, well, its pubs. Dozens of them line the narrow cobbled streets – so much so that at weekends, Carlingford, to the despair of many locals, is transformed from a relaxed village into a fish bowl of pink sashes, veils and stilettos.
That needn't be too off-putting. I do see a group of young priests (stags) and a clutch of high-vis builders (hens) outside the crumbling tower of Taaffes, a castle that's been turned into a late-night bar, but earlier in the week the cosy, knick-knack-cluttered pubs are full of locals nursing Guinness and listening to live music.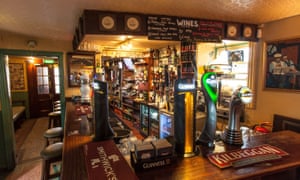 I start at PJ O Hare's, on nearby Tholsel Street, which has a huge beer garden, oyster platters (a nod to the lough's abundant oyster beds) and loaves of fresh brown bread to take home. Next door is Ma Bakers, where a small room is crammed with low stools and live music – from folk to a synthy two-man band attempting Springsteen hits; over the road is McKevitt's, a friendly family pub with the best Irish breakfast in town; and round the corner, Magees is home to giant gin and tonics and oyster shots.
Further along the coast, on a back lane in Whitestown, I find my favourite. Calling itself a "wine and spirit' store, Lily Finnegans is a low-ceilinged whitewashed pub with overflowing flower boxes and an interior crammed with displays of old beer bottles, and black and white photographs lining purple and green walls. I try a Red Ale from Kilkenny brewery Smithwick's and continue down the lane, past pretty white cottages, to a long, breeze-battered beach. It may have been lost on me all those years ago, but the setting is outstandingly beautiful, the beach remote and wild.
Back in Carlingford, I set out on the peninsula's new walking route, the 7km Greenway, that skims the lough all the way to Omeath. With hilly fields on one side and the water – turquoise on a sunny day – on the other, I pass a shrine to Saint Jude ("patron saint of hopeless cases" an old fella tells me with a knowing glance), and stroll on until I spy Omeath.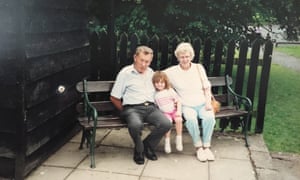 It doesn't have Carlingford's buzz, nor its pubs, castles or antique shops. The amusement arcades, to my despair, are gone, as is the pub where I watched my granny go giddy for a plump Elvis impersonator. But, nostalgia aside, sipping a takeaway tea and looking out over the water, I realise Omeath's sleepy charm remains.
I stroll up the hill and meet Brian, a friend of my late grandpa, who natters away about how Grandpa carried coals up this very hill, played football in that very field, and skippered the Evening Star ferry.
Today from his grave there's a view over the lough he worked on. Splodges of cloud dot the sky; the water is calm. "Michael Killeen," the inscription reads, "husband, father, grandfather. The last boatman of Omeath."
Read more at theguardian.com