European countries are boosting relief efforts in their Caribbean territories devastated by Hurricane Irma, amid criticism over the response.
French President Emmanuel Macron, who is visiting French islands that took the full force of the storm, said a huge "airlift" was bringing more aid.
UK Foreign Minister Boris Johnson is due in the region and the king of the Netherlands is touring Dutch islands.
Irma killed at least 23 people in the three countries' overseas territories.
The victims include 10 dead on the French island of St Barts and on the French part of St Martin – which is shared with the Netherlands.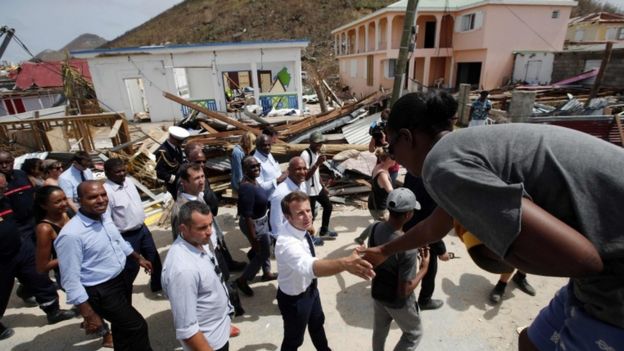 As he arrived in the region on Tuesday, President Macron said the government had responded with "one of the biggest airlifts since World War Two".
He told reporters that last week's hurricane had been almost unprecedented and that the effort had been hampered by a second hurricane, Jose, in the area days later.
He promised to "shake up all the rules and procedures" to rebuild the islands "as quickly as possible". Later on Tuesday he saw for himself the damage in Saint-Martin.
Critics have accused Mr Macron's government of not doing enough to help hurricane victims and prevent looting on St Barts and Saint-Martin.
The UK government has faced similar complaints following the death of at least nine people people on British territories.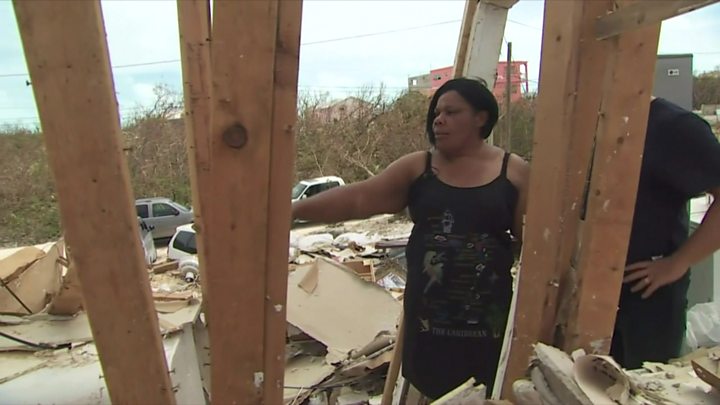 Mr Johnson is due to visit the British Virgin Islands and Anguilla, which have also suffered widespread devastation.
The BBC's Laura Bicker and Paul Blake on Tortola island say many neighbourhoods have been flattened, and their residents can be seen trying to cook and clean amidst the rubble.
About 1,000 UK soldiers are now in the region to deliver aid, and more troops and supplies are due in the coming days, officials say.
Read more at bbc.co.uk