"Catastrophic" flooding in the US state of Texas is only expected to worsen in coming days as waters rise following a storm of historic proportions.
A record 30in of rain (75cm) has already fallen on the city of Houston in the wake of Hurricane Harvey, turning roads into rivers.
But forecasters say the total rainfall could nearly double later this week.
US President Donald Trump has promised swift action to help those affected. He is due to visit Texas on Tuesday.
"Recovery will be a long and difficult road and the federal government stands ready, willing and able to support that effort," he said.
He said he was dealing with Congress on funding, warning "it's going to be a very expensive situation".
Mr Trump has also approved an emergency declaration for neighbouring Louisiana.
Harvey made landfall as a category-four hurricane late on Friday, bringing flooding described by officials as unprecedented. It was later downgraded to a tropical storm.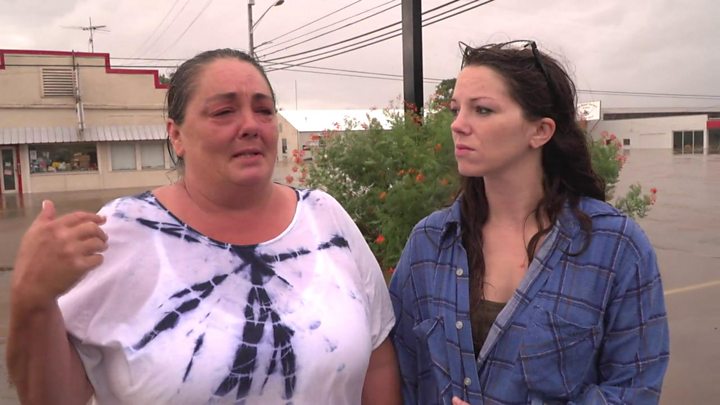 More than 3,000 people have been rescued in and around Houston, the fourth-largest city in the US, where about 6.6m people live in the metropolitan area. Helicopters have plucked victims from rooftops.
At least nine people are reported to have died in incidents related to the storm, Texan officials say.
Six members of the same family died trying to flee rising floodwaters, relatives told US media, but the incident has not been confirmed.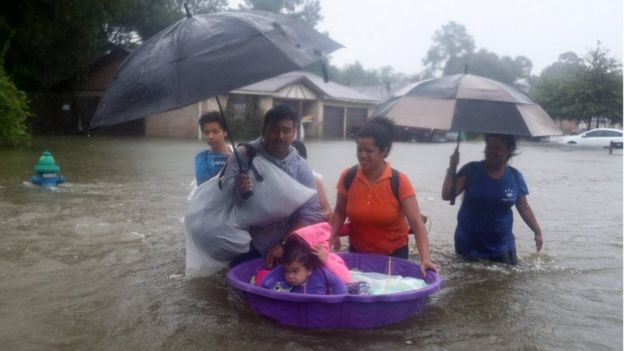 Governor Greg Abbott has activated the entire Texas National Guard – some 12,000 so-called "civilian soldiers" – to assist national forces in search and rescue operations.
The area is expected to have received a year's rainfall within a week.
Officials expect half a million disaster victims to seek assistance in Texas and 30,000 people to be housed in emergency shelters.
"Catastrophic and life-threatening flooding will continue across south-eastern Texas," the National Hurricane Center said on Monday.
"Additional rainfall accumulations of 15 to 25 inches are expected".
Meanwhile, army engineers have begun releasing water from two dams controlling water flowing along a major river into the heart of Houston.
Officials said they were opening the Addicks and Barker dams to stop water spilling into neighbouring communities, but that this could cause further damage down the Buffalo Bayou.
The National Weather Service (NWS) said the worst of floods were expected on Wednesday and Thursday, Reuters reports, although there is still uncertainty about the storm's path.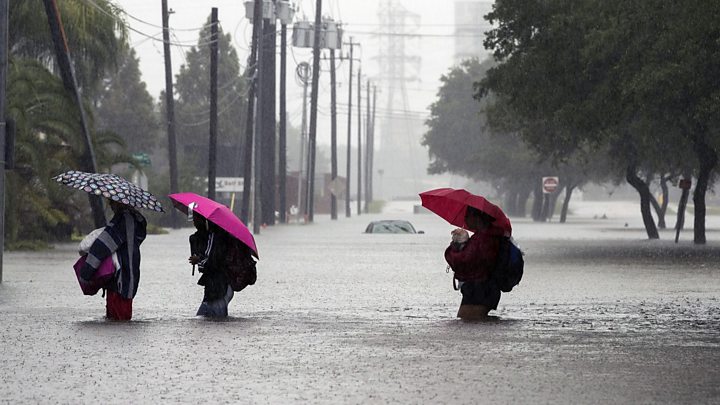 Many schools are closed – as are Houston's two main airports, with runways completely flooded.
The Texas Gulf Coast is a key centre of the US oil and gas industry, and some of the largest refineries in the country have halted operations.
---
Shocked, soaking silence
By James Cook, BBC North America correspondent, Houston
All day in the suburbs to the west of Houston, hundreds of families waded cautiously along a road they usually take to the shops, to school and to work.
It was an exhausting journey of well over a mile in waist-high flooding.
All night, as water lapped into their homes, people had been calling for help, they said, but no-one came.
Eventually a lone police officer arrived but by then people had taken matters into their own hands, forming a makeshift armada of little boats, jet skis, blow-up mattresses and even rubber rings.
All day long they streamed out in the teeming rain.
Occasionally someone would collapse and have to be helped up. Some children cried but most sat in shocked, soaking silence as they bobbed along on their inflatable rafts, teeth chattering in the cold.
Wading through the water, Anthony Rogers, 54, summed up the mood. The authorities, he said, had been "useless".
---
Similar levels of 15-25in of rain are predicted for south-western and central Louisiana.
The state suffered huge destruction following Hurricane Katrina in 2005.
Observers have drawn comparisons with the disastrous evacuation of homes in New Orleans ahead of Katrina, which left thousands of people stranded in squalid conditions at that city's stadium.
Tens of thousands of people have been ordered to leave parts of Fort Bend County, about 35 miles south-west of Houston, where a river is set to crest this week.
Dallas, 240 miles north of Houston, will set up a "mega shelter" at its convention centre to house 5,000 evacuees, city officials said.
Read more at bbc.co.uk