Heathrow is warning passengers of more disruption on Tuesday after more than 100 flights to and from Europe's busiest airport were cancelled because of fog.
The airport says: "Foggy weather across London and the South East is expected on Tuesday 24 January, and some passengers may experience disruption to their journey as a result. Heathrow advises passengers to check their flight status with their airline before coming to the airport."
On Monday, British Airways cancelled almost 100 flights, mostly domestic services and short European hops – though links to and from Athens, Moscow and St Petersburg were also grounded by the fog.
Other airlines cancelled around 20 short-haul flights, with Aer Lingus and KLM each grounding four flights to and from their hubs at Dublin and Amsterdam respectively. Passengers on Lufthansa, Swiss and SAS Scandinavian Airlines were also affected.
More than 10,000 passengers have so far been affected. While long-haul schedules have so far been protected, the severe delays on many arriving flights meant thousands of connecting passengers had their journey plans wrecked.
BA said: "Following a second day of poor forecast weather, we have once again agreed with Heathrow Airport, National Air Traffic Services (NATS) and other airlines to slightly reduce our flight schedules at Heathrow on Tuesday.
"For safety reasons Air Traffic Control has to allow greater space between landing aircraft in fog and this will mean a reduced number of aircraft being allowed to land each hour at Heathrow.
"We are also expecting further fog at Gatwick and London City airports to affect some flights on Tuesday, following some disruption to Monday's schedules.
"We are sorry for the difficulties caused by the poor weather and will do all we can to minimise the effect it has on our operations."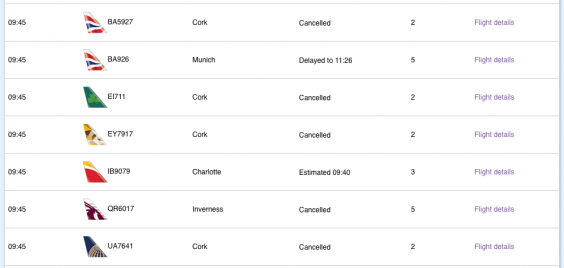 More than 30 flights serving London City airport were cancelled because of fog, with CityJet, Flybe, Luxair and Swiss among the airlines affected. BA's business-class-only arrival from New York was diverted to Gatwick, with flights from Bremen, Billund and Rotterdam also landing at other airports.
Passengers whose journeys are seriously disrupted are entitled to meals and accommodation until the airline can get them to their destination. They are entitled to be flown on rival carriers' services if that is the fastest way to complete their trip. But they will not be paid compensation under European rules.
Read more at independent.co.uk