The new version of Google's head-mounted computer has been revealed in a US government filing.
Despite killing it off at the beginning of this year, Google has revealed a new version of its Glass wearable computer, aimed squarely at enterprise businesses such as healthcare and manufacturing.
In filings with the American federal communications commission, the search firm has published the first pictures of the redesigned device, which now features a foldable arm holding a much larger screen.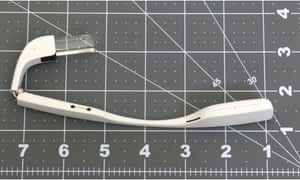 Officially, Google hasn't acknowledged the new device's existence, despite the fact that its enterprise-focused relaunch has been public knowledge since July. Those rumours also suggested that the new version of Glass is built to be waterproof and hard-wearing, as well as expected tech bumps like better wifi, faster processors, and improved camera and battery.
The last the company has said on the matter was that Glass was "graduating" from its experimental position in Google's advanced research X division, and placed under the control of Tony Fadell, the man behind the iPod and Nest smart-home company.
The relaunch could be followed later by a new consumer version. But for now, the device will be aimed at business customers who gain immediate value from having a head-mounted display. Obvious use-cases include surgery and manufacturing, where hands-free access to a voice-controlled screen can be extremely useful. Re-launching into a business environment would also allow the company to avoid having to face many of the issues experienced by consumer users, particularly the privacy concerns sparked by wearing a head-mounted camera in public places.
Source: https://www.theguardian.com