Theresa May and Jeremy Corbyn are returning to their core themes as they tour the country in a last push for general election votes.
On the final day of campaigning before voters go the polls, the PM is promising Brexit will lead to more jobs, homes and better transport links.
Mr Corbyn, who will speak at rallies in England, Scotland and Wales, says there are "24 hours to save the NHS".
Security has dominated the end of the campaign after two terror attacks.
Labour has repeatedly criticised cuts to police numbers, while Prime Minister Theresa May is promising to change human rights laws if they hamper a crackdown on suspected terrorists.
The PM's day has started in London, and will take in the South Coast, Norfolk, Nottinghamshire and the West Midlands.
Her first stop was Smithfield meat market in the city, where she chatted to butchers alongside her husband, Philip, who will be at her side throughout the day.
Mrs May's message focuses on Brexit – the reason she gave for calling Thursday's election 50 days ago – saying money previously spent on EU projects will deliver "huge benefits" across the UK.
She's been highlighting the Tories' pledge of a £23bn National Productivity Investment Fund, focusing on housing, road, rail and broadband improvements.
"A year ago, the British people voted for a brighter future outside the European Union," she said.
"My plan to deliver that brighter future will make sure all four corners of our United Kingdom benefit from the opportunities Brexit will bring – with more jobs, more homes, better roads and railways, and world-class digital connectivity wherever you live."
'Years of underfunding'
Mr Corbyn says the NHS "cannot afford five more years of underfunding, understaffing and privatisation".
Speaking at a music festival-style rally in Birmingham on Tuesday evening, he said the Conservatives had triggered the general election promising strong and stable government – "they don't say that very often now, do they?
"They just imagined everything was going to be all over by 8 June," he said.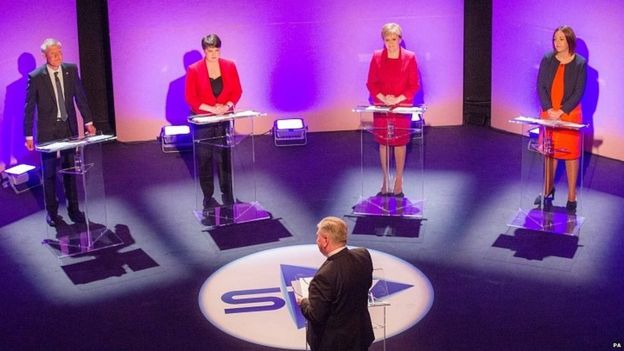 "Well, I tell you what, they underestimated us, didn't they?"
In his final campaign rally in Oxford, Lib Dem leader Tim Farron will urge voters not to give Mrs May a "blank cheque", saying the PM has "spent every day since she called the election trying to avoid answering any questions".
He will repeat his appeal to Labour voters to "lend" him their vote in seats where the Lib Dems are the Conservatives' main rival, labelling the Tories "heartless" and "hapless" over their social care reforms.
'Vote with hearts'
At their final election rally, the Green Party will call on people to "vote with their hearts".
"I'm calling on people across the UK to vote not just for the MP they want, but the kind of country they want," co-leader Jonathan Bartley said.
And UKIP leader Paul Nuttall will visit Norfolk and Essex, saying only his party can stand in the way of the government "backsliding" over Brexit.
Speaking in Lowestoft on Tuesday, he said the UK's fishermen must be given exclusive access to the country's territorial waters after the UK leaves the EU.
During the final leaders debate in Scotland on Tuesday, SNP leader Nicola Sturgeon claimed her Labour counterpart told her she would not oppose a second independence referendum after the Brexit vote.
But Kezia Dugdale said the Scottish first minister's suggestion that she would not fight for the UK was "nonsense".
Read more at BBC.co.uk