The Crescent from New York to New Orleans, the Empire Builder from Chicago to Portland and the Coast Starlight from Seattle to Los Angeles — these and many other great American trains could be about to reach the end of the line, by order of President Trump.
Long-distance passenger trains in the US are operated by Amtrak. The organisation has made an operating loss every year since it was set up in 1971 — though last year the deficit shrank to $227m, the lowest since 1973.
The president's so-called "skinny budget" for 2018 "terminates Federal support for Amtrak's long-distance train services, which have long been inefficient and incur the vast majority of Amtrak's operating losses."
The White House document, entitled "America First: A Budget Blueprint to Make America Great Again", says the move "would allow Amtrak to focus on better managing its State-supported and Northeast Corridor train services".
Individual states such as California and Texas subsidise some services, while the line from Washington DC via Philadelphia and New York to Boston is profitable.
But public transport campaigners are dismayed by President Trump's plan to end subsidies for long-distance trains in America.
Richard White, President and CEO of the American Public Transportation Association, said: "The American economy and communities of all sizes would be losers."
His association says that recent polls showed three out of four Americans "support increased public transportation investment".
"Additionally, a November election poll found that 81 percent of Americans who voted for Donald Trump oppose any cuts to the current levels of public transportation investment," said Mr White.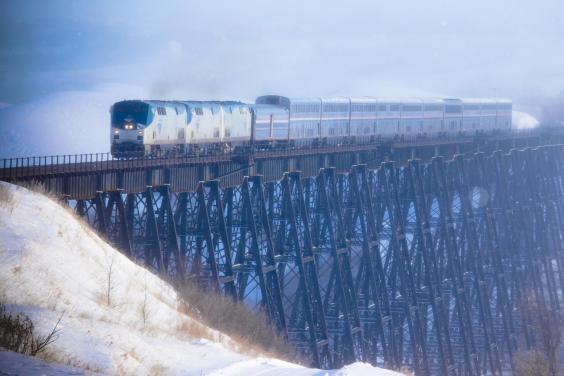 Mark Smith, founder of the Seat61 global rail website, said:
"Unsurprisingly perhaps, Trump wants to kill the Trains that Make America Great. Amtrak now covers an unprecedented 94 per cent of its annual operating costs from revenue, so it hardly seems necessary in pure financial terms – this is essentially politically motivated.
"It would mean the only public transport from coast to coast will be flying, or three days and nights on a bus. To me, that's third world – these trains include some world-class rail routes, with the Chicago-San Francisco California Zephyr a candidate for one of the world's greatest train rides."
There is a chance the measure may not be passed by Congress, with Democrats and some Republicans opposing it.
President Trump also intends to withdraw subsidies from flights to rural airports, known as the Essential Air Service (EAS) scheme. The budget document says: "EAS flights are not full and have high subsidy costs per passenger."
Scrapping the flight programme will save $175m annually.
Read more at independent.co.uk