The Wildman Wilderness Lodge, in the Mary River Wetlands in Australia's harshly beautiful Northern Territory, represented a new type of luxury for me. Nothing to do with obsequious service, the thread count of the sheets or the size of the widescreen TV (this being the middle of nowhere, poor signal meant the in-room TV and radio were redundant). Rather, there's an expansive simplicity to Wildman that has a profoundly soothing effect on the soul. Luxury indeed.
I'd visited Wildman back in April to mark the 30th anniversary of the release of Paul Hogan's Crocodile Dundee, the likeable romcom that first put the Northern Territory on the tourist map. It's safe to say, though, that Hogan's Mick Dundee never imagined anything like this.
The Lodge consists of a row of 10 stylish modernist cabins (more Grand Designs than frontier roughing it) and 15 family "safari tents" (canvas over wood frames, probably larger than the average London home), all with their own verandas. A central wooden building houses a bar, restaurant, meeting room and infinity pool.
Everything faces onto the lodge's very own red-earth airstrip, lined with geometric termite mounds, with the wetlands and spectacular sunsets beyond. You can book a plane, floatplane (seaplane) or helicopter trip, or – if you're the sort of person who just so happens to have your own light aircraft – you can fly in for breakfast or lunch.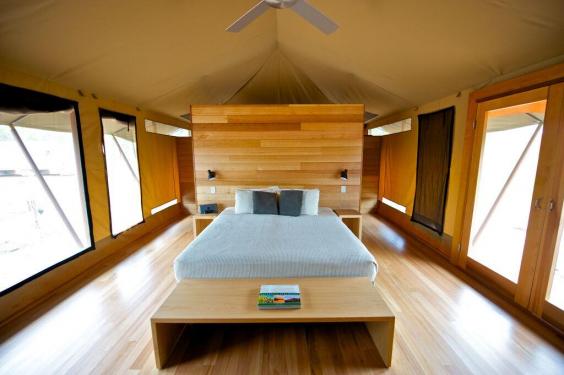 The property also organises fishing or sightseeing trips on its own private billabong (a stagnant branch of a river left behind after a flood, I finally found out, after several decades of wondering).
The billabong is home to wallabies, countless bird species and numerous crocodiles – including one known as Big Arse, who is immortalised in all his terrifying glory in a picture by the pool changing rooms. There are bikes, hiking trails, and driving tours of the floodplain or the nearby Kakadu National Park. And that's basically it, apart from one major point: the entire place is recycled.
Where many Australian resorts make play of how lightly they sit in the ecosystem, Wildman began life 1,800km away in Queensland as the lodge at the Wrotham Park cattle ranching station. When it closed in 2009, the cabins, power generators, water and sewage treatment systems and 70 per cent of the central complex were dismantled in 28 days and transported to the Northern Territory on 18 triple-trailer road trains.
Wildman added tents and opened in 2011, alongside an existing airstrip. The whole enterprise has been dubbed "probably the greatest example of recycling in Australian tourism". Don't you just love that qualifying "probably"?
Comfort
I arrived at Wildman towards the end of "the Dry" (the NT's arid autumn) after several days bouncing around Kakadu in a 4×4, swimming in waterfalls and looking at crocodiles and old mine workings. I'd been staying at terrific places, from the quirky Ambinik Resort in Jabiroo, where the outdoor showers are fenced with old croc-warning signs, to the sleek, stylish, aborigine-owned Cicada Lodge on the Katherine River, where each room comes with its own yoga mat. None was as impressive as Wildman, though.
In my cool, airy cabin, the double bed faced floor-to-ceiling glass doors looking out over the hypnotically unforgiving landscape. The shower had a glass wall, too. I may have shocked a family who were cycling past.
In the pavilion-style restaurant, the chef nailed his local credentials to the mast by offering only two choices per course. Not that that mattered, when they included a wafer of lemon-drizzled courgette wrapped around soft cheese and a pink rack of lamb.
We ended our evenings with a bottle of local red wine beside the roaring firepit on the terrace, staring at the low-hanging moon through a telescope. I slept with cabin doors open and the insect screens closed, and can't remember a more peaceful night.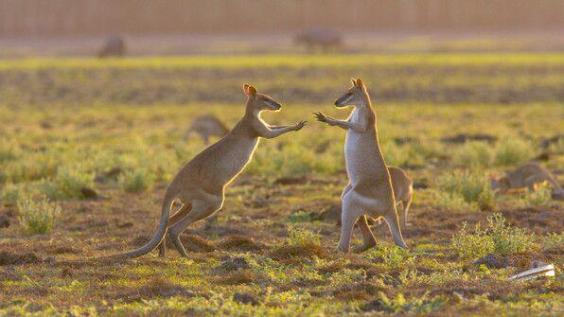 Location
Take a bus trip, past wallabies fleeing the dusk, to nearby Leichardt Point, a panoramic viewing spot where the sun sinks behind a photogenic tree. We saw distant wild pigs and cows, probably freed by a wild buffalo barging through a fence: a nearby ficus tree is still ringed with the bones of buffalo that were mustered and butchered there, as well as skins which snakes have shed among the roots.
Our guide served sparkling wine, beer and cheese as the sun painted the clouds pink. His name was Sean Chisholm, but he preferred to be known as "Chizo the Fisho". He had grey Catweazle hair, a straggly beard, a dazzling smile and informative charm to spare: a real-life Mick Dundee.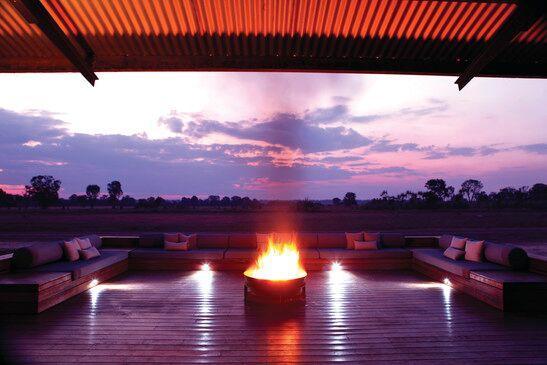 The following day, Chizo took us out on a dawn billabong tour. Although Big Arse didn't show, we saw plenty of other crocs basking in the mud while egrets, ducks, darters and sea eagles skimmed the shimmering water, all pointed out with gentle enthusiasm. Chizo clearly loves this place, its unspoiled richness and quiet, its raw lack of concession to humanity.
As we ate our cooked buffet breakfast (a staple of Australian travel: this was one of the better ones) before our trip back to Darwin and "civilisation", I sympathised.
Read more at independent.co.uk