More than a third of British Airways flights from Heathrow were cancelled as thousands of passengers faced a second day of disruption.
The airline was hit by a worldwide computer system power failure on Saturday, causing cancellations and delays for thousands of passengers.
All long-haul services left from Heathrow, but with delays, BA said.
The airline has urged people to check the status of flights before travelling to the airport.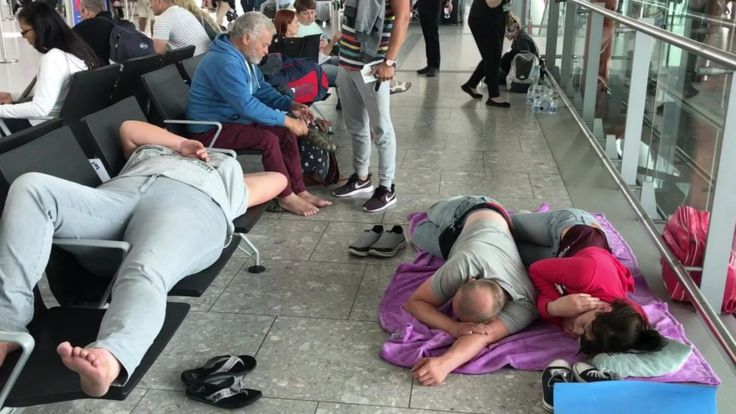 The airline apologised to customers for the issue, which is thought to have been caused by a problem with the IT system's power supply.
In a statement released on Sunday, chief executive Alex Cruz said: "I know this has been a horrible time for customers. We're not there yet, but we are doing our very best to sort things out for you."
The BBC's Phillip Norton, who has been stranded at Rome airport since Saturday, has been told he won't be able to fly back to London until Tuesday.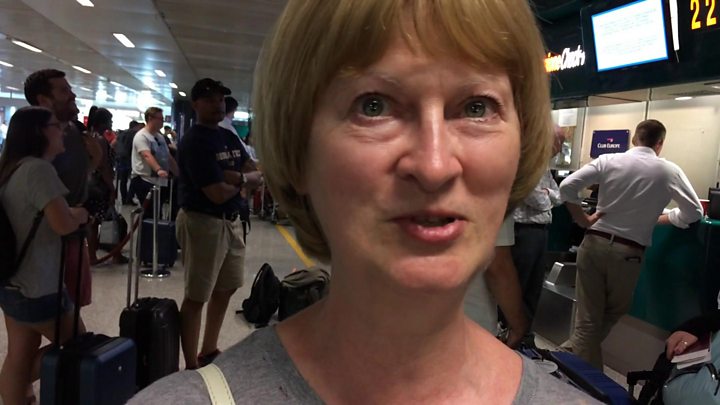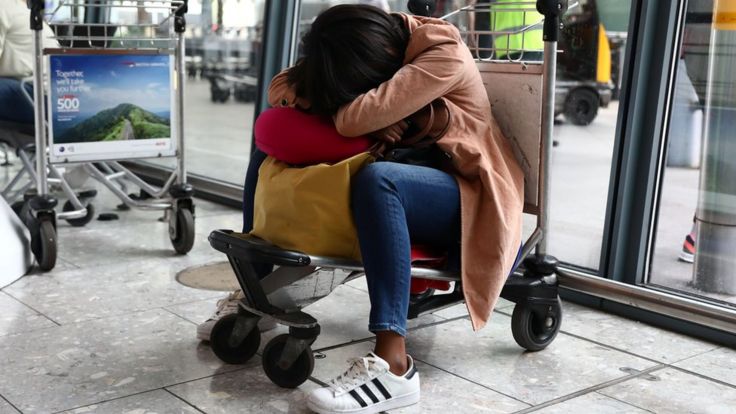 The airline is liable to reimburse thousands of passengers for refreshments and hotel costs.
Customers displaced by flight cancellations can claim up to £200 a day for a room (based on two people sharing), £50 for transport between the hotel and airport, and £25 a day per adult for meals and refreshments.
One traveller from Seattle said she had spent the evening sleeping on the floor of a hotel conference room.
Ashley Tracey, who was trying to get to Mumbai for her friend's wedding, said she had been queuing to rebook her flight for six hours.
She said: "There's no information I can't seem to get through online, I don't live here so I don't have a phone that works here."

At the scene
by James Goldburn, BBC News, at Heathrow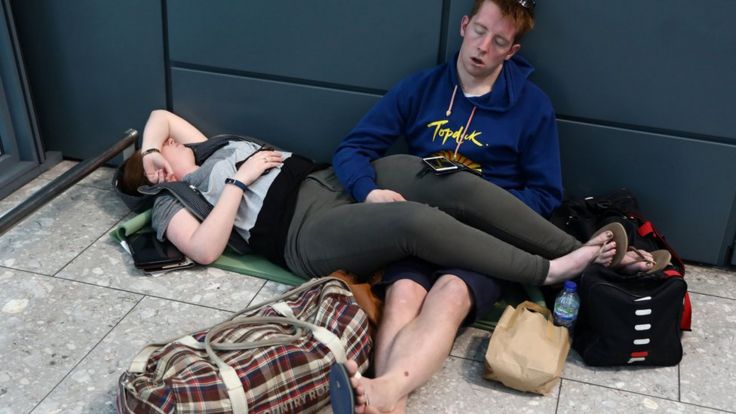 On Sunday morning, Heathrow Terminal 5 descended into chaos again as people arrived to rebook flights after theirs were cancelled yesterday as well as new arrivals hoping they had not been affected by the company's IT failure.
Many people told me about the lack of knowledge or information provided by BA staff.
One American woman on a stop-over described how an employee asked what the queue they were standing in was for.
Some passengers slept on yoga mats provided by the airline as conference rooms were opened to provide somewhere more comfortable to rest.
A number of people arrived at the airport for 05:00 and were still none the wiser by lunch time whether they'd be home any time soon.
As the day has progressed, British Airways appears to have more of a grip on the situation. The departure lounge has calmed down and many have rearranged their flights.
But the terminal is still full of hour-long queues and for many this wasn't how they had hoped to spend their Bank Holiday weekend.

There have been reports that some passengers who departed from Heathrow on Saturday found their luggage was not at their destination when they landed.
Terry Page, 28, arrived in Fort Worth, Texas after delays and said "about 50" passengers did not have their check-in luggage.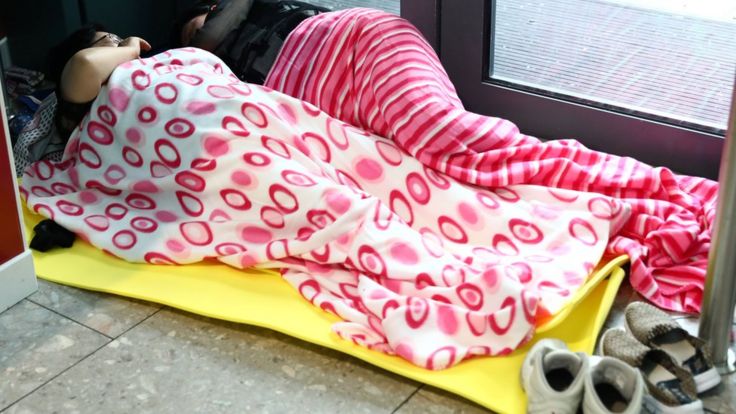 Thousands of bags remain at Heathrow Airport, but BA has advised passengers not to return to collect them, saying they will be couriered to customers.
The airport also said passengers whose flights were cancelled should not travel to Heathrow unless they have already rebooked their flight.
A spokesman said staff were "continuing to give passengers free water and snacks".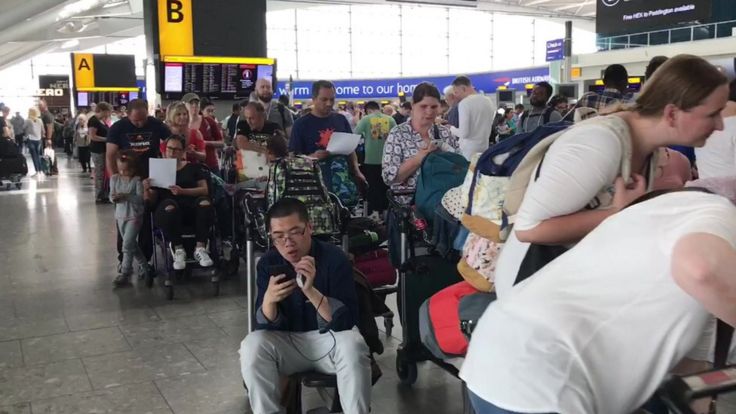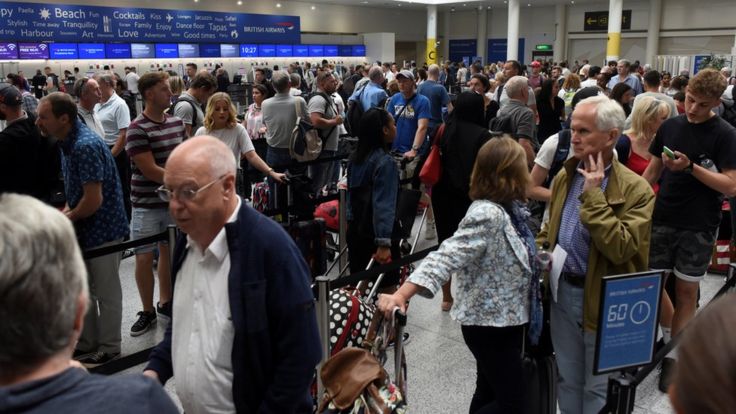 On Saturday passengers described "chaotic" scenes at the airports, with some criticising BA for a lack of information.
The airline apologised and said it was refunding and rebooking customers.
The company's chief executive Alex Cruz had said it was believed "the root cause [of the computer problems] was a power supply issue". The company said there was no evidence the failure was the result of a cyber attack.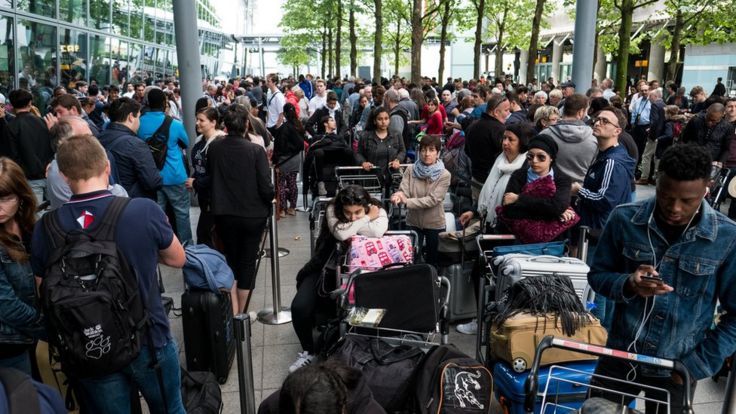 The IT failure affected check-in and operational systems, including customer service phone lines.
BA said although some of its IT systems had returned, "there will be some knock-on disruption to our schedules as aircraft and crews are out of position around the world.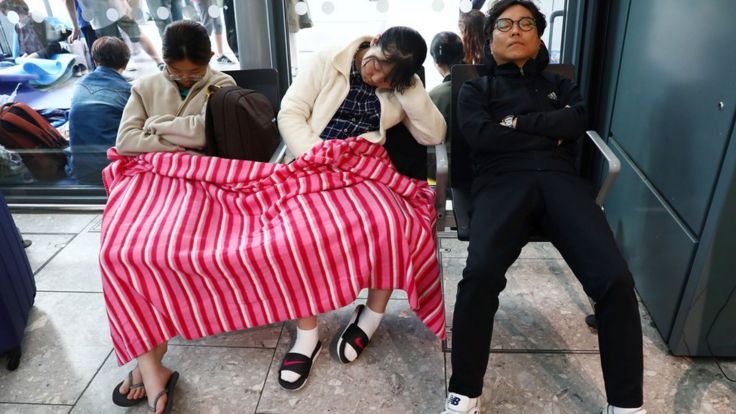 The GMB union had suggested the failure could have been avoided, had the airline not outsourced its IT work.
BA denied the claim, saying: "We would never compromise the integrity and security of our IT systems".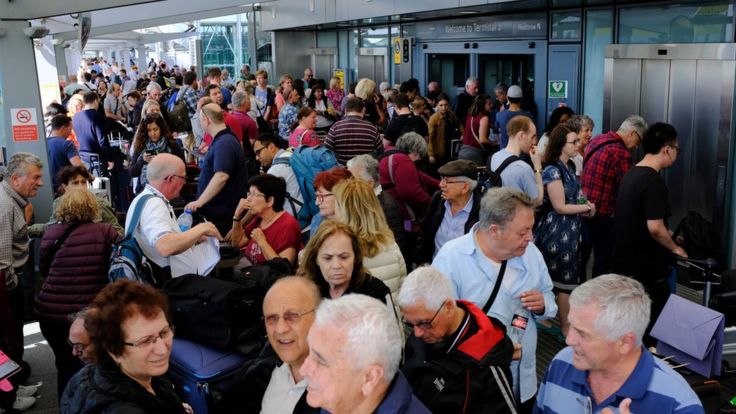 ---
EU flight delay rights
If your flight departed the European Union or was with a European airline, you might have rights under EU law to claim if the delay or cancellation was within the airline's control
Short-haul flights: 250 euros for delays of more than three hours
Medium-haul flights: 400 euros for delays of more than three hours
Long-haul flights: 300 euros for delays of between three and four hours; and 600 euros for delays of more than four hours
If your flight's delayed for two or more hours the airline must offer food and drink, access to phone calls and emails, and accommodation if you're delayed overnight – including transfers between the airport and the hotel
Read more at BBC.co.uk