Manufacturing performed well in the first month of 2017, according to the latest survey snapshot of the sector, but UK firms also saw the sharpest rise in factory input costs on record and an apparently waning boost for exports from the slump in the pound.
The headline Markit/CIPS Purchasing Managers' Index came inat 55.9 for the month, down slightly from 56.1 in December but still well above the 50 point that separates growth from contraction.
But input costs rose at the fastest pace since the survey was first compiled in 1992, attributed by respondents to sterling's 12 per cent trade-weighted slump since last June's Brexit referendum.
Still growing robustly…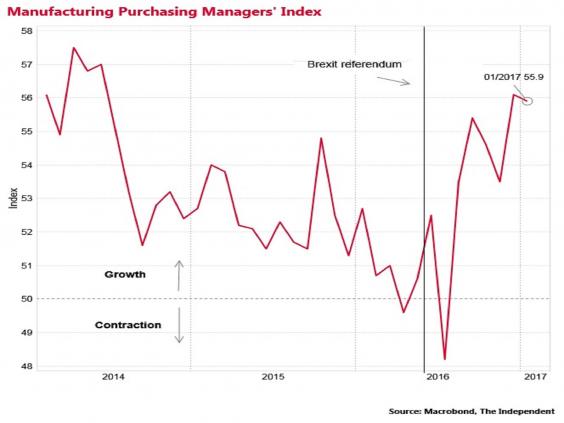 And manufacturers were forced to increase their own prices at the fastest pace since April 2011.
…but input prices exploding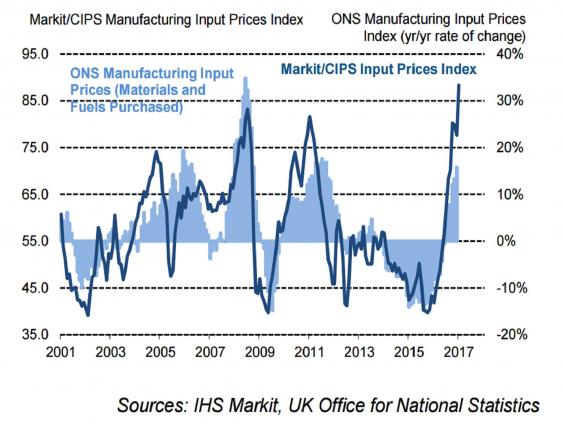 "With cost pressures increasingly feeding though to higher selling prices at factories, it looks inevitable that consumer price inflation will rise further in coming months," said Rob Dobson, economist at IHS Markit, while compiles the survey.
"Consumers must soon be wondering whether these rising costs will impact on their daily life," said David Noble, chief executive of the Chartered Institute of Procurement and Supply (CIPS).
Consumer price inflation stood at 1.6 per cent in December, according to the Office for National Statistics, and is widely expected to soon jump above the Bank of England's 2 per cent target, squeezing household disposable income after several years of very subdued price rises.
A positive side effect of the fall in sterling was a boost to the competitiveness of UK exports.
Yet according to the latest PMI, manufacturing orders from abroad rose at the weakest since last May, following a surge in the second half of 2016.
Markit/CIPS said this was a sign of a "waning" boost from the weakened exchange rate.
The new export orders index dropped to 50.9 in January, down from 58.5 in December
"This emphatically shows that the benefits to manufacturers from sterling's depreciation remain far too modest to outweigh the costs for the rest of the economy in terms of high inflation,"  said Samuel Tombs, economist at Pantheon.
Read more at independent.co.uk