The most remarkable year of Andy Murray's career ended in one of his sweetest triumphs as the Scot won the Barclays ATP World Tour Finals here in London for the first time and in so doing sealed his position as the year-end world No 1.
Novak Djokovic, Murray's perennial rival, would have taken back top spot in the rankings if he had won this season-ending showcase event for the fifth year in a row, but the Wimbledon champion summoned up one last superhuman effort in the final match of the season to win his 24th match in succession and beat the Serb 6-3, 6-4.
"It was obviously a big match, a very important win for me," Murray said afterwards. "It was a huge match to finish the year, to try and finish No 1. Obviously this is a major event as well, and one where I've not done well in in the past."
The odds had seemed stacked against Murray given how hard he had had to work to get to the final, but in winning his 78th match of the year – which is 13 more than Djokovic, the season's second most successful player, has won – the Scot barely flinched.
Murray has enjoyed an astonishing second half of the season. While Djokovic has for the most part struggled since winning his second Grand Slam title of the campaign at the French Open in June, Murray has gone from strength to strength.
Some critics have pointed out that during his run the Scot has not always had to beat the best– he has not faced Roger Federer or Rafael Nadal since the start of the grass-court season and this was his first meeting with Djokovic for five months – but as Murray himself pointed out he can only play those he is drawn against. Besides, in the last five days he has beaten the players ranked No 5, No 3, No 4 and No 2 in the world.
Since the Monte Carlo Masters in April Murray has reached the final of 12 of the 13 tournaments he entered, winning nine of them. This was his fifth tournament victory in a row and the 44th of his career. It came with prize money of $2,391,000 (about £1.94m), which should help fund a Christmas present or two for his coaching team headed by Ivan Lendl, who has made such a difference since returning to the Scot's entourage this summer.
By the end of the French Open Djokovic led Murray by 8,035 points in the rankings, but he was overhauled when the Scot won the Paris Masters at the start of this month and will be 630 points behind him in the year-end list. Murray will be the 17th player to top the official year-end rankings since they were launched in 1973.
Murray said he would love to stay at the top but admitted: "It's taken a huge effort the last five, six months to get there. I'm aware it's going to be extremely difficult to stay there because I had a great year this year yet I only managed to do it by one match. To repeat that again next year is going to be extremely difficult. But now that I've got there, I obviously would be motivated to try and stay in that position."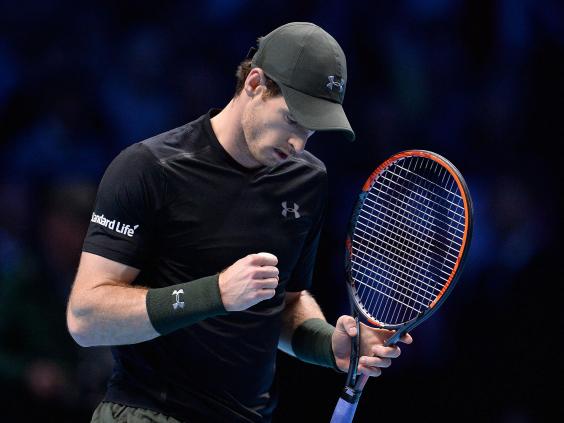 The defence of his world No 1 ranking has spurred Murray into some remarkable performances over the last week, even if the effort he had had to put in had left Djokovic as the favourite in many people's eyes.
Djokovic went into the final having spent four hours and 29 minutes on court in his previous three matches, whereas Murray had been detained for eight hours and 22 minutes in his previous three. The Scot won the longest match ever played here when he needed three hours and 20 minutes to beat Kei Nishikori and that record was beaten three days later when he took three hours and 38 minutes to win his semi-final against Milos Raonic.
In the final, nevertheless, there was barely a hint of tiredness in Murray's play. Nobody works harder at his fitness than the Scot, who was chasing down balls in his 87th match of the year as he did in his first 11 months ago
Murray's tournament results since the start of the clay-court season
Monte Carlo Masters: semi-finals (lost to Nadal)
Madrid Masters: runner-up (lost to Djokovic)
Rome Masters: won (beat Djokovic in final)
French Open: runner-up (lost to Djokovic)
Queen's Club: won (beat Raonic in final)
Wimbledon: won (beat Raonic in final)
Olympics: won (beat Del Potro in final)
Cincinnati Masters: runner-up (lost to Cilic)
US Open: quarter-finals (lost to Nishikori)
China Open: won (beat Dimitrov in final)
Shanghai Masters: won (beat Bautista Agut in final)
Vienna Open: won (beat Tsonga in final)
Paris Masters: won (beat Isner in final)
World Tour Finals: won (beat Djokovic in final)
[Murray also played in Britain's Davis Cup semi-final against Argentina after the US Open. He lost to Del Potro and beat Pella]
Consistency has been the key to Murray's stunning year and he demonstrated that again with this performance. Murray and Djokovic are such superb athletes that it is hard for anyone to hit winners against them and they managed just 13 apiece here.
The more telling statistic, however, was Djokovic's 30 unforced errors compared to Murray's 15. While the Serb has to some extent turned his recent form around with his performances in London, this appeared to be confirmation that he is still struggling to recapture his former glories. He admitted afterwards that he may be paying for his lack of matches in recent months following some early losses at tournaments. His backhand in particular was worryingly unreliable.
Murray served two double faults in the first four points, but it was not long before he was putting pressure on Djokovic's serve. The Serb saved two break points at 2-3 but was unable to defend a third two games later as Murray attacked with a bold forehand
Year-end world No 1s in the 21st Century
2000: Gustavo Kuerten (Brazil)
2001: Lleyton Hewitt (Australia)
2002: Hewitt
2003: Andy Roddick (US)
2004: Roger Federer (Switzerland)
2005: Federer
2006: Federer
2007: Federer
2008: Rafael Nadal
2009: Federer
2010: Nadal
2011: Novak Djokovic (Serbia)
2012: Djokovic
2013: Nadal
2014: Djokovic
2015: Djokovic
2016: Andy Murray (Great Britain)
Under relentless pressure from the power and accuracy of the Scot's ground strokes, Djokovic made four successive errors s Murray served out for the opening set, the last of them greeted with a huge roar from the crowd.
There was no let-up at the start of the second set as Murray broke immediately and again to go 4-1 up. Nevertheless, just when the defending champion seemed down and out he launched a typically spirited comeback. After an hour and 18 minutes Djokovic forced his first break point and converted it immediately when Murray hit a forehand long. Murray, however, held firm when he served out for the match. Djokovic saved two match points, but on the third hit a forehand return wide.
Djokovic said afterwards that Murray had "definitely deserved to win" and that his own poor form meant he had had "no serious chance" of winning.
He added: "I just played very poorly, made a lot of unforced errors from the backhand side. It just wasn't my day. On the other hand, credit to Andy for being mentally tough and playing the right shots, making me play extra shots in every rally."
Australia's John Peers, who was Jamie Murray's partner at this tournament last year, and Finland's Henri Kontinen won the doubles title, beating Raven Klaasen and Rajeev Ram 2-6, 6-1, 10-8 in the final
Read more at independent