UN Secretary-General Ban Ki-moon has voiced alarm "over reports of atrocities against a large number of civilians" in Aleppo.
Mr Ban urged all the sides, particularly Syria's government and its allies, to protect civilians.
UN humanitarian adviser Jan Egeland earlier said Syria and Russia were "accountable" for any atrocities committed by pro-government militias.
Rebels inside Aleppo are on the brink of defeat after Syrian army gains.
In a statement, Mr Ban's spokesman Stephane Dujarric said "the secretary-general is alarmed over reports of atrocities against a large number of civilians, including women and children, in recent hours in Aleppo".
"While stressing that the United Nations is not able to independently verify these reports, the secretary-general is conveying his grave concern to the relevant parties.
"He has instructed his special envoy for Syria to follow up urgently with the parties concerned," the statement added.
A US official with knowledge of efforts to secure safe passage for people trapped in the city told the BBC that some "50,000 people remain under bombardment" in Aleppo with the Russians rejecting the idea of pauses in the bombing to allow people to leave or allow injured children to be evacuated.
So far there have been no public comments on the issue by Syria's government or its ally Russia.
Mr Egeland earlier tweeted that the governments of Syria and Russia were "accountable for any and all atrocities that the victorious militias in Aleppo are now committing".
Rebels have now lost more than 90% of the territory they once held in eastern Aleppo since government forces stepped up their offensive to regain full control of the city a month ago.
Earlier on Monday, Lt Gen Zaid al-Saleh, head of the Syrian government's local security committee, said rebel fighters did not "have much time" and needed to "surrender or die".
Tens of thousands of civilians are also believed to be in the rebel enclave.
Syrian state TV showed footage of people in Aleppo celebrating, amid reports the army was close to victory.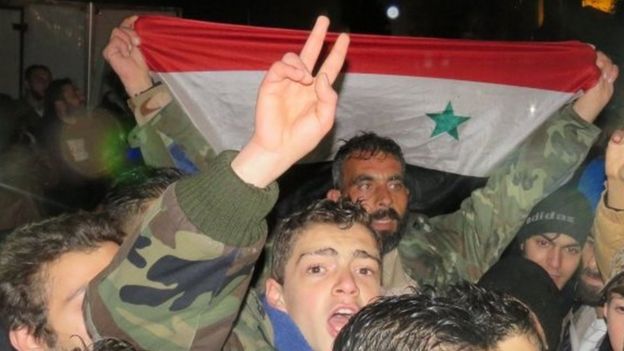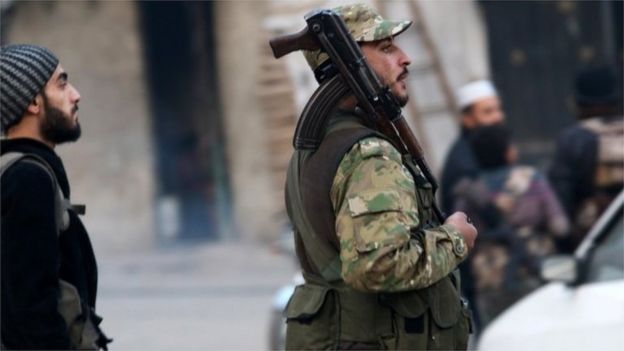 For much of the past four years the city has been divided roughly in two, with the government controlling the western half and rebels the east.
Syrian troops finally broke the deadlock with the help of Iranian-backed militias and Russian air strikes, reinstating a siege on the east in early September and launching an all-out assault weeks later.
Russia, which backs Syrian President Bashar al-Assad, says more than 100,000 civilians have been displaced by the fighting and that 2,200 rebel fighters have surrendered.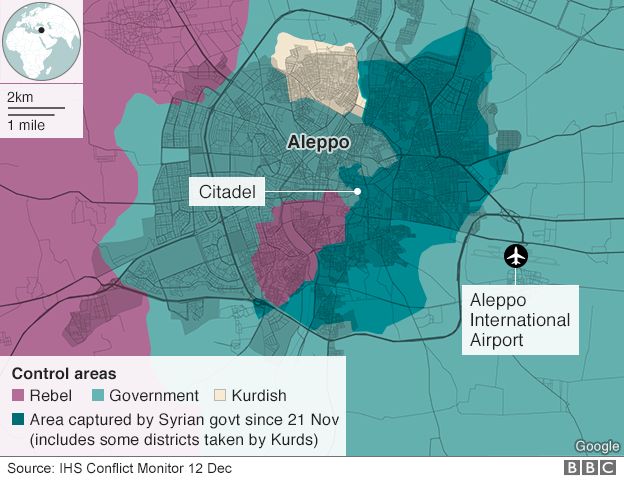 The Syrian Observatory says that at least 415 civilians and 364 rebel fighters have been killed in rebel-held areas since 15 November. Another 130 civilians have died in rebel rocket and mortar attacks on the government-controlled west.
Russia and the United States, which backs the rebels, held talks in Geneva over the weekend to discuss a deal for civilians and rebel fighters to leave Aleppo.
But on Monday, US officials said their Russian counterparts had rejected a proposal for an immediate cessation of hostilities to allow for safe departures.
Analysts say the fall of Aleppo would be a big blow to the opposition, as it would leave the government in control of Syria's four largest cities.
---
Analysis – by Lyse Doucet, BBC News Chief International Correspondent, Beirut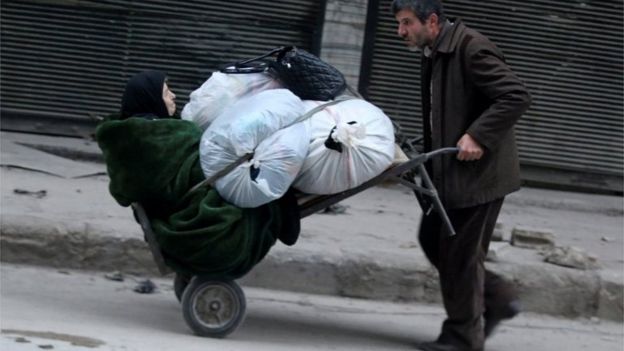 As fighting intensified for the last rebel-held neighbourhoods, there have been frantic efforts to secure guarantees to evacuate the most vulnerable – the very ill, gravely injured and innocent children. All efforts have been in vain.
"It's a far dream," one frustrated aid official told me on Monday, about a long-standing request for a UN-organised medical mission for about 500 patients and their families.
Two efforts, which seemed close to agreement, collapsed last week when Russia asserted there was no need for a ceasefire since tens of thousands were escaping without one. Sources say Russia then shifted its stance. But rebel groups demanded a ceasefire and a delivery of aid first.
In desperation, aid agencies reduced their request from 72 hours to just three. A group known as "Doctors Under Fire" has also been pleading for the evacuation of hundreds of children.
British surgeon Dr David Nott says "we only need a temporary cessation of 60 minutes to save them all." Even that seems to have been too much.
Read more at BBC.co.uk