Before we talk about our rural idyll deep in Germany we have to get there. And it says a lot about the SQ7 that everyone was looking forward to the journey, to differing degrees. Up front there is ample space and considerable comfort. And so it is in the back too. Screens in the seatbacks kept those in the rear relatively quiet and amused as the miles passed, while those up front simply enjoyed the miles.
The SQ7 just does everything so easily, it means that you so rarely seem to be anywhere near the limits of the considerable comfort zone. Performance is priced in, a great rolling wave of power and torque that propels you over the horizon with a great tireless lope.
If you want more speed it's already there, belying the considerable dimensions of the Audi SUV. A blast on the Autobahn showed up what it could do, but for the most part we kept off them. Doing so meant we averaged over 30mpg, which again is mighty impressive for such a beast.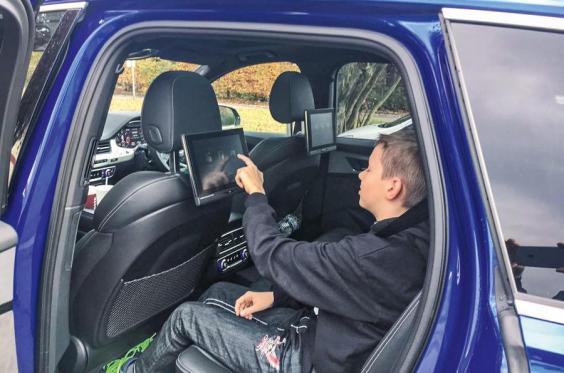 Just rolling across the terrain, you can enjoy everything about the SQ7, from the high driving position which lets you see ahead and around, to the exquisite quality of the cabin, from the superb sound system to the effortless performance just a moment away.
That exquisite cabin probably wasn't really designed to carry a full hay bale in the back, but that was what was required, so that's what it did. The bale had to be delivered down a long farm track that had been churned up by tractors. The mud was easily up to the axles, and the vehicle was wearing very road-biased tyres.
But it just plugged away, keeping progress and momentum. The Off Road setting helped, increasing ground clearance and making the four-wheel drive system work smoothly and gently. We eased down the lane in a way that someone seeing us tanking down the Autobahn might have found hard to believe.
Our rural duties fulfilled, the SQ7 shook off the mud and then transported us rapidly, efficiently and effortlessly home to the UK. It's hard to find something about the Audi that we don't like. Apart from the price, it's hard to think of one.
Audi SQ7
Price £70,970
Price as tested £95,160
Economy 30.1mpg
Faults None
Expenses None
Read more at independent.co.uk