So many beauty e-tailers have sprung up in the last 10 years that it's hard to know where to start if you're looking to buy cosmetics online. We've scoured the web to find the best sites to buy beauty products. You'll find organic beauty at LoveLula, niche natural skincare at Being Content and make-up artist must-haves at Cult Beauty.
1. Beauty Pie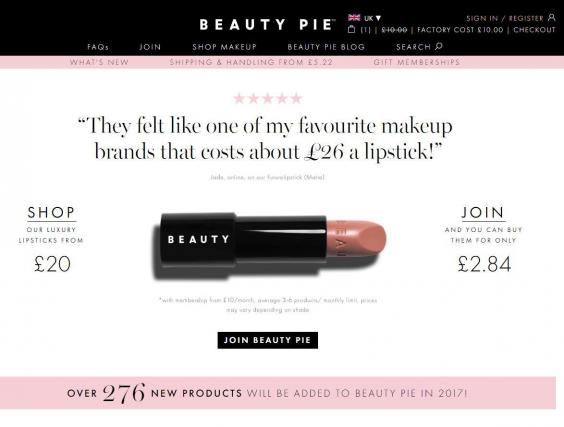 The brainchild of Marcia Kilgore, the beauty buff behind brands like Bliss Spa and Soap & Glory, Beauty Pie is about to revolutionise the way you buy makeup. The digital-only make-up brand cuts out the middleman and the mark-ups, allowing you to buy direct from factories that also supply the majority of luxury beauty brands. For just £10 a month, you're given a shopping allowance of up to £100 retail price but you only pay factory cost. For example, Beauty Pie's Precision Eyeliner Marker is valued at £16 retail cost (and looks suspiciously like Kat Von D's Tattoo Liner) but it will only set you back a mere £1.50. Where do we sign up?
2. Cult Beauty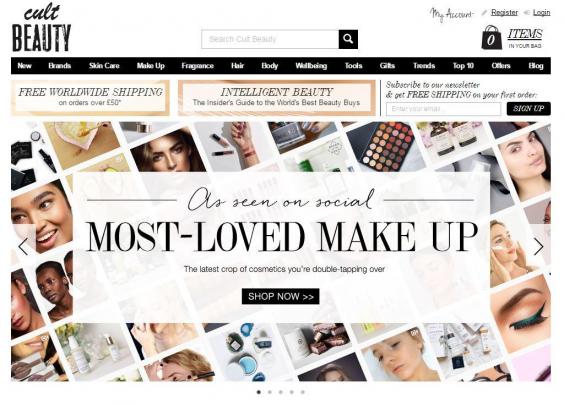 'Top Rated', 'Exclusives and 'New In' are just some of the ways you can filter the cherry-picked beauty products from over 130 brands on Cult Beauty. "Our mission is to demystify the beauty industry, combining consumer trials with the vast knowledge of our expert panel to filter out the blaggers and braggers from the gems that do what they say on the tin. The result is a beauty hall of fame – you can shop in the knowledge that anything you buy will be outstanding." Big claims, but they are well and truly substantiated with some real beauty corkers up for grabs.
3. Beauty Bay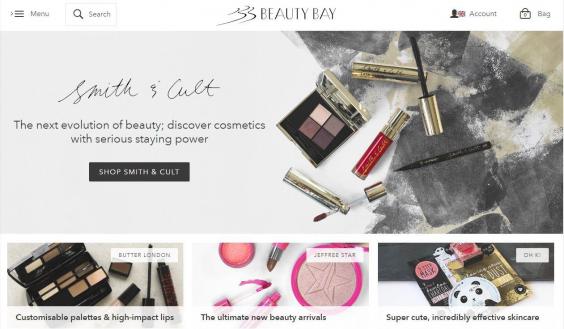 More than a retailer, Beauty Bay is packed with make-up tutorials, colour trend reports, get the make-up look tips with product recommendations, and tried and tested reviews. With over 10,000 products available from the very best UK and International brands – think Jeffrey Star, Sigma and Anastasia Beverly Hills – you'll be hard pressed to leave this site empty handed. They also have a blog which is fab for keeping up with all the latest beauty news.
3. Space NK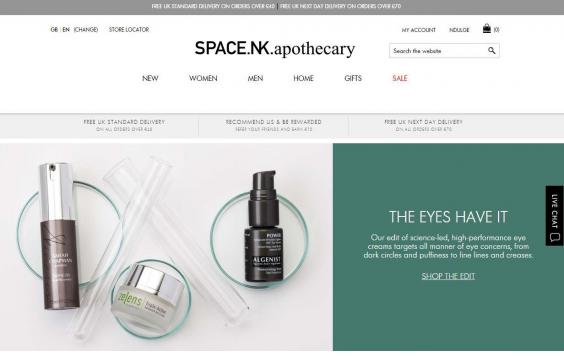 SpaceNK's Nicky Kinnaird started it all in 1993 with a little shop in Covent Garden where she introduced us to the world of niche high performance beauty brands like Laura Mercier, Chantecaille, Eve Lom, Nars and Shu Uemura. Now, with a wealth of brands online, this is a one-stop-shop for serious luxury and glamour and an edited selection of the world's best beauty products. Nicky still travels the globe searching out great products, "I look for the unusual, exciting and special wherever I am," she says. The site also has a live chat feature which means you can speak to a Space NK assistant at any time.
5. Love Lula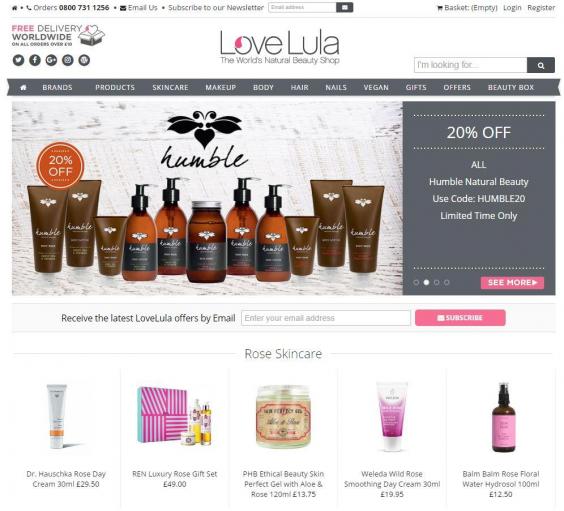 With more rosettes for organic, soil association, natural health and green parenting than you can shake a muddy stick at, this is the place to go for natural beauty. Fifteen years ago it was hard work to get hold of natural organic products, you had to really know your stuff and know where to look. Now we have Love Lula that only sells natural and organic. Now that is progress! They insist on "no sodium lauryl sulfates, no parabens, no animal testing", but they "must be effective, luxurious and guilt-free." LoveLula also say they "seek out the most innovative companies and strive to support morally run and environmentally driven businesses".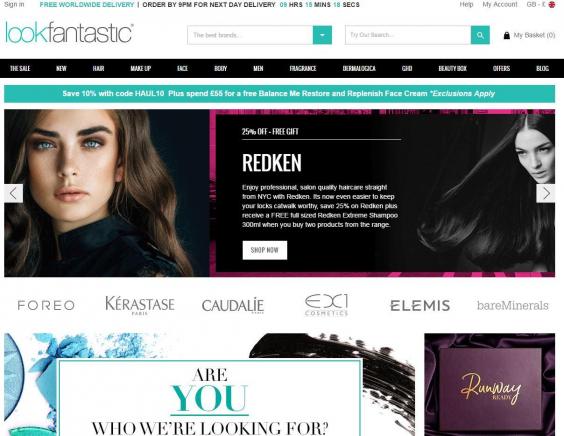 Europe's number one retailer for beauty, Look Fantastic has over 14,000 products from more than 350 brands available on its site across hair, make-up, fragrance and men; there really is something for everyone here. The site is super-easy to navigate and even allows you to search by brand. We also love the fact that they have introduced the Beauty Box; a monthly subscription which means you can take home premium beauty treats worth over £60 for just £15 a month plus a copy of the latest Elle UK.
7. Birchbox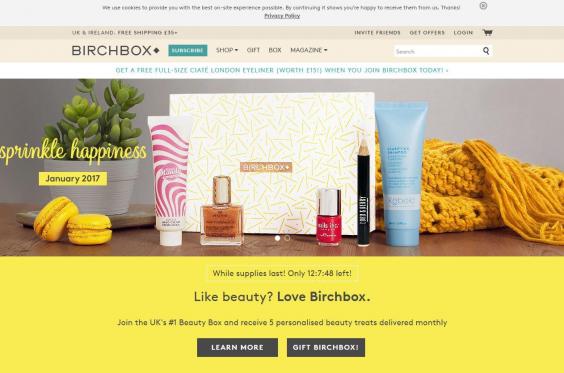 You get magazine and movie subscriptions so why not add beauty to the list? This is a service that sends subscribers a beautifully wrapped box of beauty treats direct to their doorstep every month. It costs just £10 a month and features products from premium beauty brands including Nails Inc, Nuxe and Benefit. Plus you can supplement your box by buying your favourites from the online shop.
8. All Beauty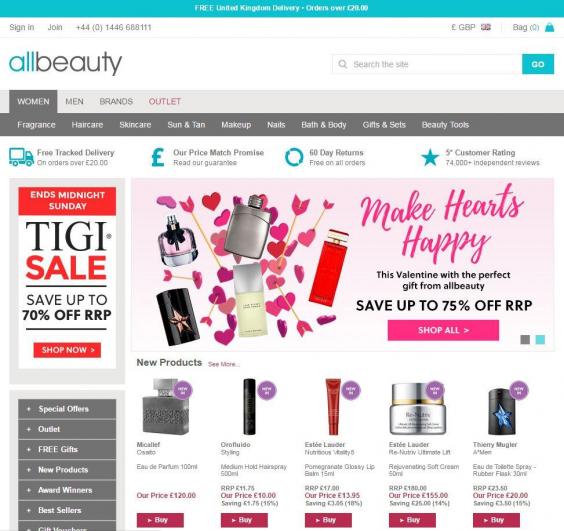 Launched in 2004, All Beauty is the go-to site for discounted beauty products. Ideal for savvy shoppers, the site sells all the best big beauty brands at the lowest possible with everything from fragrance and skincare to haircare up for grabs. They also offer a price match service against retailers like Boots, Debenhams, Harrods and Superdrug.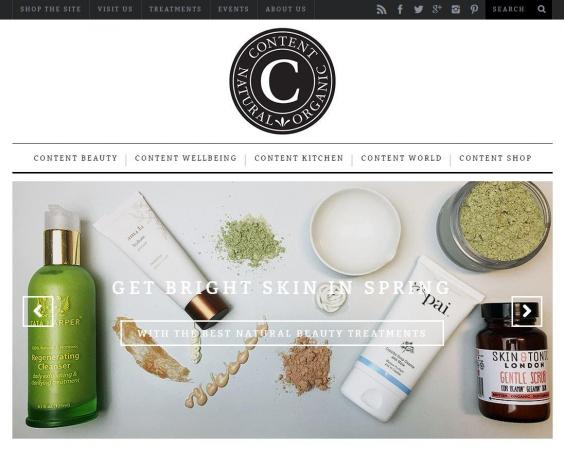 Handbag.com creator Nancy Cruickshank and Kate Shapland Beauty Editor at The Telegraph for over 10 years, have created a new concept in online beauty retail. "Think Avon meets SpaceNK, but with a passion for supporting female entrepreneurs in building or expanding their businesses – be it a brand or as a stylist," says Nancy. The boutique organic skincare store specialises in emerging niche brands and hand picks a selction of the most advances, cult natural beauty brands from around the world.
10. Get the Gloss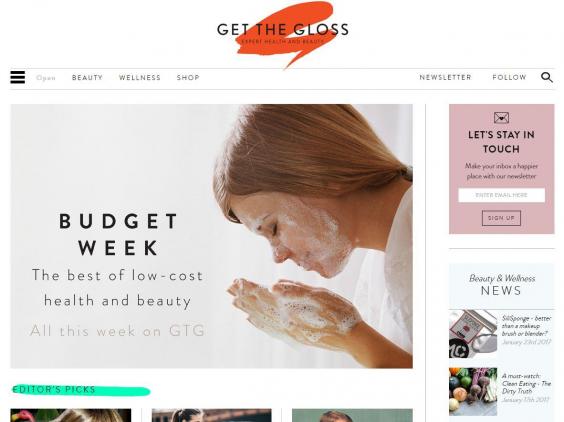 Two former beauty editors – Vogue's Susannah Taylor and The Times' Sarah Vine – launched Get The Gloss out of a devotion to both beauty and wellness. Working with leading make-up artists, hair stylists, nutritionists and wellness practitioners they aim to bring you an expert view on it all. Although it's not a direct retailer (they don't hold stock), they partner up each month with a top beauty e-tailer. Susannah explains 'We provide a daily edit and links to the best beauty products we can find and every week we showcase an exclusive edit of products in the Go Shop! section."
Verdict:
We have to pick Beauty Pie as our pick of the bunch as we think it's set to take the beauty world by storm. Designer products at a fraction of the price? Yes please. Cult Beauty does come a close second though; it's brimming with knowledge and unveils some real hidden beauty treasures.
Read more at independent.co.uk