eaching Raasay is about as elaborate a journey as you can undertake in Britain before you start to wonder why you have not simply gone to Mexico instead. It lies in the Inner Hebrides, just off the east coast of Skye, six miles or so from the mainland across the Applecross sound. I had woken up in Finsbury Park, north London. After a taxi, a flight, a beguiling train ride from Inverness to Kyle of Lochalsh and another taxi to Sconser, on Skye, I finally met the ferry to Raasay, 11 or so hours after my alarm went off.
Any reservations slunk off once I was sat in the Isle of Raasay Distillery's bar, clutching a glass of whisky and looking back to Skye across the sound. The hotel, which opened earlier this year, is designed to provide this view as often as possible, with good reason. It's unassailable, and unavailable anywhere else. On the near side of the water, lawn and small pastures give way to pebble beaches and the sea, a spread of grey and green beneath the looming Cuillin mountains on the other side of the channel. The lower reaches are swathed in conifers and heather, which give up the fight as the slopes gets steeper, exposing raggedy volcanic peaks. Some of these rocks are among the oldest on earth.
This view is slowly becoming better known, although it was never exactly a secret. The most famous account of Raasay was written by Samuel Johnson, who stopped by on his tour of the Western Isles of Scotland with Boswell in 1773. Comfortingly, the journey was even worse for them, across a landscape unmarked by roads or signs, but once they arrived they settled in as guests at Raasay House, the seat of the ruling MacLeod clan, where Johnson was surprised by the local breakfasting habits. "A man of the Hebrides… as soon as he appears in the morning, swallows a glass of whisky," he wrote, "yet they are not a drunken race, at least I never was present at much intemperance; but no man is so abstemious as to refuse the morning dram, which they call a shalk."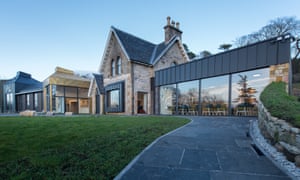 Despite this long history of drinking whisky, however, to say nothing of a proud tradition of moonshiners, until recently Raasay never had a proper distillery of its own. Then in 2013, entrepreneur Bill Dobbie and his old schoolfriend Iain Hector Ross, a writer and publicist, were having a few drams at the end of a day's skiing. Dobbie was looking for a new project, "something physical and in Scotland, a product that would have a legacy", Ross explained to me on a Land Rover tour of the island the next morning. The two men first discussed tweed before turning to the stuff in their hands. "Whisky had been around forever," Ross said, "and we were mildly aware that people were paying decent sums for it. But we also realised we didn't know anything about it."
Nevertheless, the seed of an idea was sown. Ross went off to learn about the history of whisky and ended up writing an entertaining book, The Whisky Dictionary. Dobbie looked for someone who might actually be able to make it. He came across Alasdair Day, a food industry veteran who had already been looking to start a whisky operation. Their initial plan was to base it in the Borders, but Ross, whose wife's family are from Raasay, heard about an old hotel for sale.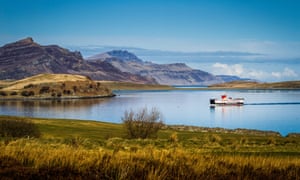 Raasay had plenty going for it. There were no other distilleries, and there was a source of fresh water – a well that had been in use since Celtic times. Also, like many of the Hebrides, Raasay crams into a few square miles a lot of bloody history, of clearances and raiders and a general abundance of brave Scots and dastardly Englishmen. (More recently, it was off Raasay that the nuclear submarine HMS Astute ran aground while the captain was having a shower.) Recruiting local architect Olli Blair, Dobbie and Day set about overhauling the old buildings and installing a state-of-the-art distillery.
They could hardly have timed it better. Boosted by a combination of the weak pound, Instagram posts, a Harry Styles video shot last year and minibus tours from Edinburgh and Glasgow, Skye is rapidly gaining in popularity, with visitor numbers said to be up 15% this year alone. While the Raasay ferry now runs hourly in the daytime during the week, the island is unlikely to turn into Venice any time soon. There is one town, Inverarish, with a single shop, and no pub. All the action revolves around Raasay house and, now, the new distillery. The hotel and distillery are part of the same building; the hotel is simple but surpassingly comfortable, with a dining room dominated by a spectacular feature wall, designed to mimic the geology of the island.
Our fellow guests included a couple from Atlanta, Georgia, and a pair of German Outward Bound instructors. We also passed a group of men who called themselves the Dram Busters, old friends from England who meet several times a year to climb a hill and drink a decent Scotch.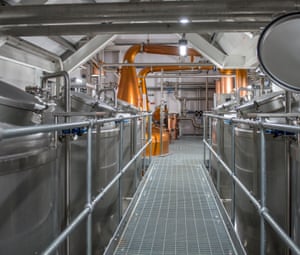 While the hotel is up and running, the Raasay employees are in the traditional limbo of new distillers, as they will not have anything to drink until 2020. Until then they have a holding whisky, While We Wait, designed to give a sense of how the finished product might taste: less peaty than some of the heavier Islay-style whiskies, with a fruitiness that comes from a longer-than-average fermentation period. The last census, in 2011, found that Raasay had a population of 192, which means the new distillery employs a significant percentage of the island's working population. "If you're from Raasay, the chances are your family is either involved in crofting or on the sea," explained Callum, who was working on local ferries before starting his new job giving excellent distillery tours. If in doubt, everyone on Raasay is called Callum. The perennial problem for young people, he said, is housing, which is tightly controlled by the council.
On the last morning I meant to go for a walk, but I was distracted again by the view. Clouds rumbled into sight from the south, bullying their way into the sound. Under a heavy sky, the slopes on Skye deepened to plum and chestnut. The only bright point was the ferry that shone like an old crooner under a crack in the clouds. Even with such an appealing new destination, a visit to Raasay is only tangentially about whisky, just as whisky is only tangentially about whisky.
Source: www.theguardian.com