Thousands of British holidaymakers in The Gambia are waiting to find out when and how they will be flown home, following the Foreign Office warning against all but essential travel to the West African nation.
Abta, the travel association, estimates there are 2,000 package holidaymakers in the country — of whom half are with Thomas Cook, and the remainder with smaller firms, such as The Gambia Experience and Serenity Holidays. But on top of that Thomas Cook alone estimates that there are 2,500 people that it has flown in on flight-only arrangements.
Other travellers have flown in to The Gambia by other means, such as on the Spanish airline Vueling via Barcelona, so it is likely that around 5,000 British people are on holiday there at present.
Around 200 holidaymakers are due to come home today anyway, and their Thomas Cook flight went out empty from Manchester this morning to bring them back. The company is laying on three extra flights today to bring the 985 people currently on holiday with the firm. Two planes are operating from Las Palmas in the Canary Islands, and one from Gatwick.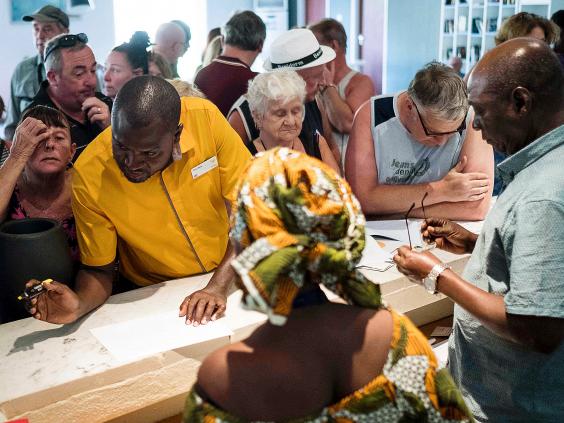 For passengers who have used Thomas Cook flights to get to Banjul on flight-only arrangements, there is no legal obligation for the firm to offer them emergency repatriation, but Thomas Cook says it is trying to contact them to offer them "the earliest possible flight availability for return to the UK." It has issued a special number for flight-only customers: +44 161 774 2966.
Anyone who chooses not to leave The Gambia will find that their travel insurance is invalidated.
Tens of thousands of people have future bookings to go to The Gambia. For immediate departures, including the people who are due to fly out this morning, there will be full refunds. For later dates, holiday companies are likely to offer free amendments until the situation becomes clearer.
The Foreign Office advice changed after the current president, Yahya Jammeh, declared a state of emergency a day before he was due to hand over power to Adama Barrow, who won last month's election.
"The potential for military intervention and civil disturbance is high and could result in Banjul International Airport being closed at short notice," it said.
The Economic Community of West African States (ECOWAS) has stated it may intervene, and has threatened military action, if President Jammeh does not step down.
The British High Commission in the capital, Banjul, believes that the situation is volatile, and as a result the Foreign Office says "The potential for military intervention and civil disturbance is high and could result in Banjul International Airport being closed at short notice."
Adboulie Hydara, director general of the Gambia Tourism Board, said: "We are monitoring the political situation and are working closely with our UK tour operator partners to support them in returning customers to the UK. All holidaymakers with independent flight bookings are advised to contact their flight provider to discuss travel options. For those with future bookings to the Gambia we advise that they speak to their holiday provider to change their date of travel."
Read more at independent.co.uk