Members of the US-led coalition against Islamic State have called on Russia to cease air strikes they say are hitting the Syrian opposition and civilians.
In a joint statement on Friday, the US, UK, Turkey, Saudia Arabia said Russian strikes constituted an escalation and would "only fuel more extremism".
Russia, which eyewitnesses said launched fresh strikes on Friday, claims that it is targeting IS.
A senior Russian official says strikes could last for three to four months.
Alexei Pushkov, the head of the foreign affairs committee in Russia's parliament, added that the US had only "pretended" to bomb IS and promised that Russia's campaign would be much more effective.
The Russian Air Force began air strikes in Syria on Wednesday.
The strikes were Russia's first military engagement outside the borders of the former Soviet Union since the end of the Cold War.
Paris talks will see Syria focus
The warning from members of the US-led coalition came hours ahead before the French and Russian presidents are due to meet in Paris.
The meeting was called to discuss peace efforts in Ukraine, but these are expected to be overshadowed by the crisis in Syria.
The Syrian opposition and others have suggested rebel factions opposed to Syrian President Bashar al-Assad – the Kremlin's ally – are bearing the brunt of the Russian attacks.
French President Francois Hollande, using an Arabic acronym for IS, said it was important that "the strikes, regardless of who is carrying them out, target Daesh and not other groups".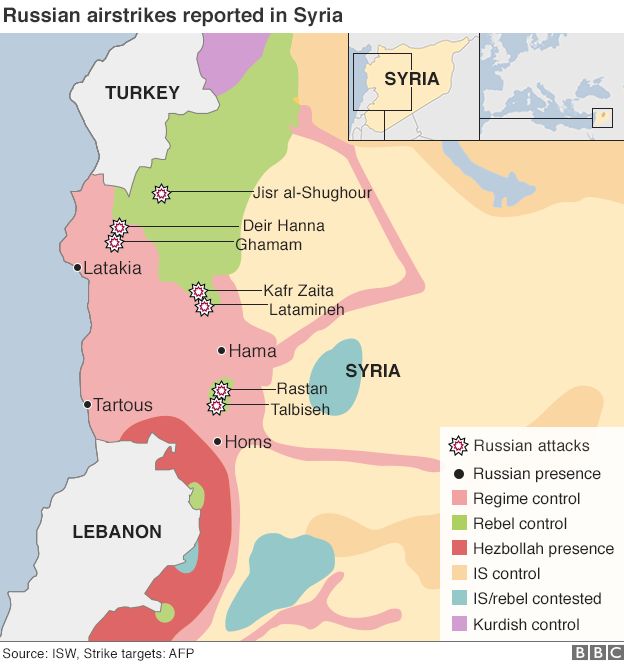 Russian Foreign Minister Sergei Lavrov, speaking at the UN in New York, said Russia would also fight other terrorist groups including the al-Nusra Front – an al-Qaeda affiliate.
He said this position was the same as that of the US-led coalition which has been carrying out air strikes in Iraq and Syria for the past year.
"We are not supporting anyone against their own people. We fight terrorism," he said.
Mr Lavrov said the targets were selected "in co-ordination with the Syrian army".
The Pentagon and Russia had their first conversation on Thursday to ensure there were no accidental clashes between their aircraft in Syria.
But Washington expressed concerns that Russia did not appear to be targeting IS-held areas.
"Carrying out indiscriminate military operations against the Syrian opposition is dangerous for Russia," White House spokesman Josh Earnest said.
"It is only going to prolong the sectarian conflict inside Syria, if not make that conflict indefinite, and it also risks Russia being drawn even more deeply into that conflict."
The joint coalition statement alleged that the strikes had caused civilian casualties but Russia says its warplanes have avoided civilian areas.
Rights groups have also accused the US-led coalition against IS of causing dozens of civilian deaths in air strikes.
---
Syria's civil war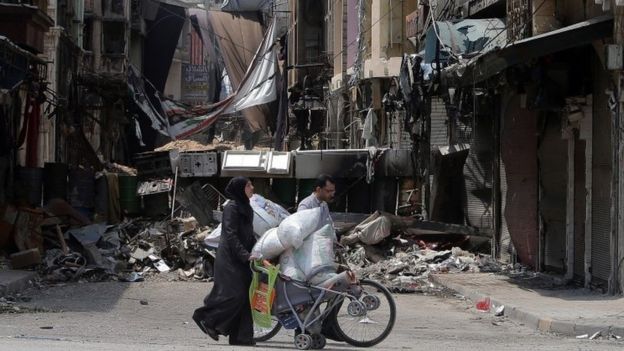 What's the human cost?
More than 250,000 Syrians have been killed and a million injured in four-and-a-half years of armed conflict, which began with anti-government protests before escalating into a full-scale civil war.
And the survivors?
More than 11 million others have been forced from their homes, four million of them abroad, as forces loyal to President Assad and those opposed to his rule battle each other – as well as jihadist militants from IS and other groups. Growing numbers of refugees are going to Europe.
How has the world reacted?
Regional and world powers have also been drawn into the conflict. Iran and Russia, along with Lebanon's Hezbollah movement, are propping up the Alawite-led government. Turkey, Saudi Arabia and Qatar are backing the Sunni-dominated opposition, along with the US, UK and France.
Source: https://www.bbc.com