Are you looking for Fun Spring Patterns to Hide Your Dead Eyes? What about Five Blushers That Will Make Your Man Blush? In the week since Glamour magazine went viral for posting a blog titled 13 Little Things That Can Make a Man Fall Hard for You, you might think the founders ofReductress, a feminist parody site, would have their work cut out trying to out-spoof reality.
Created by improv and sketch writers Sarah Pappalardo, 30, and Beth Newell, 29, in 2013, initially supported by a Kickstarter fund, Reductress launched with around 50 headlines; early stories included B'Oréal Launches Line Of Anti-Bullying Makeup For Young Girls and Creator of 'Rape in America' Documentary Talks About Hair Care. The pair now run the site as a full-time operation from an office in Soho, New York, alongside two colleagues and an intern, reachingaround 330,000 readers a month (although they peaked at 2m last November).
Reductress began life as a conversation between two friends about the repetitive cliches in women's media. Like all good parody sites, the line is fine between joke and reality. And this is their aim: taking and mocking the the clickbait formula of many women's websites, which tap into our insecurities while creating emotional promises about the way we look or conduct relationships. "We don't like to point the finger at any one publication in particular," insists Newell. "There is a good rule in comedy: punching up not punching down. It's more media in general."
It has become commonplace for media to condescend women with headlines subtly disguised as styling tips or dating advice and, at its most depressing, Reductress exposes the way we levy criticism at ourselves for not being thin, fun or immensely dateable, and that we seek out the answers to our "failings" online. The guilty publications are fairly obvious – Refinery29, Elle, Marie Claire, Rackedand so on – even Jezebel, Gawker's feminist blog, has come under fire. Around the time the site offered $10,000 for un-Photoshopped images of Lena Dunham's cover shoot for Vogue, Reductress ran the headline: Jezebel Offers $10,000 for Article Ideas That Aren't About The Evils of Photoshop. As Pappalardo explains: "Jezebel have done some great stuff in the past. They have done some ridiculous stuff too."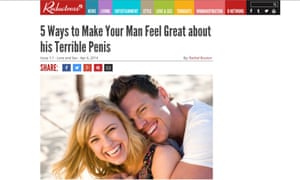 Formatted in the vein of the Onion, the hugely popular satirical news site, Reductress uses stock images alongside its farcical headlines. Trending on Monday are: We Call It A Book Group But All We Do Is Drink Wine and Worship The Devil, I Know What's Best For The Health of My Family and It's Magical Thinking and – office favourite – 8 Sex Positions That Will Blow His Mind and Destroy His Penis. Given the high quota of patronising content geared toward women, it's extraordinary to think a site like this didn't already exist.
For online media, traffic is everything, which is why it's become commonplace for traditional women's interest sites to rely on particular formulas for eyeball-grabbbing headlines. So, rather than recommending five shades of lipstick, they will suggest that buying these lipsticks will affect – nay improve – your life. "The challenge is, when you're trying to reach a threshold of traffic, you are forced to go for clickbait tactics, returning to the same tropes," says Pappalardo. "These sites are falling victim to the same things even if they are good at heart." Newell adds: "We also get a sense that they have talented writers that are being swayed by editors."
And you can't escape the fact that while Reductress is mocking the media's reliance on traffic, it is benefitting from the very culture it criticises. "But if there was another way, we'd do that too" reasons Newell."There is nothing inherently wrong with talking about clothing and fashion," she says. "And we get it – the bigger the publication, the more you need smart 'dumb content'," adds Pappalardo. "But," continues Newell, "it's more the tone that implies the readercan improve their life through a lipstick."
A cursory surf online suggests she's right. In a few minutes, I've found several articles which suggest my commute will indeed be improved with a right cleansing routine. Then there are all the headlines which start with "How" – a teaser which, explains Pappalardo, suggests you are reading the story because you "lack something".
The majority of Reductress's headlines are cutting, but the comedy is sometimes subtle enough to dupe readers. "We ran a headline which read, We're Piercing My Baby's Tongue and Here's Why and people were like, 'What a horrible mother'," laughs Pappalardo. "Others thought we were being smart by saying it's a metaphor for circumcision. I guess it's a case of people attaching their belief system to what you're writing and running with it. Mostly the reaction has been very positive, though."
Unexpectedly, Reductress also goes after contemporary feminism and the way we talk about it. A sample headline reads: There's No Need For Feminism Because Women Are Equal Now, says Jenna the Ignorant Talking Otter, but it's worth remembering that this is not about women-bashing, rather "the idea that women are reacting to themselves in relation to a man's world," says Pappalardo. "One of our aims is to show that different kinds of feminists can co-exist," continues Newell. "Our feeling is that women can attack women on substance of argument and not appearance." But, she adds, "We are laughing at ourselves, too, and trying to promote more of a civil dialogue. Like the headline Burn 500 Calories With These Feminist Debates – we are laughing at the fact that women are having these discussions – even if we are too."
Source: https://www.theguardian.com