Brit Award nominee Pa Salieu is one of 10 men charged by police investigating a fatal stabbing outside a nightclub.
Fidel Glasgow, 21, was injured following disorder outside Coventry's Club M in September 2018 and died in hospital.
Nobody has been charged with his murder, but the 10 face charges in connection with the preceding violence.
Pa Salieu Gaye, 23, is charged with wounding with intent, violent disorder and possession of an offensive weapon.
The rapper was named the winner of the BBC Sound of 2021 in January.
The 21-year-old victim, who was the grandson of The Specials singer Neville Staple, was mortally wounded when "a mob" gathered outside Club M in Junction Street at about 05:20 BST on 1 September.
Mr Glasgow's mother, Melanie Staple, said her son and his "infectious personality" was "missed dearly".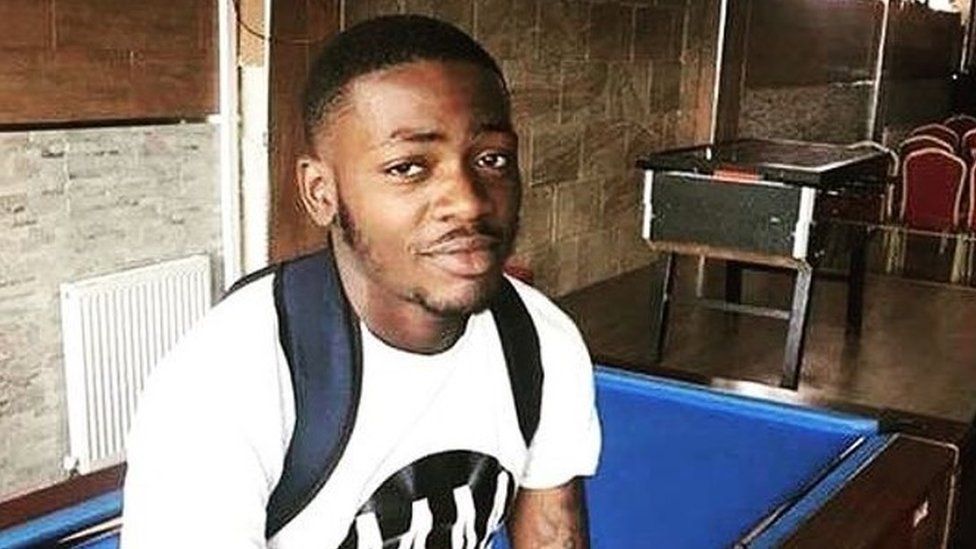 A 23-year-old man was also stabbed and seriously injured in the disorder. He has since recovered and some of the 10 men also face charges in connection with the attack on him.
The defendants are due to appear at Coventry Magistrates' Court on 28 April.
In addition to Pa Salieu, five others face charges of wounding with intent, violent disorder and possession of an offensive weapon:
Brendon Gama, 23, of The Coppice in Stoke, Coventry
Jiguael Botamba, 21 of Little Duke Street, Nuneaton
Mohammed Amadu, 20, of Walsgrave Road, Ball Hill
Adil Naseer, 24, of Park Street, Foleshill
Michael Mistouflet, 24, of James Galloway Close
Andrea Boadi, 21, of Lansdowne Street, Ball Hill; Harrison Asiedu, 27, of North Street, Stoke, and Meidel Dange, 24, of Hornsey Close, Wood End, are charged with wounding with intent and violent disorder.
Brian Kamau, 33, of Chandos Street is charged with violent disorder.
West Midlands Police said the charges marked "a significant step forward" in the search for Mr Glasgow's killer.
"We continue to ask anyone with information, no matter how insignificant it may seem, to come forward," Det Insp Michelle Allen, from the force, said.
www.bbc.co.uk