British Airways is now operating a full flight schedule after an IT failure saw the airline cancel thousands of flights over the bank holiday weekend.
"Our IT systems are now back up and running and we will be operating a full flight schedule at Heathrow and Gatwick," the airline said.
But it warned it "may take some time" to reunite travellers with their bags.
BA chief executive Alex Cruz has blamed a power surge for the disruption, which affected 75,000 people.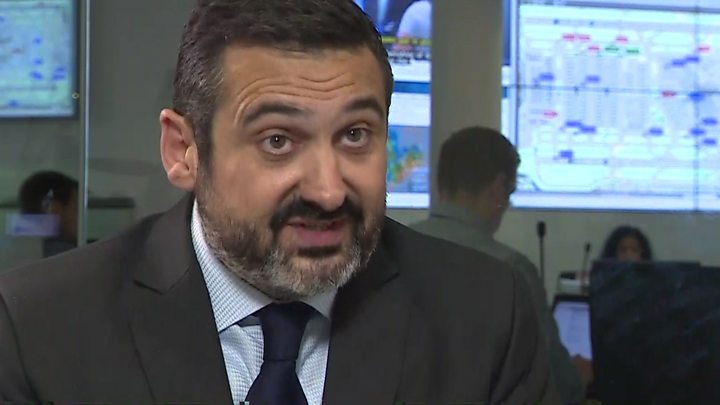 Thousands of BA passengers worldwide are still without their bags and have been contacting the airline's lost luggage phone lines, website and social media feeds.
British Airways has also been criticised on social media for directing some passengers towards a premium-rate phone line that costs up to 55p a minute from a mobile device.
In response, the airline says customers can add any phone charges into claims they submit and it will look at them.
It also says there are free or local rate alternative phone numbers for passengers who are looking to rebook or trace their bags.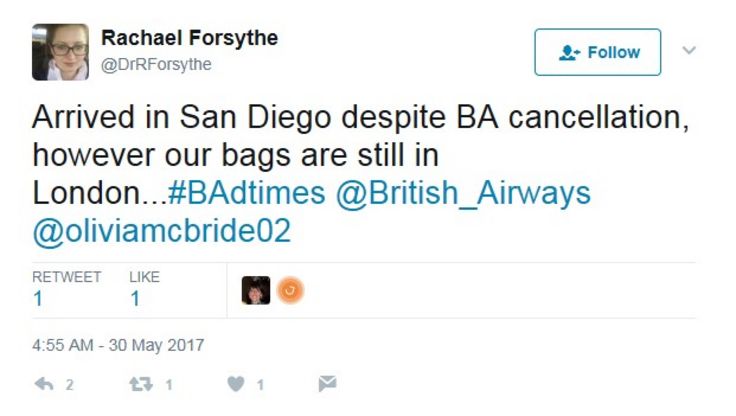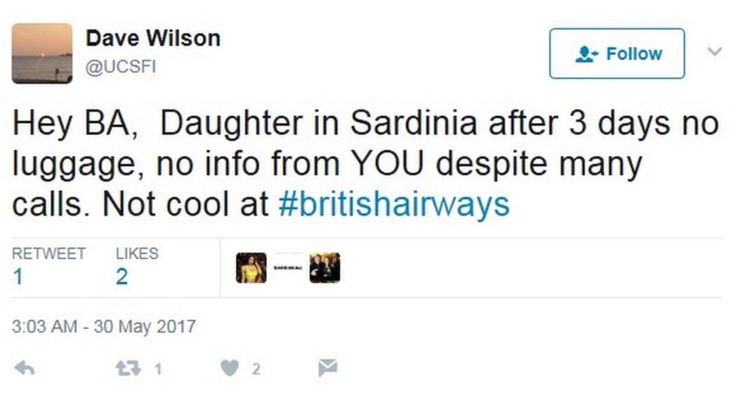 Despite the knock on effect of the incident lasting three days, Mr Cruz said the hardware problem was restored "after a few hours", and promised the company would "make sure that it doesn't happen again".
In his first interview since the systems failure, he said: "There was a power surge and there was a back-up system, which did not work at that particular point in time."
He told the BBC this had affected "all the operating of our systems – baggage, operations, power processing".
The GMB union has blamed the problem on technical staff being outsourced from the UK to India.
But Mr Cruz said there had been no redundancies or outsourcing in this area, adding that there had been "locally hired" staff attending to the maintenance and running of the infrastructure.

Get news from the BBC in your inbox, each weekday morning

The focus is now likely to shift towards the financial impact on the airline.
BA is liable to reimburse thousands of passengers for refreshments and hotel expenses, and travel industry commentators have suggested the cost to the company – part of Europe's largest airline group IAG – could run into tens of millions of pounds.
Shares in IAG, which is listed in both London and Madrid, were down more than 4% in early trade on the London Stock Exchange when it opened on Tuesday.
Davy analyst Stephen Furlong said the cost to the carrier of cancelling one day of operations was about £30m.
Questions remain about how a power problem could have had such impact.
The BBC's technology correspondent Rory Cellan-Jones said one theory was that returning systems were unusable as the data had become unsynchronised.
---
EU flight delay rights
If your flight departed from within the European Union or was with a European airline, you might have rights under EU law to claim if the delay or cancellation was within the airline's control.
Short-haul flights: 250 euros for delays of more than three hours
Medium-haul flights: 400 euros for delays of more than three hours
Long-haul flights: 300 euros for delays of between three and four hours; and 600 euros for delays of more than four hours
If your flight's delayed for two or more hours the airline must offer food and drink, access to phone calls and emails, and accommodation if you're delayed overnight – including transfers between the airport and the hotel.
Read more at BBC.co.uk