More than 50 flights to and from Amsterdam's airport have been cancelled, and hundreds more delayed, because of an air-traffic control systems failure.
At around 8am, local time, Eurocontrol warned of a "critical systems issue" affecting Amsterdam Schiphol airport, and told pilots to "expect delays/diversions".
The fault apparently occurred with radar correlation software, which compares and assesses information from primary and secondary radar. 
Schiphol is one of Europe's five busiest airports, normally handling around 160,000 passengers per day.
The traditional remedy of switching the equipment off and on again has not worked. Eurocontrol said: "Successive system re-starts have failed to rectify the problem."
Seven hours after the fault was detected, Eurocontrol reported "system remains unstable".
KLM, the Dutch airline based at Schiphol, has been experiencing long delays for much of the day, and is making dozens of cancellations. The airline is telling passengers booked on disrupted flights that delays and cancellations are "due to operational reasons".
The airline's afternoon service from Amsterdam to Edinburgh and back was grounded, as were departures to Birmingham, Heathrow and Manchester.
Flights from Bristol, Cardiff, Durham Tees Valley, Edinburgh, Glasgow, Heathrow, Humberside, Leeds/Bradford, and London City airport were running at least three hours late. 
The "hub and spoke" model used by KLM is especially susceptible to disruption. Many British passengers are connecting to and from worldwide services, and while long-haul operations were less badly affected, it is likely that many people will miss their connections and be stranded in Amsterdam.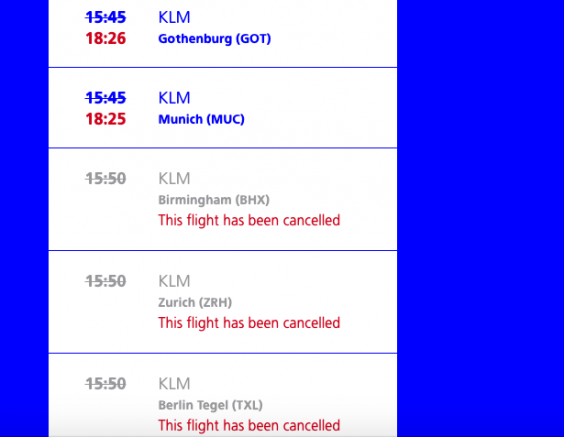 The airline is responsible for meals and accommodation until it can get passengers to their destinations, on rival airlines if need be. But cash compensation is not payable because it is beyond the airlines' control.
Flybe cancelled an afternoon flight from Southampton to Amsterdam and back, with an earlier service running over three hours late. Flights on easyJet to and from Belfast, Luton and Gatwick were delayed.
British Airways cancelled eight flights to and from London City airport, four flights to and from Heathrow and a round-trip from Gatwick. A spokesperson for BA said: "All airlines have been asked by Schiphol Airport to reduce services after technical issues with their radar system today.
"We are scheduling larger aircraft on flights to and from Amsterdam this afternoon to get our customers to their destinations as quickly as possible."
The airport said: "Unfortunately passengers will face delays due to a system failure at the Air Traffic Control. At this moment, it is uncertain how long the outage will last. The Air Traffic Control is working on a solution."
Read more at independent.co.uk