You won't bump your head in the caves of central Vietnam's Quang Binh province. Not when they're big enough to fit a 40-storey building.
Three of the world's four biggest caves are in this skinniest part of the slender nation. Hundreds of other limestone caves housing deep grottoes and underground rivers are here too, with new caverns discovered every year. They're welcome news for this area, just north of the demilitarised zone that split North and South Vietnam from 1954 until 1975. The US bombed here extensively during the Vietnam War (one crater is used as the site of an outdoor bar), and poverty hit hard for more than a decade afterwards.
Now Quang Binh is the world's hot new caving destination, home to a 126,000-hectare Unesco-protected national park whose lush tropical forests hide a vast 104km subterranean world – making it one of the most spectacular limestone karst ecosystems on the planet.
I recently visited to explore a handful of Vietnam's great caves, including one that opened to the public several months ago. When I lived here in the 1990s, I had no idea about the region's hidden labyrinth buried below my feet. I've enjoyed caves in the past – to a degree. Most of my experiences have been in drive-up affairs where claustrophobic tours lead to head bumps followed by fudge-filled shops. Now, I was seeking greater cave majesty.
Most coverage of Quang Binh focuses on the 200m-tall and 5km-long Son Doong cave, the world's largest. A local logger found it by accident in 1991, then scientists explored it in 2009 before opening it for tours in 2013. But Son Doong's limited access (1,000 people a year) and cost 69,766,100 Vietnamese dong (£2,384 per person) means most visitors, including myself, look to some of the province's hundreds of other known caves. Some feature easy-access boardwalks and lit-up stalactites and stalagmites. Others are untouched, requiring guided overnight jungle treks to camping sites at underground cave beaches. Meanwhile, this subterranean ecosystem is growing. 'New' caves open to visitors each year.
"We've still only explored about 30% of the area. So there's a lot more to find," said Howard Limbert of the British Cave Research Association, who first came to Vietnam in 1990 with his wife, Deb. They stuck around to explore and helped local operators open caves to the public, including Son Doong in 2013.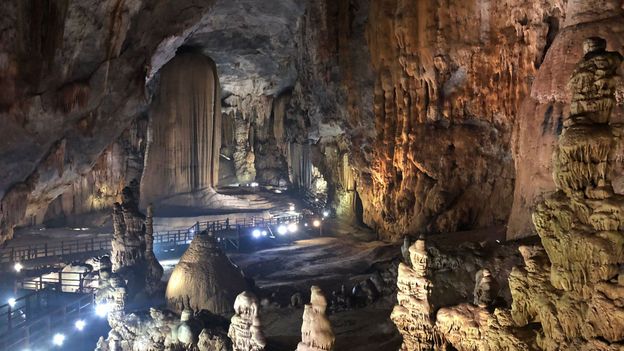 According to Howard, a combination of 450-million-year-old limestone deposits and heavy rains in Quang Binh provide the perfect combination for cave making. Rainwater gets channelled through stronger, non-limestone rock, gradually forming underground rivers and monumental chambers that extend for kilometres. In some you can see ceiling grooves, hundreds of metres above cave floors, made from eddies when caves sometimes fill with water during the autumn monsoon season.
The heart of these natural attractions is Phong Nha–Ke Bang National Park, a 50-minute drive west of the coastal town of Dong Hoi. In the modest village of Phong Nha, dozens of family-run guesthouses run along several kilometres of a mountain-backed river, where locals ride longboats and use long poles to harvest river grass that's used as food at fish farms. There are no resorts yet (though rumours abound). And impressively, locals run almost all businesses.
The closest cave to the village is Phong Nha, reached by tourist boats from the village's river docks. But I opted to explore others in and around the national park, where a 50km-loop passes caves, botanic gardens, eco trails and even a zip line or two.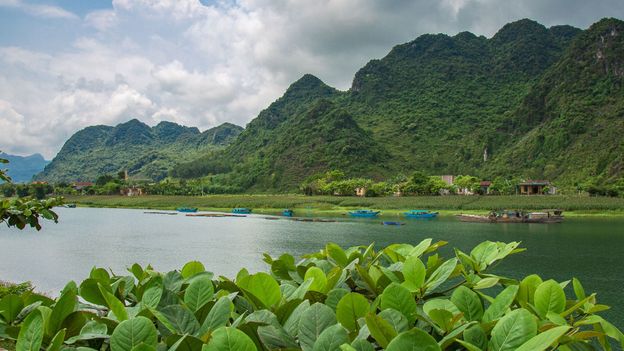 By motorbike, I followed the old Ho Chi Minh Road (used to transport equipment and personnel during the Vietnam War) from the village into the park. It's a lovely ride in itself. Tree canopies droop over each other amidst interlocked green mountains that overlook a deep valley cut by a skinny mud-brown river.
I detoured to a sombre cave shrine, Hang Tám Cô, dedicated to Vietnamese soldiers who were trapped here after a US bombing raid in 1972 and eventually perished in the darkness. At the next stop, Paradise Cave (Thien Duong), which opened in 2011, a golf cart took me to a paved ramp to hike up through the trees to a wooden stairway that descends into gigantic cave chambers that run 32km.
Up until then, Hang Tam Co was easily the most breath-taking cave I'd ever seen. But it's the guided tours to more remote caves that make Quang Binh the world's biggest caving destination. Two local outfitters, Oxalis and Jungle Boss, have exclusive access to various caves, mostly geared to visitors of varying skill levels. I decided against their overnight trips and went with three one-day tours.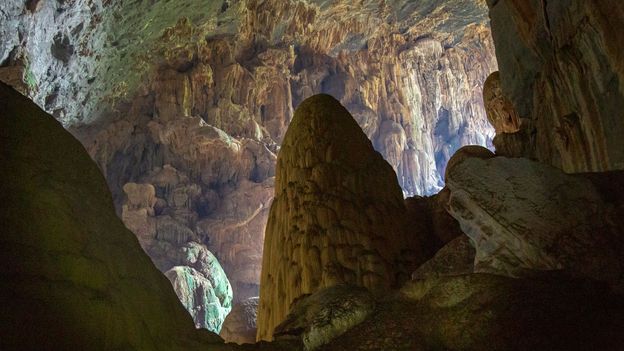 The name of Hang Tien (or 'Fairy Cave') tempted me first. I joined a dozen other travellers, two English-speaking guides and two porters to venture to the Tu Lan cave network, a 70km ride north-west of the national park. The surrounding mountain scenery was used as a setting for the film Kong: Skull Island, and riding there, I was glued to the van window as we passed villages backed by dramatic, lush peaks rising skyward at jagged angles.
Our hike began from a dirt road into what appeared to be impenetrable jungle. The narrow dirt trail rose over gnarling roots and jagged limestone rocks as vines brushed against our shoulders. As we went, the guide, Tham 'Katy' Nguyen, merrily pointed out fresh black bear tracks and a monkey rustling in the trees above us.
The air was dense with humidity and soon I was covered in sweat. After a couple of hours, we reached a nook in the mountains where the shadows guarded a gaping entrance.
Giant limestone boulders crowded the cave's interior where lime-green ferns grew from terraced rocks. Our headlamps shot beams through the towering dark. Each new chamber we reached brought its own wonder, as we stepped over sandy floors and brimstone pools, climbed over ribbed formations that resembled giant coiled snakes and then reached a bright-blue lagoon, nearly 1km inside.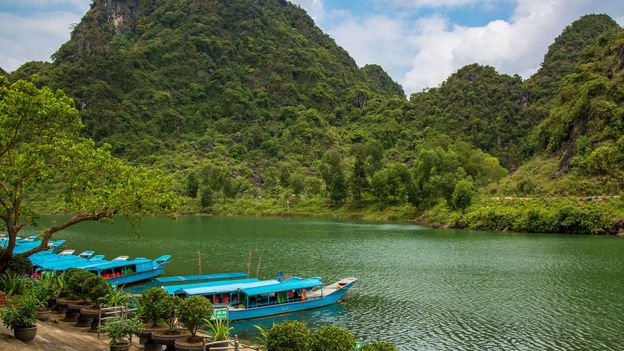 Over the next few days, my appreciation for caves deepened. On a tour to Ma Da Valley, a former North Vietnam transport vehicle from the Vietnam War took eight of us back into the national park. We criss-crossed rivers and climbed over log bridges to reach a 'wet cave', where we swam for nearly 1km through an underground river's deep, dark water as bats playfully swooped over us. In another cavern, we passed a stack of old bottles, shoe soles, leather bags, all left by North Vietnamese soldiers during the war.
Our local guide, Dao Uy (or 'Captain'), regularly explores the jungle for days with just a hammock, machete and lighter. He's discovered several caves himself.
"To find a cave, follow the river," he said as we ate grilled chicken after a refreshing dip in a bright blue swimming hole. "I found a new one three months ago. Haven't given it a name yet."
I didn't come here to name caves, but I did manage to be the first American to visit one with a surprising story that just opened this year.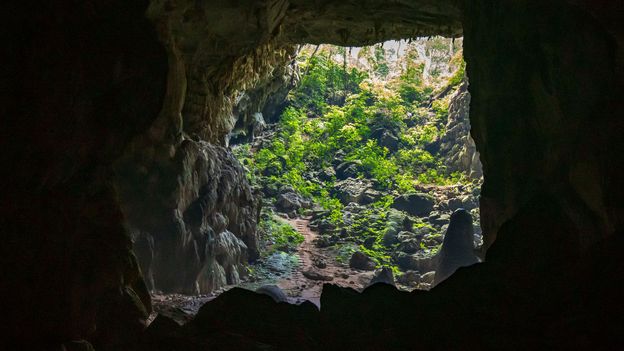 About 80km southeast of Phong Nha, the Vo Nguyen Giap Cave is named for the self-trained North Vietnamese general who defeated the French in 1954 and the Americans and South Vietnamese in the 1970s. Giap was born nearby and spent a couple of years during the Vietnam War in this 5km-deep cave. My visit to the modest cave's narrow chambers included a visit to a Van Kieu minority village and a lunch with locals who shared tales of natural medicines found in the jungle.
It's very important for you to look after the caves and preserve them
Giap – who died in 2013 at the age of 102 – once used these caves to dodge US bombs, but saw the grottoes' bigger potential as an eco-tourism site once peace came. Today, he's posthumously helping ensure Quang Binh doesn't follow the same overdevelopment of other natural wonders in Vietnam, such as Halong Bay. Giap's role as a guardian of the region sprang from a chance lunch he had in 1992 with Howard and Deb Limbert.
"We didn't realise who he was," Deb said. "But he was clearly important as he had an entourage."
Giap was fascinated by the Limberts' observations from exploring caves around Phong Nha. Shortly after the lunch, the Limberts received a fateful letter from him.
"He wrote, 'It's very important for you to look after the caves and preserve them,'" Howard said. "He was so far ahead of his time."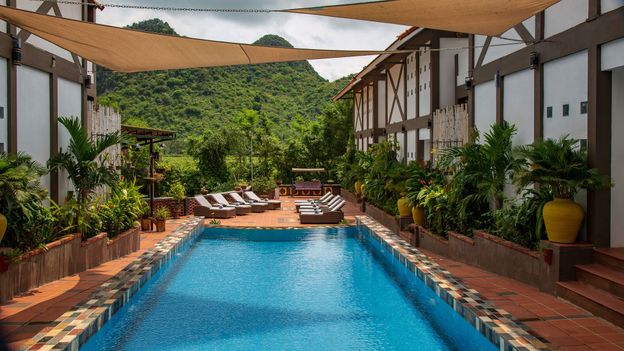 Over the years, developers have eyed the mountains for potential mining, lumber or tacky cable-car projects, and the Limberts always turn back to Giap.
"I [show them] this letter and they don't do it," Howard said.
Caves have served as a lot of things to people: shelters, hideouts, blank canvases, metaphors, a source to study slow-moving science. And in Quang Binh, they offer not just a wonderland for adventurers, but ongoing hope for conservation of one of South-East Asia's most beautiful regions.
That sure beats fudge.
www.bbc.com