The first new treatment for Alzheimer's disease for nearly 20 years has been approved by regulators in the United States, paving the way for its use in the UK.
Aducanumab targets the underlying cause of Alzheimer's, the most common form of dementia, rather than its symptoms.
Charities have welcomed the news of a new therapy for the condition.
But scientists are divided over its potential impact because of uncertainty over the trial results.
At least 100,000 people in the UK with a mild form of the disease could be suitable for the drug if it were to be approved by the UK regulator.
Controversial trial
In March 2019, late-stage international trials of aducanumab, involving about 3,000 patients, were halted when analysis showed the drug, given as a monthly infusion, was not better at slowing the deterioration of memory and thinking problems than a dummy drug.
But later that year, the US manufacturer Biogen analysed more data and concluded the drug did work, as long as it was given in higher doses. The company also said it significantly slowed cognitive decline.
Aducanumab targets amyloid, a protein that forms abnormal clumps in the brains of people with Alzheimer's that can damage cells and trigger dementia, including:
memory and thinking problems
communication issues
confusion
'Heading in right direction'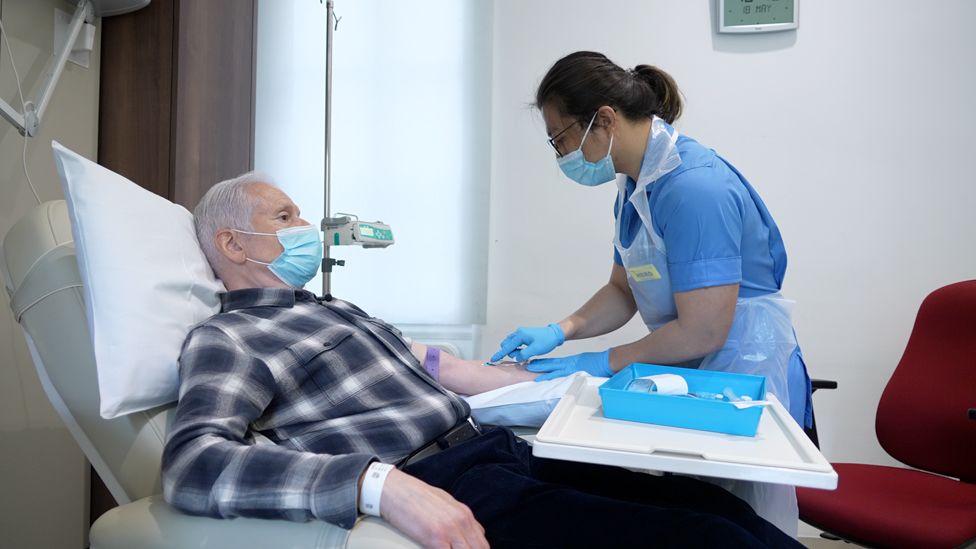 Aldo Ceresa, who took part in the trial, first noticed problems differentiating between left and right 10 years ago.
After his diagnosis, the 68-year-old, who is originally from Glasgow and now lives in Oxfordshire, close to his family, had to give up his job as a surgeon.
Mr Ceresa took aducanumab for two years before the trial was halted – and then had to wait almost as long for another trial, at the National Hospital for Neurology and Neurosurgery, in London, to begin.
"I'm quite happy to volunteer," he says.
"I really, really enjoy this journey that I'm going through – and obviously the benefits I'm getting from it, which I'm very, very grateful for."
He is convinced the drug has helped him.
"I feel like I'm not quite as confused. Although it's still there, it's not quite as bad.
"And I'm just getting that bit more confident now."
Mr Ceresa says his family has noticed improvements too.
"Before, if I was going to get something, I couldn't remember, you know, where to find things in the kitchen.
"That has become less of a problem," he says.
"I haven't caught up to the level that I was before – but I'm heading in the right direction."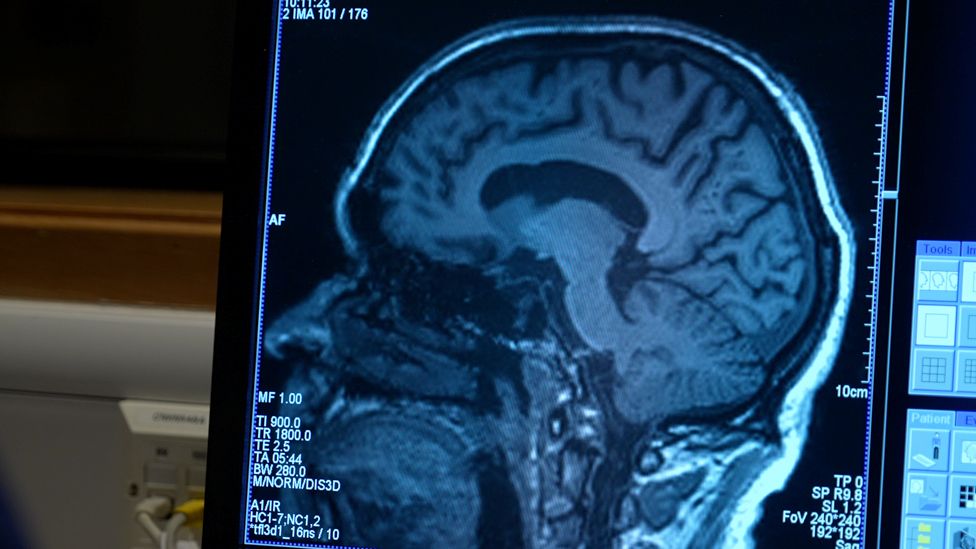 More than 30 million people around the world are thought to have Alzheimer's, with most aged over 65.
For around 500,000 people affected in the UK, those eligible for aducanumab will be mostly in their 60s or 70s and at an early stage of the disease.


'Very cautious celebration'

We need to keep our feet on the ground.
This is not a miracle drug, nor a cure for Alzheimer's but it is the first treatment which tackles the destructive mechanism in the brain that drives the destruction of neurons.
And that makes this a landmark moment.
But scientific opinion both here and the United States is divided. While some have welcomed approval, calling it a milestone for millions living with Alzheimer's, others believe the drug will only have marginal benefits.
Alzheimer's charities say they will be pressing for an early decision in the UK – but that could take another year.
Lastly, we don't know how much aducanumab will cost – it could be tens of thousands of pounds per patient each year. And if approved, access will be limited to those who've had specialist brain scans to confirm their diagnosis.
Despite all the caveats, this is moment for very cautious celebration.


Prof Bart De Strooper, director of the UK Dementia Research Institute, said the decision to approve aducanumab marked "a hugely significant milestone" in the search for treatments for Alzheimer's disease.
In the past decade, more than 100 potential Alzheimer's treatments have flopped.
But while he hoped it would prove a turning point for millions of people with the condition, he said there were "still many barriers to overcome".
Prof John Hardy, professor of neuroscience at University College London, said: "We have to be clear that, at best, this is a drug with marginal benefit which will help only very carefully selected patients."
'Grave error'
And Prof Robert Howard, professor of old age psychiatry at UCL, went further calling the drug's approval "a grave error" that could derail the ongoing search for meaningful dementia treatments "for a decade".
He said the FDA had ignored data from the trial which showed no slowing of decline in cognition or function.
However, Alzheimer's Society said the drug was "promising" but added it was "just the beginning of the road to new treatments for Alzheimer's disease".
Another charity, Alzheimer's Research UK, said it had written to the Health Secretary Matt Hancock asking the government to prioritise the fast-track approval process for the drug in the UK.
Chief executive Hilary Evans, said: "People with dementia and their families have been waiting far too long for life-changing new treatments.
"It is now essential that regulatory authorities assess the evidence to decide whether they believe the drug is safe and effective for use in the UK."
Although many doctors are doubtful of aducanumab's benefits, its US approval could be a huge boost to dementia research, which is traditionally underfunded compared with cancer or heart disease.
www.newsit.gr