As Trump struggles to get his Mexican border wall off the ground, another group of immigrants are making themselves at home at the opposite end of the country, in America's 49th state – with no one to stop them. Thirty years ago, polar bears were rarely spotted on Alaska's Arctic coast. But in recent years, they have been coming ashore in such high numbers that a whole new tourism industry has exploded around the phenomenon.
As a result, the tiny Iñupiat Eskimo village of Kaktovik on Barter Island – just off Alaska's frigid north coast – is fast becoming the polar bear capital of the United States. The overwhelming evidence points towards climate change as the key driver behind polar bears now seeking solace on mainland Alaska, due to the Arctic icepack retreating further and further each summer.
Ryan Wilson, a marine biologist with the US Fish and Wildlife Service's polar bear programme, tells me that a reduction in sea ice affects the bears' access to prey. But there is a particularly enticing opportunity to scavenge for food in Kaktovik, a subsistence-living community that harvests a quota of bowhead whales each summer. Unable to hunt, it's thought bears head to shore in hope of scavenging for food instead. Up to 80 polar bears have been recorded converging to feast on the remains of a single harvest – a highly unusual gathering given polar bears tend to be solitary predators, and rarely move in a group.
Unsurprisingly, the allure of spotting the vulnerable species in large numbers is drawing more tourists to Kaktovik each year. This village of 290 residents saw more than 1,000 visitors in 2015. Last year, tourism increased by around 50 per cent.
I arrive to find that, like other similarly remote Alaska Native villages dotted along the Arctic coast, Kaktovik is little more than a smattering of ramshackle dwellings huddling together on the icy tundra. Looking around, I find it hard to imagine how its structures withstand the bitter winters, let alone provide much defence against hungry polar bears. But Alaska Native communities have thrived here for centuries, long before the construction of a tiny airstrip in 1947 connected Kaktovik to the outside world. I am eager to learn more about the local way of life, but while not unfriendly, this fiercely private community keep their cards close to their chests – for now at least, tourists don't typically have much contact with locals beyond direct tourism providers, and a contingent of youth ambassadors who brief incoming tourists on bear conservation and safety.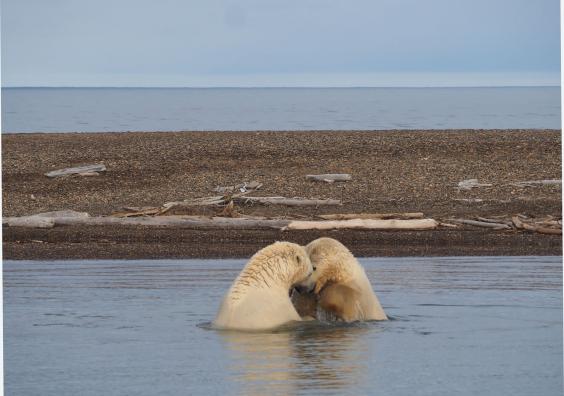 My polar bear safari guide, Ketil Reitan, is one of six local operators with permits to run boat safaris from mid-July until the sea ice reforms in early October. We don't need to travel far to see bears today, as half a dozen are clearly visible on a sand island just a few hundred metres from the village.
Reitan kills the motor a safe distance from land, where a huge mother polar bear, her fur turned a sandy grey from rolling around in the bloody remains of a whale killed several weeks prior, stands guard over her three fuzzy young cubs, who are scampering among the driftwood. Nearby, two robust sub-adult males wrestle in the freezing water, thick layers of blubber beneath their snow-white fur keeping them warm and buoyant.
Watching these alpha predators at play, it's easy to assume the species is thriving. But the reality is grim. One of 19 polar bear populations spread across the world's five polar range states (Canada, Greenland, Norway, Russia and the US), the southern Beaufort Sea population that frequents Kaktovik is one of three that are decreasing in number, having dropped from around 1,500 bears in the early 2000s, to just 900 in 2010, according to the most recent data available.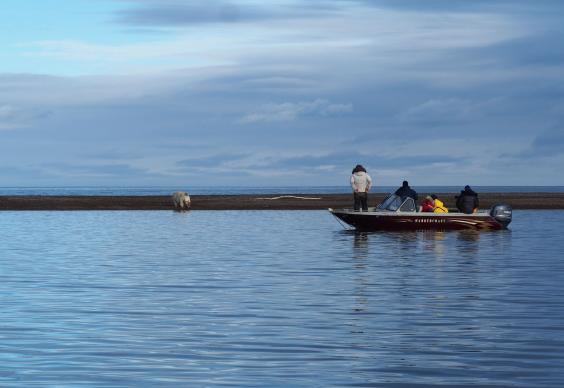 And the decline appears set to continue, according to a 2015 assessment for the International Union for Conservation of Nature's Red List, which projected a reduction of over 30 per cent in the world's total polar bear population by 2050.
Things were looking up for polar bears last September, thanks to the co-signing of the Circumpolar Action Plan (designed to protect polar bears) by all five polar states. But the new US president's stance on climate change has cast fresh doubt over the future of these Arctic giants. Meanwhile, Earth reached its hottest year on record in 2016 and, after China, the US remains the world's highest emitter of greenhouse gases, which is believed to be the major cause of global warming.
Not only that, but the sea ice that typically encircles Barter Island for nine months of the year is taking longer to reform every autumn. A 2016 study co-authored by Wilson found polar bears in the southern Beaufort Sea who have started to swim to shore each spring over the past few decades are spending an average of 36 days longer on land than they did in the late Nineties. And as the number of bears and the duration of their visits increases in the Alaska Native community, so do concerns for public safety.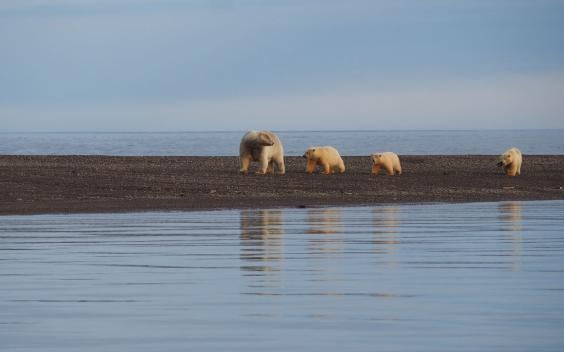 Kaktovik has a daily polar bear patrol manned by local volunteers, who use non-lethal force (shotguns loaded with cracker shells and non-penetrating lead shots known as 'beanbags') to drive bears away from people's homes. But as the bears become bolder, this small community has been forced to rethink bear management strategies.
"The bears are becoming habituated to cracker shells and beanbags if they are hungry," says Mike Pederson, deputy director of the local borough's department of wildlife management. There have yet to be any human deaths in Kaktovik as a result of a polar bear attack, but Pederson tells me there have been some close calls. "We are now identifying other tools we can utilise to keep the community and polar bears safe."
Adjusting to a tourism hotspot appearing in their backyard has also presented challenges for one of the world's most remote communities. The increase in tourism puts pressure on Kaktovik's meagre resources – such as the limited number of seats on planes that residents require for travelling to medical appointments.
Social impacts of polar bear tourism aside, it can be argued that the environmental impact – notably the emissions generated by tourists who travel to the Arctic for polar bear viewing – is counterproductive to the bears' survival.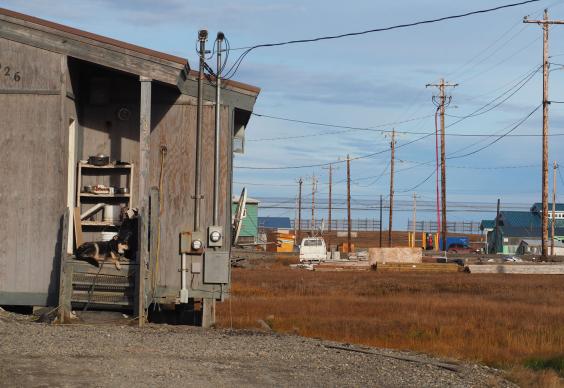 Having flown halfway across the planet for the privilege myself, I cringe at the carbon cost of my own trip. Responsible wildlife tourism, however, is widely credited for inspiring tourists to protect the fragile environments they visit. My trip certainly left me with a profound feeling of responsibility to do more to protect the polar bears' threatened Arctic habitat  – climate scientists say using less energy and reducing waste are key to keeping the world's CO2 levels in check.
As the world marks International Polar Bear Day on 27 February, here's hoping it inspires more people to take responsibility for the part we all play in the survival of polar bears, and the planet.
Travel essentials
Getting there
British Airways (ba.com) flies to Anchorage from about £788 return, from where connecting flights are available to Fairbanks with Alaska Airlines (alaskaair.com) from about £141 return, and then on to Kaktovik with Ravn Airlines (flyravn.com) from about £616 return.
Staying there
Kaktovik's two hotels, the Marsh Creek Inn (marshcreekinn.net) and Waldo Arms Hotel (waldoarmshotel.com) charge about £260 per person, per night. Includes all meals.
Visiting there
The writer visited as a guest of Northern Alaska Tour Company (northernalaska.com) and the Adventure Travel Trade Association (adventuretravel.biz). An all-inclusive, one-day polar bear viewing tour from Fairbanks with Northern Alaska Tour Company costs about £1,447.
For independent visitors, Kaktovik Tours offers (kaktoviktours.com) two separate three-hour polar bear viewing sessions over two days for about £579.
Read more at independent.co.uk