An Israeli F-16 fighter jet has crashed amid Syrian anti-aircraft fire after an offensive against Iranian targets in Syria, the Israeli military says.
The two pilots parachuted to safety before the crash in northern Israel. It is believed to be the first time Israel has lost a jet in the Syrian conflict.
Israel was carrying out strikes after the launch of an Iranian drone into Israel. The drone was intercepted.
Syria opened fire after an Israeli act of "aggression", state media said.
Israeli strikes in Syria are not unusual, the BBC's Middle East correspondent Tom Bateman says, but the downing of an Israeli fighter jet marks a serious escalation.
How did events unfold on Saturday morning?
In a statement, the Israeli military said "a combat helicopter successfully intercepted an Iranian UAV [unmanned aerial vehicle] that was launched from Syria and infiltrated Israel".
It said the drone was identified quickly and was "under surveillance until the interception".
The drone went down on Israeli territory and was "in our possession", Israel Defense Forces (IDF) spokesperson Brig Gen Ronen Manelis said.
The military said that in response the IDF "targeted Iranian targets in Syria". It said the mission deep inside Syrian territory was successfully completed.
The two pilots ejected and were later taken to hospital. Their condition was not immediately known.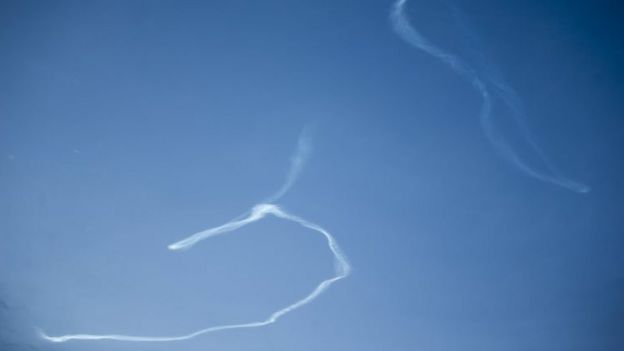 Red alert sirens sounded in areas of northern Israel and the Israeli-occupied Golan Heights due to Syrian anti-aircraft fire.
Residents reported hearing a number of explosions and heavy aerial activity in the area near Israel's borders with Jordan and Syria.
Syrian state media quoted a military source as saying that the country's air defences opened fire in response to an Israeli act of "aggression" against a military base on Saturday, hitting "more than one plane".
Israel has said only one of its planes was hit.
What is the Iranian presence in Syria?
Iran – together with Russia – is a key supporter of Syrian President Bashar al-Assad, whose troops have been fighting rebel groups since 2011.
Last November, a Western intelligence source told the BBC that Tehran was establishing a permanent military base inside Syria.
Israeli Prime Minister Benjamin Netanyahu has warned that "Israel will not let that happen".
Iran has faced accusations that it is seeking to establish not just an arc of influence but a logistical land supply line from Iran through to the Shia Hezbollah movement in Lebanon.
Read more at bbc.co.uk