Even, ignoring for one moment, the fact José Mourinho had become the Missing One, this was another day when it felt as though he might be straying dangerously close to his absence from the Chelsea bench becoming permanent. It was their third successive league defeat, for the first time in the Roman Abramovich era, and though the owner will never divulge his thoughts publicly it must be startling for everyone connected with the club that we are only in Bonfire Night week and Mourinho has already forsaken his record of having never lost seven times in a single season.
To trace the last time Chelsea lost three in a row would mean going back to Gianluca Vialli's tenure in October 1999 and if Abramovich is looking for signs that his manager has it under control it cannot help that Mourinho was prohibited from entering the stadium. In total, they have lost 10 times in all competitions. It was not the worst performance of Chelsea's season by any measure and they gave everything during their late search for an equaliser, but they have lost their knack of recovering from going behind and Marko Arnautovic's goal, eight minutes into the second half, was decisive. Something has changed and it leaves Chelsea two places above the relegation zone, with problems all over the pitch and a genuine crisis enveloping the club. "That's why you're going down," the Stoke fans sang, and the indignities continue to stack up for the team who were parading the championship trophy six months ago.
This defeat ended with a steward making a complaint of assault against Diego Costa for allegedly treading on his toe when he went to collect the ball. The television pictures looked innocuous and on this occasion Costa probably deserves the benefit of the doubt. Chelsea have much bigger concerns and, wherever he was watching it, Mourinho must have found it a chastening experience.
It wasn't easy to keep count of the number of times the television cameras flashed to the leather padded seat he should have been occupying. There was a cardboard cutout in the away end and various Mourinho masks in other parts of the ground. Outside a chair had been placed on the grassy bank, with a note: "Reserved, Jose Mourinho." As for the man himself, he was in a hotel somewhere, trying to avoid the photographers who had tailed the team bus on the way to the ground. Perhaps Mourinho should have sat in the stand wearing a Mourinho mask and hoped nobody noticed. Either way, it was unsatisfactory in all sorts of ways and not something Chelsea will want to repeat any time soon.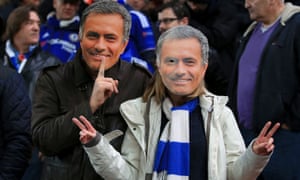 They were also facing a Stoke side that might pass the ball better than the old model but still have a strong competitive edge. Ryan Shawcross did not give an inch in his mano-a-mano with Costa and Erik Pieters played most of the match with a broken nose, requiring a change of blood-stained shirt, after taking an accidental kick from Pedro. Bojan Krkic took a bang in the first half which seemed to reduce his output and it was Xherdan Shaqiri who caught the eye. Shaqiri's diminutive stature, low centre of gravity, improvisational dribbling skills and clipped left-footed passes are reminiscent of Georgi Kinkladze. He just works an awful lot harder and that made him a dangerous opponent.
Mark Hughes's team were pinned back in the last quarter of an hour when, if nothing else, Chelsea did show some of the old fight. The home side rode their luck during that onslaught and no doubt Mourinho's impression of Premier League referees was not enhanced by the moment late on when the substitute Loïc Rémy ran through on goal only to lose his balance as he tried to evade the oncoming Jack Butland. A cynical view would be that Rémy ought to have gone to ground to win a penalty. The striker preferred the more honest approach but an argument could still be made – and almost certainly would have been if Mourinho was present – that the goalkeeper caused the fall without getting to the ball.
Stoke attacked at times in a way that made it feel strange they had begun the day with only nine goals from their previous 11 league matches, the least impressive figures in the top division. Equally, Chelsea did have spells of the game when they looked a little more like the team that turned last season's league into a procession.
Cesc Fàbregas is having a spell out of the league side and, though Chelsea could desperately do with him regaining his form, there was a reasonable look to the team's midfield. Willian's energy and directness created space for Eden Hazard and Pedro in the wide positions and the two sides matched other in a first half featuring some fine goalkeeping. Butland tipped a dripping volley from Ramires over the crossbar as well as keeping out Costa's low drive and at the other end Asmir Begovic, facing his old club, saved well from Glen Johnson after an early foray from the right-back.
Johnson's ability to drive forward was also a prominent feature in Arnautovic's goal. Shaqiri's pass was beautifully weighted for the former Chelsea player to surge beyond Baba Rahman and turn the ball into the penalty area. Jonathan Walters, whose new two-and-a-half-year contract was confirmed before the match, had his back to goal but as he tussled with Kurt Zouma the ball popped out to Arnautovic. Leaning back, the Austrian adjusted his body shape and, six yards out, scored with a swinging volley. Chelsea had no way back and Mourinho, wherever he was, will know the potential consequences.
Source: www.theguardian.com