The FBI is investigating the role of Sepp Blatter in the $100m ISL scandal after the suspended Fifa president appeared to be implicated by his predecessor, according to a BBC Panorama documentary to be screened on Monday night. In a letter obtained by the FBI, and forwarded to Swiss authorities with a request for help, the former Fifa president João Havelange appears to say: "Mr Blatter had full knowledge of all activities," and was "always apprised to them".
The FBI's request was sent before the dramatic May arrests that sparked Blatter's downfall and a full-blown crisis at world football's governing body.
In a covering note to the Swiss authorities the FBI requests information from an earlier Swiss investigation into the ISL scandal, which involved the payment of $100m in backhanders by the now defunct sports marketing company.
The note adds: "Among other things, the prosecutor is investigating Havelange's statements implicating Blatter and appearing to exculpate Havelange's son-in-law, [Ricardo] Teixeira, in the ISL matter."
In the letter from Havelange, seemingly written after a 2010 court case in Zug, Switzerland, related to the affair, he appears to claim that payments to him were above board. He writes: "During the period of time in which I was Fifa president, Mr Joseph Blatter was the secretary general, I maintained commercial relationships with sports marketing companies which were under my economic control, and, as a result of these relationships, I received remuneration, in accordance with Fifa regulations, and this was the object of a judicial proceeding settlement in Switzerland without acknowledgement of any guilt.
"I clarify that all expenses for the mentioned proceeding, including attorneys, were paid by Fifa. I emphasise that Mr Joseph Blatter had full knowledge of all activities described above and was always apprised to them."
The letter, obtained by the BBC, has been seen by the Guardian. Blatter's lawyers failed to respond to a request for comment when the BBC contacted them.
It was the same Panorama team, led by the veteran Fifa investigator Andrew Jennings, that in 2010 revealed the existence of the list of bribes paid by ISL.
Havelange finally resigned from his position as the honorary Fifa president in 2013 after an ethics committee report confirmed how he and Teixeira, his former son-in-law, had taken a series of bribes over an eight-year period.
At the time, the report found Blatter had been "clumsy" rather than "criminal" in returning a $1m bribe meant for Havelange that crossed his desk.
Blatter insisted he did not know the money was a bribe. Before 2004, accepting inducements of that kind was not illegal under Swiss law.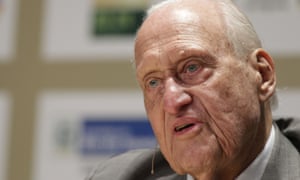 Teixeira was one of three former heads of the Brazilian FA named among an additional 16 people charged with corruption offences by the US Department of Justice last week.
Both US and Swiss prosecutors continue to probe decades of wrongdoing among Fifa executives. Blatter is under investigation by the Swiss over a £1.3m "disloyal payment" to the suspended Uefa president, Michel Platini, and speculation continues to surround his status in the US probe.
The US attorney general, Loretta Lynch, said last week she would continue to pursue wrongdoers as she unsealed an updated indictment that alleged more than $200m had been received in bribes and kickbacks.
The programme, to be broadcast on Monday night at 8.30pm, is also told by the former FA chairman Lord Triesman that the successful Qatar 2022 bid cost £117m. Gary Lineker, part of England's 2018 World Cup bid team, laments the rotten state of world football governance.
"It makes me feel nauseous at the levels of corruption in a sport that has been a huge part of my life and is a huge part of many people's lives right around the world," he says. "And part of me hopes that with everything being so clearly rotten, that we can come out and somehow start again and correct it."