Four-time Oscar nominee Saoirse Ronan has revealed she looked to the reality star Kim Kardashian for inspiration for her latest role.
The actress is making her UK stage debut as Lady Macbeth in Shakespeare's tragedy at the Almeida Theatre, North London, opposite the Scottish actor James McArdle as Macbeth.
"We keep thinking about Macbeth and Lady Macbeth as like a Kim and Kanye situation," Ronan tells BBC News, "where there have been stages to their success and real kind of highs and lows."
The pair decided to compare Macbeth and Lady Macbeth "to a modern power couple that is professional but also has tenderness and there is so much of their private life that we don't know," Ronan says, referring to Kardashian and her rapper husband Kanye West, who announced they were divorcing earlier this year.
Ronan and McArdle have also decided to call their characters Susan and Neil Macbeth. "It helps," says Ronan, "because this is a domestic tragedy about a couple.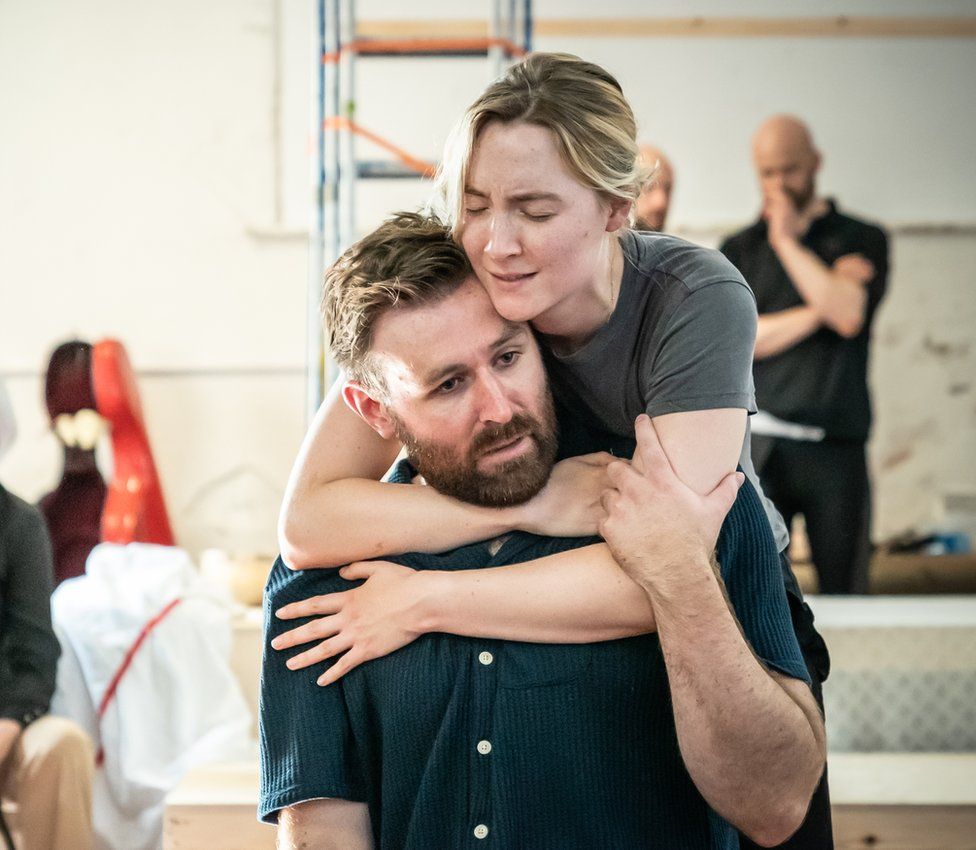 "The tragedy is that these two people who are soul mates and peers and very much partners in every way… when that starts to come apart, what we would hope is that, when people come to see it, that is when the sadness seeps in."
McArdle agrees, saying: "The play has been hijacked by the horror concept, the Halloweeny concept." In director Yaël Farber's production, entitled The Tragedy of Macbeth, it is the relationship between the Macbeths that takes centre stage.
"The thing that we wanted more than anything was a functional marriage. A love story," explains McArdle.
The Olivier-nominated actor had already been cast as Macbeth in February 2020, when he asked Ronan to play opposite him. The pair are good friends and had appeared together on film in the period dramas Mary Queen of Scots and Ammonite.
"Something felt right every time we worked together, which is quite rare," he says.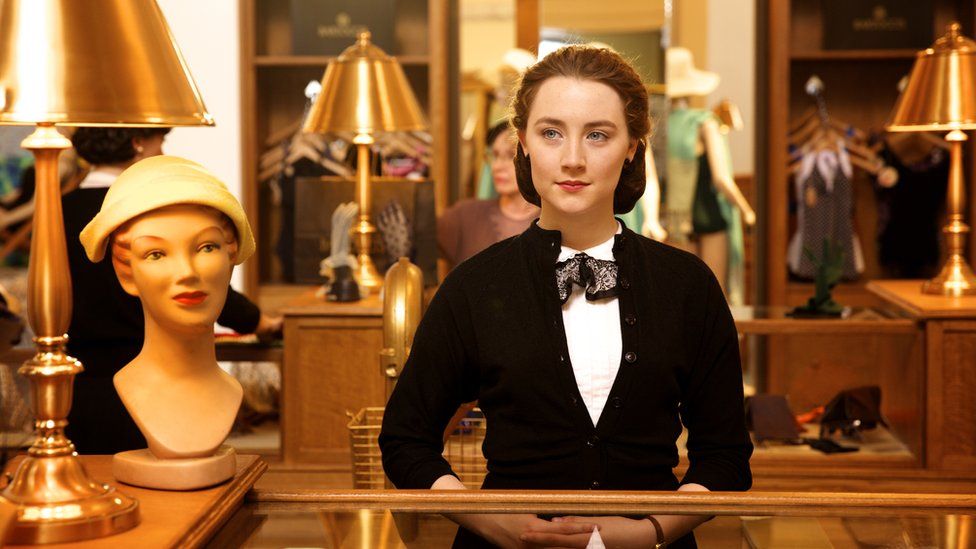 Nonetheless Ronan spent two months thinking it over before committing. For a start, she had never performed Shakespeare before. "It's really hard, it's so hard," she says during a break in rehearsals for the production.
So it's a challenging new departure for the actress who first came to public attention in the film Atonement, at the age of just 13. She was nominated for an Oscar and has gone on to establish herself as a leading lady on screen with other Oscar-nominated performances in Brooklyn, Lady Bird, for which she won a Golden Globe, and Little Women.
But that success does not mean she is insulated from the hype, buzz, anticipation and expectation that surrounds her first role on stage in the UK.
"I do feel unbelievably nervous. You get hit with waves of panic and terror and I'm not kidding about that. You do feel suddenly stuck for a minute in anxiety about what you're doing. But then you pull yourself out of it," she says.
"It's been a real learning curve for me in just how much you can test yourself. Because you do feel that on film as well, but I think this is intensified.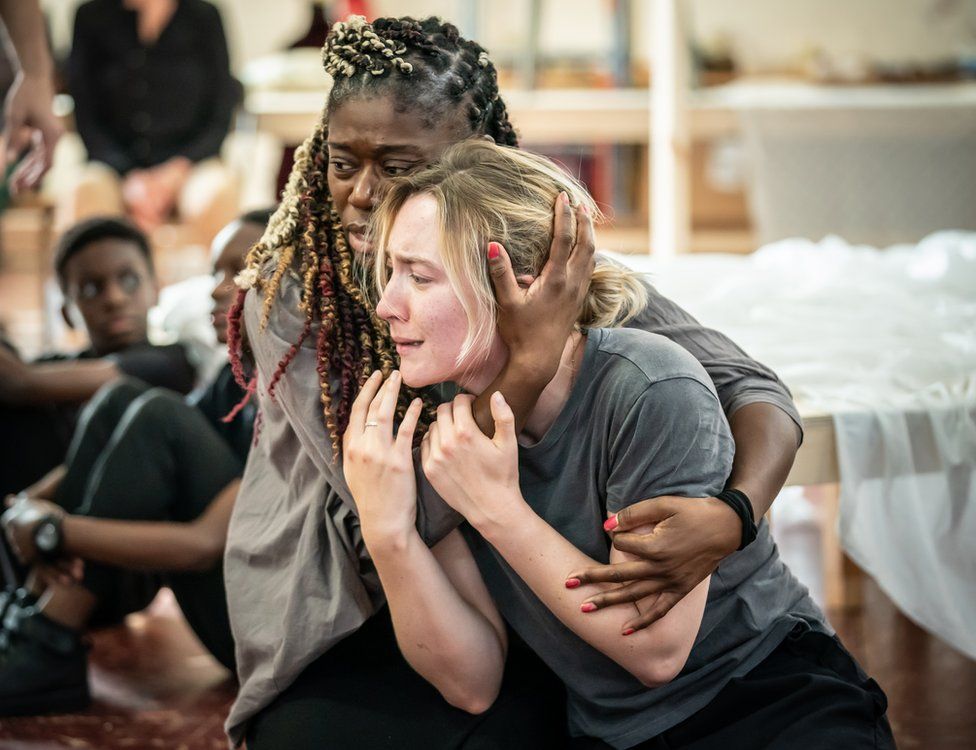 "Every day, every hour is completely different. You could feel really confident for a while in what you are doing and feel really great going forward and then something happens that will knock you again.
"It's just the experience of doing something that feels initially very, very new and feels like uncharted territory."
And she also knows what happens when it can go wrong. Ronan has been on stage once before on Broadway in The Crucible in 2016. She appeared in more than 150 performances. But she remembers experiencing crippling stage fright.
"I got it very intensely one night and then there were echoes of it for another few nights afterwards. And nothing happened and nobody noticed, apparently.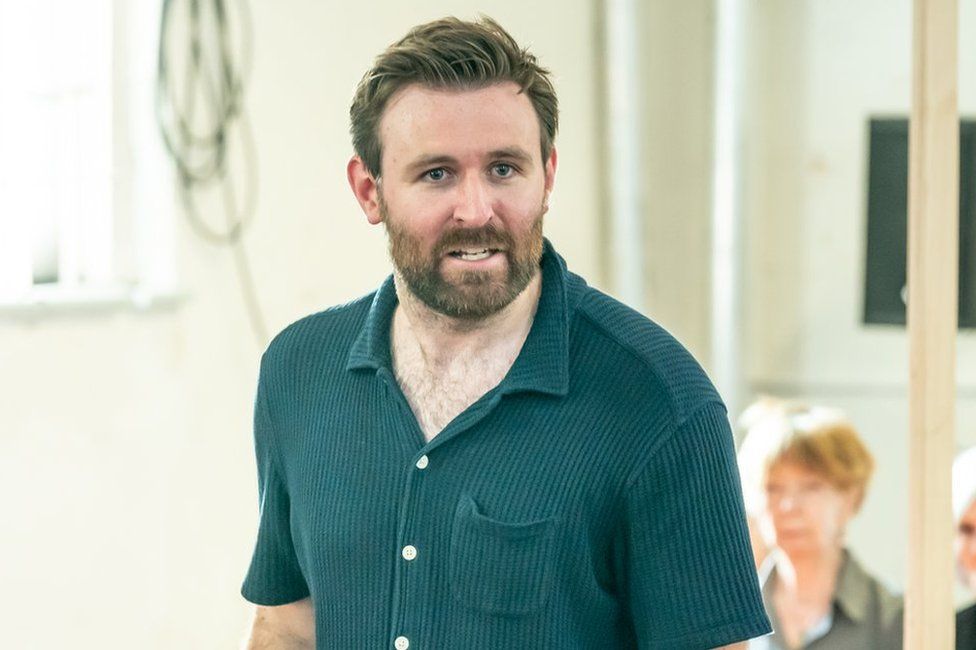 "But I just sort of floated above my body for the whole first act and didn't know what the play was about and didn't know what I was saying next, didn't know what anybody else was going to say next. And I was completely petrified. It's a horrible, horrible thing.
"But," she adds with a laugh, "it's not going to happen on this, so it's fine."
Nor, she hopes, will her name be spelt wrongly in the programme for The Tragedy of Macbeth. And if that sounds unlikely, think again. On her phone she has created a folder called Names, containing "all the different misspellings" of Saoirse.
"And some of them have been on productions of things that we've been doing where my name has been written down on the call sheet and people have still gotten it wrong.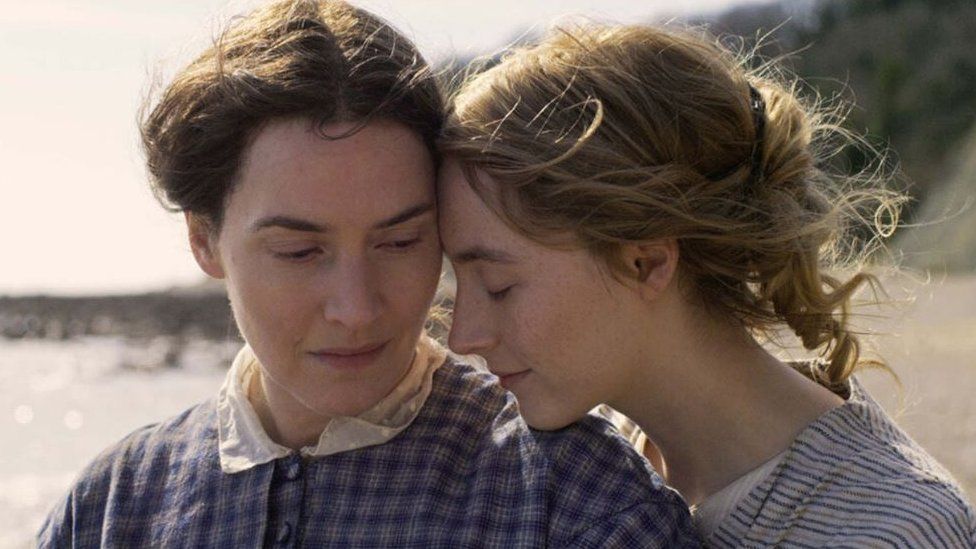 "I think one of the worst ones was Sadirse. So there was a D put in there instead of an O. That was quite funny."
And on McArdle's phone, messages from the actress Kate Winslet. The pair appeared together in HBO's hugely successful Mare of Easttown, with Winslet cast as a detective investigating a murder in a small town in Pennsylvania and McArdle playing a creepy deacon.
"She sends voice memos that are obscene," says McArdle. "And I love every one of them."
"She's got a potty mouth," adds Ronan.
McArdle does not know whether there will be a second series of the American crime drama. "I've got no clue," but adds, "I would think they'd want one." Before that though is the small matter of Macbeth. And Winslet will be in the audience.
"She's coming to see Macbeth," says McArdle. "The Mare of Easttown."
The Tragedy of Macbeth is running at the Almeida Theatre from 1 October to 20 November. The second round of tickets goes on sale to the general public from 12pm BST on Thursday 23 September.