Prince George has started his first day at school – but his mother, the Duchess of Cambridge, missed the occasion as she was not well enough to take him.
The Duke of Cambridge dropped him off as Kensington Palace said Catherine, who is suffering from severe morning sickness, was still unwell.
The four-year-old is attending Thomas's Battersea, a £18,000-a-year preparatory school in south-west London.
His uniform includes navy shorts and jacket, long red socks and black shoes.
The milestone for the prince comes after the duke and duchess this week announced they are expecting their third child.
Catherine had to pull out of public engagements on Monday and Tuesday because she is suffering from hypremesis gravidarum, as with her previous two pregnancies.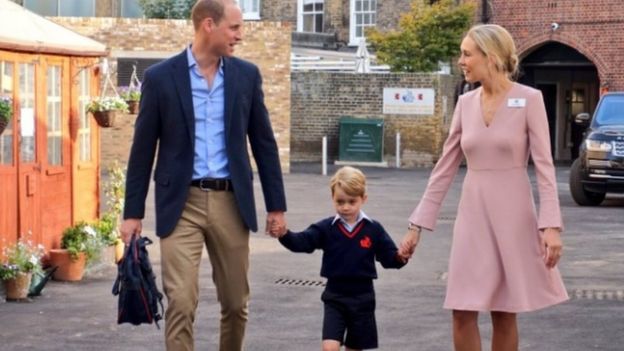 Prince William drove his son through the school gates before helping him out of the car.
The duke carried Prince George's bag and held his hand as the pair walked up to the entrance.
Father and son were then greeted by Helen Haslem, head of lower school, and the young prince shook her hand before being accompanied to his first class.
Prince William told Ms Haslem that George had been eagerly watching and he had "noticed" the other boys going into the school in their uniforms.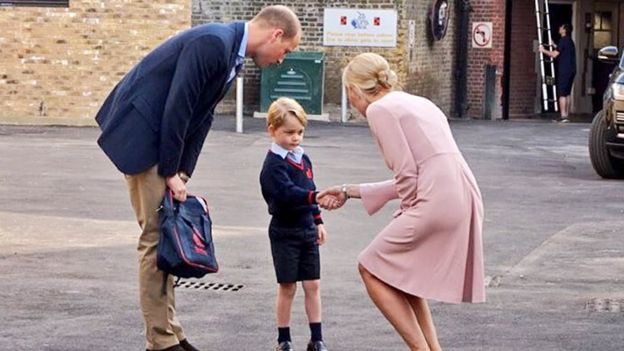 Prince George is following in the footsteps of his father and uncle, Prince Harry, who both attended preparatory school at a young age.
Notable alumni at Thomas's Battersea include pop singer Florence Welch – from Florence and the Machine – model and actress Cara Delevingne and Fresh Meat star Charlotte Ritchie.
His new school was described by the Good Schools Guide as: "A big, busy, slightly chaotic school for cosmopolitan parents who want their children to have the best English education money can buy."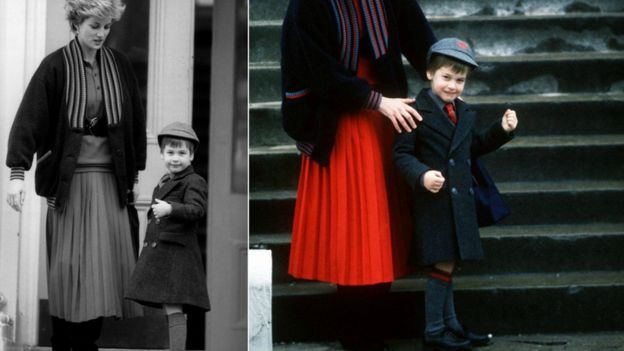 Previously, Prince George attended nursery at the Westacre Montessori School, in Norfolk.
However, his move to London coincides with the duke and duchess's decision to begin moving their main residence to Kensington Palace, as Prince William takes on more royal duties.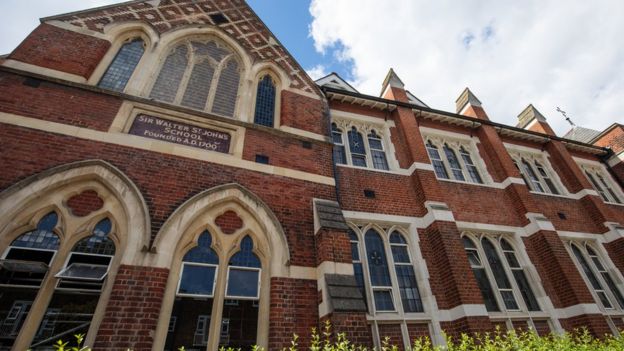 Prince George, who is often pictured wearing shorts and knee-high socks, continues this sartorial staple at Thomas's.
Pupils in reception class wear red polo neck shirts, navy Bermuda shorts and knee-high red socks with navy trimming.
The prince will also wear a v-neck jersey emblazoned with the Thomas's emblem, as well as a navy jacket.
Read more at bbc.co.uk