Why go now?
Long dismissed as a dangerous ghetto on the wrong side of the Bay Bridge, industrial port city Oakland has lately earned itself a rep as a more down to earth, soulful version of rival San Francisco, which twinkles in all its tech-dollar glory just eight miles away, across the water.
In fact, Oakland grudgingly owes this new lease of life – and falling violent crime rates – to its better-known older brother. Thanks to SF's increasingly unaffordable rents, Bay Area creatives are decamping here, reviving neighbourhoods with exciting restaurant, bar and arts scenes. Where once gritty Oakland was considered a no-go area, today it is attracting curious visitors with new venues like car-dealerships-turned-brew-bars and warehouse wineries, and the inherited beauty of the Oakland Hills and Lake Merritt. So much so that, on March 28, British Airways launched flights to Oakland International from Gatwick.
But even if you consider Frisco the main attraction, basing yourself in Oakland can be a shrewd move. The East Bay airport is a smaller, quieter operation to fly into and only a mile further from SF's Downtown than SFO; plus, if you don't mind settling for basic accommodation, the hotels can be much cheaper. And Oakland certainly deserves at least two days of your time: people might say the heart left San Francisco in a flood of Silicon Valley money, but you can find it again here.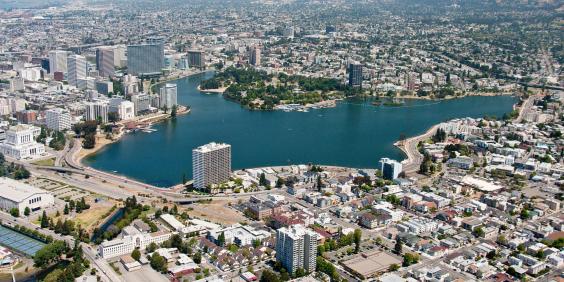 Get your bearings
Oakland's main attractions are set in a compact, walkable area to the south and west of Lake Merritt (1), a tidal lagoon and urban park in the heart of the city. You'll be most interested in the theatres, bars and restaurants of Uptown (2), shopping in Downtown (3), and waterfront entertainment at Jack London Square (4), which sit in a neat line from north to south. The city runs a free shuttle bus along Broadway stopping at all of them; the "Free B" (bshuttle.com) comes along every 10-15 minutes.
Day one
Take a view
To get a knockout overview of the area, head behind the 100-year-old Claremont Club & Spa (5) (fairmont.com/claremont-berkeley) in the Oakland Hills. This East Bay icon and designated historical landmark sits at the foot of the Stonewall Panoramic Trail (6), which offers a steep climb through a eucalyptus grove to give sweeping views of Oakland, Berkeley, and San Francisco Bay below. Though only 1.6 miles long, it really is steep – no judgement if you settle for the first lookout point just above the sports field.
Window shopping
Now heading Downtown, Oaklandish (7) (oaklandish.com) is more than a cool local apparel store. Its Oakland-branded tees, hoodies, mason jars and even skateboard tape aim to create civic pride in a troubled town and, in using pro bono design work and marketing, the business is able to donate 10 per cent of its proceeds to grassroots, non-profit community groups and gives inner-city jobs to struggling youth. Note the realism in the designs; one represents "Oakland Paradise" with a palm tree and a port container crane.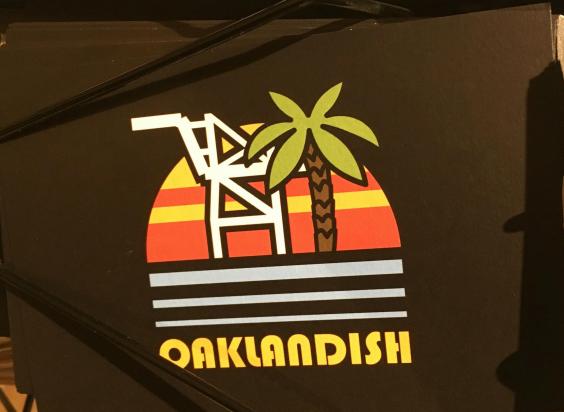 Venture slightly south into Old Oakland and see the historic street lamps lining 9th, a street stuffed with indie boutiques. Check out the elegant homeware fashioned from reclaimed wood and Coke bottles in just-opened Shop Be Home (8) (shopbehome.com), or the American-crafted goodies in Marion & Rose Fine Goods (9) (marionandrose.com), great for funny, hand-drawn cards and uniquely scented candles (shout out to "fresh air and sea salt").
Lunch on the run
Oakland's economy was built on shipyards and automobile services, and while the city can still claim the fifth-busiest port in the US, General Motors' manufacturing facility shuttered in the Sixties. Drake's Dealership (10) (drinkdrakes.com) pays homage to the past by slinging wood-fired pizza and house-brewed beers in an old red-brick Dodge dealership – the open-air beer garden, under the iron skeleton of the original roof, is a must if weather allows. Get your pizza "Draked" by adding a slow-poached duck egg or order up poutine with double-duck gravy. Servers dressed in Fifties-style autorepair shop shirts help you navigate the lengthy beer list. Take a moment to observe the mixed crowd of man-bun hipsters, families, couples and older groups, a sign of Oakland's strong community feel.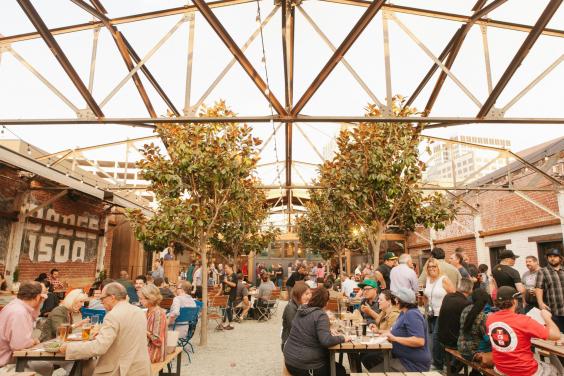 Take a hike
Oakland hasn't just hopped aboard the craft beer bandwagon – its surplus of warehouses and proximity to California wine country has fostered a fertile crop of urban wineries. The Urban Wine Trail (oaklandurbanwinetrail.com) stretches east to west around Jack London and is a great way to explore on foot. Each winery has its own story and style, from the lighter French-accented wines of Dashe (11) (dashecellars.com), co-owned by a couple from Brittany and LA, to the focus on family-owned wineries at Rosenblum (12) (rosenblumcellars.com), which started life in a factory on the docks in the Seventies and now occupies a more romantic waterfront position by Oakland Ferry Terminal.
Dine with the locals
Five years ago, the stretch of San Pablo Avenue south of John B. Williams Freeway was no good to anyone. Then Hopscotch (13) (hopscotchoakland.com), a collab between a bar manager and a chef who had worked at the same SF restaurant, gave people reason to make the pilgrimage. Today, it's a hoppin' thoroughfare proffering craft coffee, Indian street food, and long lines for California-Korean burritos. But Hopscotch remains the main event: Japanese-meets-American comfort food, a seriously inventive cocktail menu (pisco, meet beet vodka) and a fun, unforced environment of found art and fixtures. Best reserve ahead.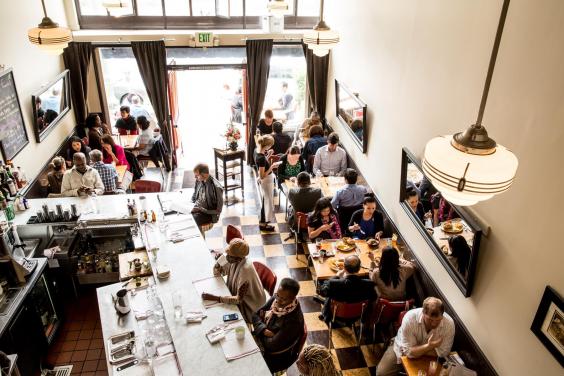 Day two
Sunday morning: out to brunch
Start your day a short stroll from Lake Merritt (1), where new kid on the block The Gastro Pig (14) (thegastropig.com) prides itself on its #baconslut breakfast sandwich – aleppo chile aioli, cheese, over-easy egg and bacon on sweet brioche. But better still is the waffle iron hash brown with melted cheddar and spring onion – you'll wonder how on earth you ever lived without it. Co-owner Ann Thai, another SF refugee turned Oakland entrepreneur, walks round chatting to customers and gave us a top tip – order up a cup of their creamy tomato soup for hash brown dunking. Too good.
A walk in the park
Work off brunch with a turn around the grassy shore of Lake Merritt (1), packed with joggers and amblers on weekends. A serene oasis in the midst of Downtown skyscrapers and traffic, spot rowing teams and sailboats on the water, and to the east of the lake you'll see the glass-and-steel exterior of the futuristic Cathedral of Christ the Light (15). Make a pit stop at Lake Chalet (16) (lakechalet.com), serving seafood, Southern fare and craft brews from sister SF resto and brewery The Beach Chalet. Grab an al fresco table on the dock if you can.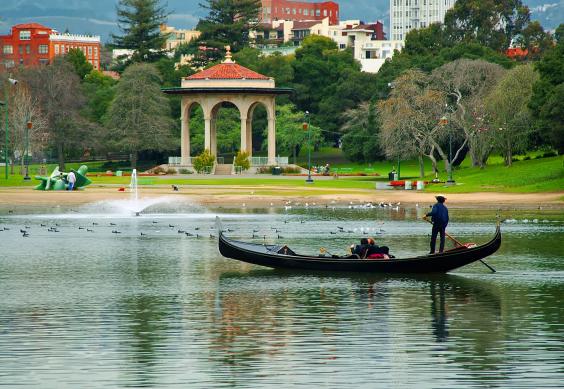 Take a ride
Surreal as it may seem, for US$60 you can take a 30-minute gondola tour of the lake, rowed by a stripy-T-shirt-clad gondolier who'll even sing to you in Italian. Gondola Servizio (17) (gondolaservizio.com) was launched by a genuine Venetian gondolier who moved to Oakland for love. He imported the gondolas, took on some local apprentices, and now offers a splash of Venetian romance in inner-city O-Town, peppered with fun local facts (who knew Oakland invented the Mai Tai and the fortune cookie folding machine?). Bonus: you can BYOB.
Cultural afternoon
Sunday afternoons are made for museums. Right by the lake, the Oakland Museum of California (18) (museumca.org) hosts special exhibitions, like the recent "Rise of Sneaker Culture" show, as well as permanent galleries. Don't miss the excellent Gallery of California History, which covers everything from how the state got its shape to Japanese internment and the making of Hollywood. You'll need a good two hours to make the most of it.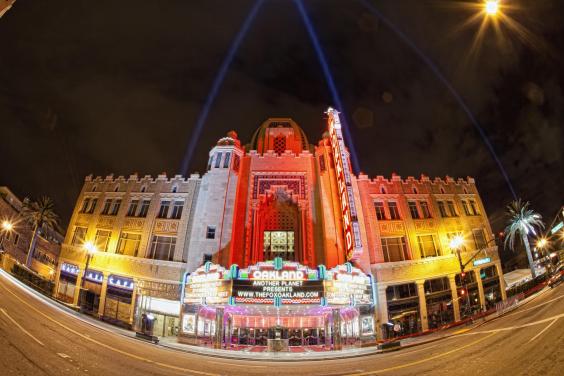 The icing on the cake
If you plan ahead, you could catch a gig at Uptown's Fox Theatre (19) (thefoxoakland.com), a city mascot and trippily Ottoman-ish example of lavish 1920s architecture. Upcoming gigs include Bonobo, Deamau5 and The Flaming Lips.
Or keep it sweet and head to old-school Fentons Creamery (20) (fentonscreamery.com). This ice cream parlour dates back to 1894 and claims to have invented the Rocky Road recipe. The menu offers almost 40 regular and 18 seasonal flavours. Watch out for the gut-busting sundaes.
Getting there
Oakland International Airport (21) is around 10 miles south of Downtown Oakland. Both British Airways (ba.com) and Norwegian (norwegian.com) fly there from Gatwick. The BART train (bart.gov) connects to Lake Merritt – a single ticket costs $7.95. Or make like a Bay Area local and order an Uber – there's a dedicated "Smartphone App Rides" pick-up point outside arrivals. An UberPool to Downtown costs from around $13, or UberX from approx. $31.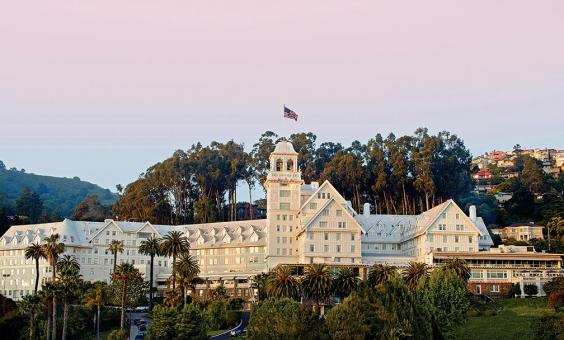 Staying there
Styled as an "urban resort" in the Oakland Hills, the Claremont Club & Spa's (5) (fairmont.com/claremont-berkeley) historic white building stands as a decadent symbol of the early days of the Gold Rush. Recently acquired by Fairmont, all 276 guest rooms have just undergone major modernisation. While the building resides in Oakland, the spa and palm-dotted gardens technically belong to Berkeley – perhaps to uphold its chi-chi reputation, the hotel has a Berkeley address. For a stylish stay in the city, and unbeatable views of the Bay, nowhere else comes close. Rates from $292 per night, room only, inclusive of taxes and facilities charge.
If you're on a budget and don't mind basic, the Imperial Inn motel (22) (imperialinnoakland.com/motel) is just a block from the McArthur BART station, which takes you to Downtown. Rates from around $80 per night, room only.
Read more at independent.co.uk